DF SPECIAL - SILVER SURFER THANOS TEAM-UP TUESDAY!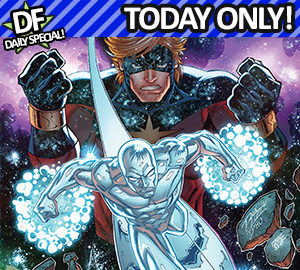 PRICE:
$48.00
It's TUESDAY and last week, legendary creators Ron Marz and Ron Lim made their grand return to the mythos they helped define with an all-new story set during their classic run on Silver Surfer! A five-issue limited series, Silver Surfer: REBIRTH, will follow in the tradition of current hit titles such as X-Men LEGENDS and SYMBIOTE Spider-Man which sees the greatest creators in Marvel Comics history revisit their historic runs for fresh insights and revelatory adventures. Throughout the 90s, Marz and Lim shaped Marvel's cosmic landscape with epic tales involving Silver Surfer, Thanos, and the Infinity Gems. Now, the writer/artist duo are back to deliver everything that fans loved about their original works and more! Someone has stolen the Reality Gem, an object that allows the user to fulfill any wish no matter the consequences! But whoever has taken it is doing things like bringing back the dead hero Captain Mar-Vell. It's up to Silver Surfer to team up with the least likely of allies, Thanos, to find the Gem and restore reality to its proper form! This is going to be HUGE and we wanted to offer our DF FANS an early shot at this soon to be landmark issue CGC GRADED!!! With today's DF DAILY SPECIAL, you'll receive Silver Surfer REBIRTH #1 CGC GRADED 9.6 OR HIGHER plus a BONUS UNGRADED READER COPY!!! DF DAILY SPECIAL EVENT PRICED AT $48.00 in honor of the FIRST APPEARANCE of Silver Surfer in Fantastic Four #48 from 1966!!! Lock down your pre-orders TODAY!!! Ignorin rad deals like this is not recommended!!!

* Silver Surfer REBIRTH #1 CGC GRADED 9.6 OR HIGHER!!! (Regular MSRP $89.99)

* Silver Surfer REBIRTH #1 UNGRADED READER COPY!!!