DF SPECIAL - LUCKY 13 SUNDAY!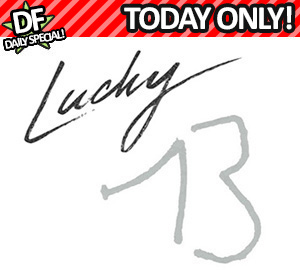 PRICE:


$130.00
It's SUNDAY THE 13TH and to say todays DF DAILY SPECIAL is HUGE could be viewed as a bit of an understatement and we're not kidding!!! DYNAMIC FORCES proudly presents: THE LUCKY 13 PRESTIGE COLLECTION!!! Not one! Not two! Not three! Not four! Not five! Should we continue? YES!!! Not six! Not seven! Not eight! Not nine! Not ten! Not eleven! Not twelve! Yep! You guessed it! THIRTEEN!!! Thirteen stellar collectibles in one huge package, tailored just for you, our DF's (Dynamic Fans!!!) AMAZING!!! Boom! Right out of the gate you get not one (not again) but TWO, count em, TWO!!! TWO hand-drawn re-marked comics by one of the many DYNAMIC artists who have graciously sketched upon a wide assortment of comics!!! Each one of a kind, much like the snowflake!!! Next up, you'll receive an UNBELIEVABLE assortment of signed, limited edition, and rare variant comics, TEN in all!!! Out of print Retailer variants!!! DF Certified limited edition signed editions!!! Rare Retailer Exclusives!!! And a guaranteed inclusion of ONE DF FAMOUS SILVER SIGNATURE ELITE EDITION SIGNED COMIC!!! But wait!!! There!!! Is!!! More!!! On this very special 13th, we're topping off this most awesome collectible set with a randomly chosen CGC GRADED COMIC!!! This high end collector's set carries a combined approximate MSRP value of close to $500, but will be available today and today ONLY at the ASTOUNDING low price of $130!!! Think 13 is unlucky? Well your luck just changed, bub!!! Not a dream!!! Not a hoax!!! This is the real deal!!! HAPPY 13TH, FANS!!!

* TWO RANDOMLY CHOSEN RE-MARKED COMICS!!! (Regular MSRP $69.99 each or higher!)

* TEN RANDOMLY CHOSEN SIGNED AND/OR LIMITED-EDITION COMICS INCLUDING ONE DF FAMOUS SILVER SIGNATURE ELITE EDITION SIGNED COMIC!!! (Regular MSRP $29.99-69.99 each or higher!)

* ONE BONUS CGC GRADED COMIC!!! (Minimum MSRP $89.99)

* Please note: All items are RANDOMLY CHOSEN and multiple orders may receive duplicate items.