DF SPECIAL - CROSSOVER TIME TRIFECTA THURSDAY!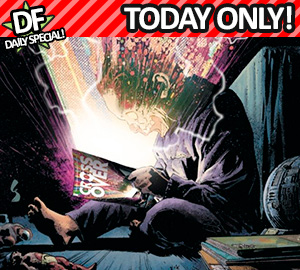 PRICE:
$33.33
It's THURSDAY and we're getting ready for one soon-to-be-classic premiere issue by the one and only DONNY CATES!!! The powerhouse creative team Donny Cates (Venom, Thor), Geoff Shaw (Thanos Wins), Dee Cunniffe (Redneck), John J. Hill (Nailbiter) have reunited since their breakout hits God Country and Redneck, for an all-new, genre-defying series, Crossover. This mind bending, ongoing series will take the best of comic book launch events and up the dose of energy and shock value to the next level in November. What if a comic book summer event generated so much energy, broke down so many barriers, and upended so many expectations that the sheer critical mass of the moment blew open a portal into our world? Imagine if everything you thought was fantasy...was real. Now join us on an epic quest through a world where reality is dead... and anything is possible... CROSSOVER #1 is coming!!! Be sure to lock down your copy of this CGC GRADED PREMIERE ISSUE!!! This triple shot includes a bonus reader copy of CROSSOVER #1 along with a bonus LIMITED EDITION RETAILER EXCLUSIVE VARIANT COMIC!!! All for the low, LOW intro price of $33.33!!! Get yours NOW!!!

* CROSSOVER #1 CGC GRADED AT A HIGH 9.6 OR 9.8 GRADE!!! (Regular MSRP $89.99)

* CROSSOVER #1 READER COPY!!!

* BONUS LIMITED EDITION RETAILER EXCLUSIVE VARIANT COMIC!!! (Regular MSRP $29.99 or higher!)

* Please note, bonus items are chosen at random, multiple orders may receive duplicate books.