DF SPECIAL - WICKED WEBHEAD WEDNESDAY!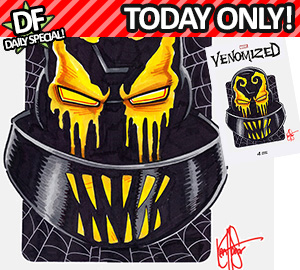 PRICE:
$26.00
Happy NEW COMIC BOOK DAY, fans!!! With VENOM in the news, we're feeling a bit WICKED this WEDNESDAY!!! Last month, Marvel COMICS revealed that VIRUS is coming to the SPIDEY UNIVERSE, more specifically the VENOMVERSE!!! Today, we're offering an ALL-NEW SKETCH by the one and only KEN HAESER!!! As if that was not enough, we're adding in 2 BONUS SPIDEY UNIVERSE VARIANT COMICS!!! Today and today only, you'll have the opportunity to secure your copies for the low LOW DF DAILY SPECIAL EVENT PRICE of $26 in reverse honor of the year SPIDEY was born back in 1962!!! Be sure to lock down your pre-orders NOW before it's too late!!!

* VENOMIZED #1 BLANK VARIANT SIGNED AND REMARKED WITH AN ALL-NEW VIRUS SKETCH BY KEN HAESER!!! (Regular MSRP $89.99)

* TWO BONUS SPIDEY UNIVERSE VARIANT COMICS!!!