DF SPECIAL - SAN DIEGO SUNDAY!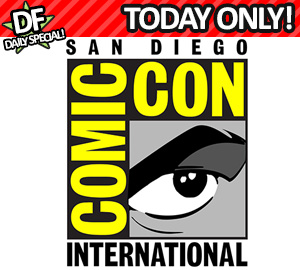 PRICE:
$70.00
It's Sunday the last day of SAN DIEGO COMIC CON and today's DF DAILY SPECIAL special features a LUCKY 21 tremendous collector's item comics for just $70.00! You will receive a mixed assortment of nineteen randomly chosen PREMIUM comics from our wide variety of signed, variant edition, foil cover, and limited DF Exclusive comics INCLUDING one with an original hand-drawn sketch on the cover by one of the lovely and talented DYNAMIC artists! All of this, topped with not one, but TWO randomly chosen blank covers to have one (or two) of your favorite artists create your very own masterpieces! A combined MSRP of $399.99 or higher, all for just $70.00 in honor of the year of the first COMIC CON back in 1970!!! Only 21 sets are available today!

* 19 RANDOMLY CHOSEN SIGNED, VARIANT EDITION, FOIL COVER, AND DF EXCLUSIVE COMICS INCLUDING ONE RE-MARKED COMIC WITH A ONE OF A KIND HAND-DRAWN SKETCH! (Combined regular MSRP $399.99 or higher!)

* 2 RANDOMLY CHOSEN BLANK COVER COMICS!

* Please note: Sets are picked at random. Multiple orders may receive duplicate books.