DETECTIVE COMICS #1000 DYNAMIC FORCES EXCLUSIVE WRAPAROUND ART VARIANT COVER BY DAN JURGENS ULTRA LIMITED PURE PENCIL SKETCH EDITION!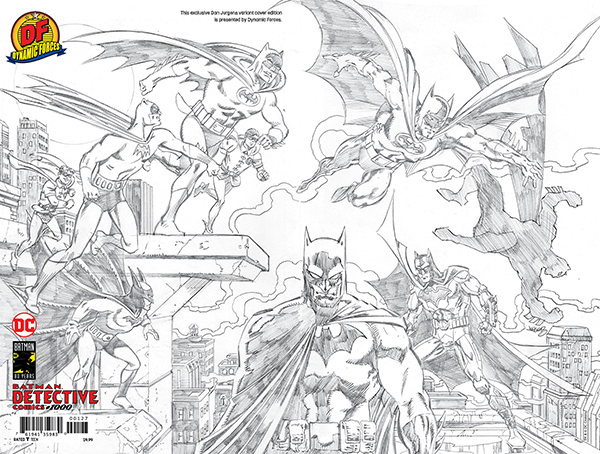 PRICE:
$193.90 MSRP: $399.99 YOU SAVE 51%
Offered at the dynamic price of $193.90 for a limited time!!! Returns to regular MSRP of $399.99 after February 13th!!!! ULTRA LOW INTRO PRICED FOR ONE WEEK ONLY!!! 02/06/19 THROUGH 02/13/19!!! After 80 years, it's here-the one thousandth issue of DETECTIVE COMICS, the title that literally defines DC! This 96-page issue is stacked with an unbelievable lineup of talent that will take you on a journey through Batman's past, present and future...plus a sensation epilogue that features the first-ever DC Universe appearance of the deadly Arkham Knight! But who is under the mask? And why do they want Batman dead? The incredible future of Batman adventures begins here! For the 1st time EVER - we were able to work with DC to present Dan Jurgen's PURE Pencils on an Ultra-Limited Edition cover to the series. Only 200 of these will be presented in the WORLD!!!!!!!! Dan laid out and brought to life a fantastic job on the cover to Detective #1000, creating, in our opinion, one of the best Detective and Batman covers of all time, spanning 80 YEARS of Batman History paying homage to all of the great artists over 8 decades, and we thought it would be cool to show you the pencils that Dan created that laid out the cover!!!!!!!! Check it out! Be one of the few, and the Elite, to get this cover!!!!!!!! FINAL COVER MAY VARY. ALLOCATIONS MAY OCCUR.