DF SPECIAL - YOUR CHOICE STAN & KEN'S SUNDAY BEST!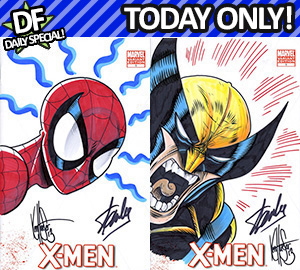 PRICE:
$320.00
This Sunday, we're "dressing up" this randomly chosen Marvel blank edition with a sketch from your pal and ours, Ken Haeser and topping it off with a signature by the one, the only, STAN "THE MAN" LEE, the co-creator of the X-Men, Fantastic Four, Spider-Man, and more!!! This masterpiece will feature the Marvel hero or villain of YOUR choice to be drawn by Ken Haeser! That's right, YOU get to pick the Marvel-ous character to appear on the cover and our man Ken Haeser will make him or her come to life. We have a very limited amount of the blank sketch editions signed by Stan Lee and we are giving you the chance to add one of Earth's Mightiest Heroes or Villains to that cover... IN COLOR These original works of art are being offered for one day only for the DF Daily Special Price of $320.00. Only FIVE are available TODAY, so do not delay!

* ONE RANDOMLY CHOSEN Marvel BLANK EDITION SIGNED BY Stan Lee AND FEATURING A HAND DRAWN AND COLORED Marvel CHARACTER SKETCH BY KEN HAESER!! (Regular MSRP $799.99)

* Here's how to order: Make your request on the "Notes" field located on the order form for proper tracking. If you want a random Marvel character, leave the "Notes" field blank and we will select one for you. Only one character selection per book is permitted. E-mails with character requests or adjustments are not accepted, so please select carefully before placing your order. While the title is not guaranteed, you may feel free to put in a request for a specific Marvel blank cover and we'll do our best to accommodate! Our goal is to pick a blank that best associates to the character of your choosing.