DF SPECIAL - JUST ANOTHER MANIAC MONDAY!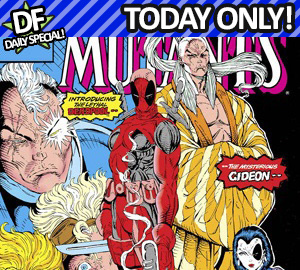 PRICE:
$19.91
HAPPY MONDAY FANS! Ya love DEADPOOL, right? Let's kick the week off right with an ALL-NEW offering starring everybody's favorite merc with a mouth, DEADPOOL! First, you'll get 1 randomly chosen SIGNED comic starring DEADPOOL!!! And we know you LOVE surprises, so we're randomly inserting ULTRA-LIMITED editions in there. Yes, that's right!!! Yours could be a BLOOD RED edition, or maybe even SILVER OR GOLD!!! Next, you'll get one of the highly sought after variant covers with DEADPOOL on it!!! Both comics clocking in at a minimum MSRP value of $50 or more, for the low, LOW price of $19.91, celebrating the year DEADPOOL first appeared in NEW MUTANTS #98!!! GET YOUR DEADPOOL DUAL PACK ACTION ON TODAY!!!

* 1 RANDOMLY CHOSEN SIGNED COMIC STARRING DEADPOOL!!! (Regular MSRP $29.99 or higher!)

* 1 RANDOMLY CHOSEN DEADPOOL VARIANT!!! (Regular MSRP $9.99 or higher!)

* Please note: All items are RANDOMLY CHOSEN and multiple orders may receive duplicate items.