GWENPOOL #1 SIGNED BY CHRISTOPHER HASTINGS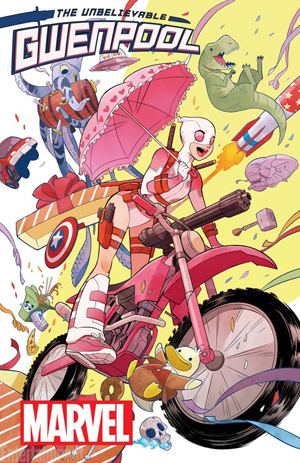 PRICE:


$19.65 MSRP: $29.99 YOU SAVE 34%
UPC: 725130247063
2015's overnight sensation is taking center stage next year and slicing and dicing her way into her very own ongoing series! That's right world, get ready for THE UNBELIEVABLE GWENPOOL #1 - coming at you in April from Gwenpool Holiday Special creators Christopher Hastings and Gurihiru! Strap in True Believers, you ain't seen nothing yet! Gwen Poole used to be a comic book reader just like you...until one day she woke up INSIDE the Marvel Universe! Now the characters she read about are all real! But they can't be really real, right? This must all be fake, or a dream or something right? You know what that means - NO CONSEQUENCES! First order of business, get a costume and start fighting crime. Why? Because that's what everyone who has a solo series does! No power. No responsibility. No rules. No limits. The Marvel Universe has a new player, and she'll shoot and slice her way through friend and foe alike. Could she truly be Marvel's least role-modely and least responsible character to date? She can if she tries! Be there this April as this Marvelous mercenary makes her explosive entrance in GWENPOOL #1! FINAL COVER MAY VARY. ALLOCATIONS MAY OCCUR.
Product Update: CANCELED