AMAZING SPIDER-MAN #1 DYNAMIC ULTRA-RARE COVER BY TERRY DODSON - SIGNED BY DAN SLOTT!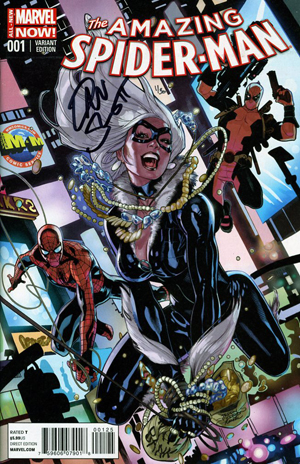 PRICE:
$79.99
Announcing the triumphant return of Peter Parker as everyone's friendly neighborhood Spider-Man this April in an all-new AMAZING Spider-Man #1. In 2012, the comic book world was shocked to find that Doctor Otto Octavius, aka Doctor Octopus, had switched bodies with Peter Parker and, in the process, left Peter Parker to die in Octavius' cancer-ridden shell. Since then, Octavius has been fighting crime by his own dark methods in the pages of The Superior Spider-Man.
Teased throughout the entire run of The Superior Spider-Man, written by Dan Slott (The Mighty Avengers, She-Hulk), Peter's presence never quite left his body and is now set to regain control and show the world who Spider-Man is - and no one could be more excited than Dan Slott himself. "I've been a Spider-Man fan since I was eight years old. Of COURSE I want to see Peter back! He is the one, true Spider-Man," says Slott. With Peter Parker swinging back into action in AMAZING Spider-Man #1, Slott, including fan-favorite artist Humberto Ramos (The Spectacular Spider-Man, Pete Parker: Spider-Man), are returning readers to intense and highly kinetic web-slinging action. Senior Editor, Stephen Wacker says, "The entire creative team is incredibly excited to bring readers the next stage in Spider-Man's life. And I can promise you that the plans for AMAZING Spider-Man, over the next year, will be the biggest Spidey epic yet! " This special limited edition will be SIGNED by DAN SLOTT! Specially priced in honor of the first appearance of The Black Cat in The Amazing Spider-Man #194 (July 1979). ULTRA-LIMITED TO JUST 30 IN THE WORLD!