AVENGERS INVADERS #1 - WITH ORIGINAL ART BY STEVE SADOWSKI!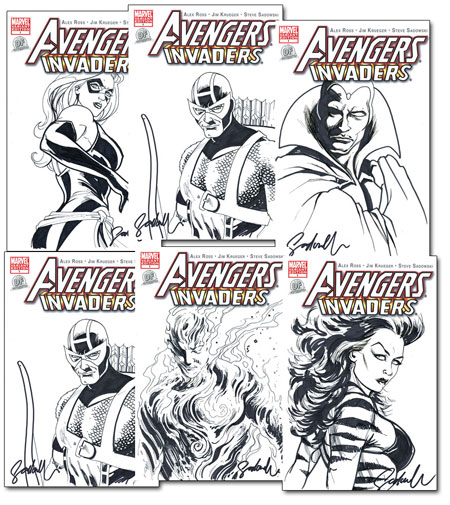 PRICE:
$189.99
What an awesome collector's item this is!! Steve Sadowski, the interior artist of the Avengers/Invaders series, has added an original inked drawing to the cover of each of these DF Authentix Editions of Avengers/Invaders #1! How senses-shattering is this! A hand-drawn Avenger!! Each is different and we have a great selection of characters which will be selected at random! Captain America! Beast! Hawkeye! Ms. Marvel! The Human Torch! Tigra! And the list goes on! Each of these Mighty Marvel Masterpieces will include a DF Certificate of Authenticity and arrive bagged with board and sealed with DF Holo-Foil sticker!
About Steve Sadowski: Steve's work includes Malibu Comics' Firearm 13 (10 pages un-credited), Jestercrow 1 from Castle Rain, Bob Burden's Mystery Men 1 and 2 from DARK HORSE, and for DC, Starman 56 and Starman 80-Page Giant, Smash Comics 1, All Star Comics 2, JSA Secret Files, Paradise X: Devils, Power Company, JLA/JSA Secret Files, JSA All Stars: Doctor Midnite, The Avengers and Wonder Woman. He has also worked doing storyboards for motion pictures, video games and commercials.