HERO COMIC BOOK ANTHOLOGY (COVER A)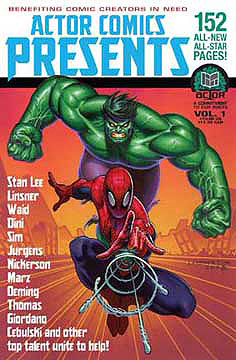 PRICE:


$10.00
HERO Comics Presents is a 152-page anthology which debuts at the Baltimore Comic-Con Sept. 9-10. It'll be in-stores Sept. 13, with a cover price of $10.
That's right. We said 152 pages at $10! Dig it!
Stories include?
"S.A.S.E.: Send Another Submissions Editor" from HERO Comics Presents. Story is by C.B. Cebulski with art by Rob Guilory.
An unprecedented collaboration between Stan Lee and Joseph
Michael Linsner. You may have heard of them?
An Incredible Hulk story by William Loebs, Dave Simons and Armando Gil. IN FULL COLOR!
A Spider-Man story by Ron Marz, Dan Jurgens, and Al Vey!
IN FULL COLOR!
TWO new stories by Powers co-creator Michael Avon Oeming!
A brand-new story by six-time Emmy Award winner Paul Dini!
Convention confessions from Mark Waid!
A
hilling new story by horror legend T. Casey Brennan and Cerebus legend Dave Sim!
A stellar collaboration by comics legends Roy Thomas and Dick Giordano!
A pinup section featuring Frank Cho, Trevor
airsine, Terry and Rachel Dodson, and more!
And again, a whopping 152 pages at a mere $10.