NEW 'WALKING DEAD' TRAILER SPOTLIGHTS CARL'S JOURNEY
02/19/18 @ 10:55 am EST
Source:
AMC
| Categories:
Walking Dead
|
Comments
(0) |
E-mail Article
|
Add a Comment
AMC
has released a new "Walking Dead" promo titled "Carl's Journey" in preparation for the beloved character's final episode, set to air Sunday.
Trailer:
https://youtu.be/Y_EelGnV2ds
PATRICK STEWART'S FIRST STAR TREK REVIVAL PHOTO
09/24/18 @ 5:35 pm EST
Source:
Newsarama
| Categories:
Star Trek
|
Comments
(0) |
E-mail Article
|
Add a Comment
Make it so!
Patrick Stewart has tweeted a photo from the set of his still untitled
Star Trek
revival show, in which he'll reprise his role as Captain Jean-Luc Picard. (via
Newsarama
)
"The journey has begun. Kirsten Beyer, Michael Chabon, Akiva Goldsman, Diandra Pendleton-Thompson, James Duff, and yours truly," reads the message that accompanied the tweet, naming the Star Trek writers pictured in the room with Stewart.
The still untitled series is expected to debut in 2019.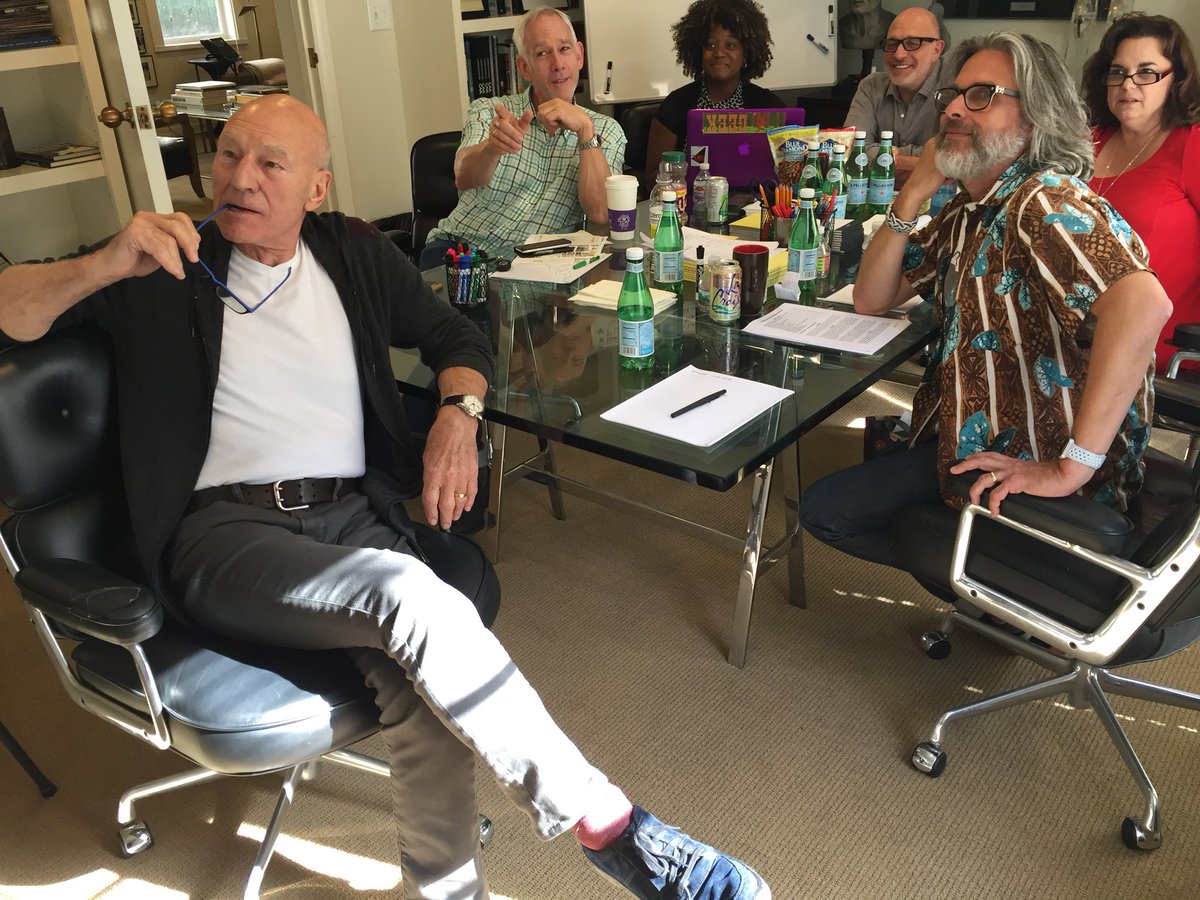 DENVER COMIC CON CHANGES NAME TO DENVER POP CULTURE CON FOR 2019
09/24/18 @ 4:27 pm EST
Source:
Bleeding Cool
| Categories:
MIsc
|
Comments
(0) |
E-mail Article
|
Add a Comment
Bleeding Cool
is reporting that Denver Comic Con, which takes place in the Colorado Convention Center every years in June, is changing its name to Denver Pop Culture Con.
This follows the success of San Diego Comic-Con in the courts regarding Salt Lake Comic Con's attempt to trademark their name, gaining $20,000 in damages and $4 million in legal fees (although that is being contested).
Denver's Pop Culture Classroom which creates the show will also launch the Reno Pop Culture Con, taking place at the Reno-Sparks Convention Center in Nov. 8-10, in 2019.
MARVEL REVEALS NEW UNCANNY X-MEN #1 COVER FROM JEN BARTEL
09/24/18 @ 4:19 pm EST
Source:
Marvel
| Categories:
Marvel
|
Comments
(0) |
E-mail Article
|
Add a Comment
This November, UNCANNY X-MEN returns with a new ongoing series, bringing together nearly every mutant left on earth in a story that threatens to destroy them. It's an epic tale of mystery and tragic disappearance, with an adventure so earth-shattering, it could very well be the X-Men's FINAL mission!
In celebration of the much-anticipated launch of UNCANNY X-MEN #1, Marvel is excited to reveal a variant cover from superstar artist Jen Bartel!
Don't miss UNCANNY X-MEN #1, coming this November to your local comic shop!
UNCANNY X-MEN #1 (SEP180791) Written by KELLY THOMPSON, ED BRISSON and MATTHEW ROSENBERG Art by MAHMUD ASRAR, MARK BAGLEY and MIRKO COLAK Cover by LEINIL FRANCIS YU
UNCANNY X-MEN BARTEL VAR (SEP180792)
On Sale 11/14/18
NYCC 2018: VALIANT REVEALS EXCLUSIVE COMICS, MORE FOR NEW YORK COMIC CON 2018
09/24/18 @ 3:29 pm EST
Source:
Valiant
| Categories:
MIsc
|
Comments
(0) |
E-mail Article
|
Add a Comment
In just two short weeks, Valiant is setting its sights on the concrete jungle of Manhattan with a brand-new lineup of con-exclusive collectibles, giveaways, and merchandise that will only be available at
New York Comic Con 2018!
From
Thursday, October 4th
to
Sunday, October 7th
, head to the
Javits Convention Center
in Manhattan and to Valiant's newly re-designed convention headquarters at
Booth #1635
for the latest that the industry's most critically acclaimed comic book publisher has to offer!
First: Dive into one of the biggest and most accessible shared comic universes around with an extensive selection from Valiant's slate of award-winning titles, including
BLOODSHOT SALVATION, BRITANNIA, ETERNITY, SHADOWMAN, FAITH, NINJA-K, SECRET WEAPONS, X-O MANOWAR
, and many more!
Make sure you arrive early to scope out Valiant's NYCC-only exclusives, available both at
Booth #1635
and at Reedpop's official New York Comic Con merchandise store – including a brand-new assemblage of Fanset's
VALIANT ENAMEL COLLECTOR'S HEAD PINS,
on an exclusive Raúl Albacker card and featuring a SHADOWMAN NYCC-only pin; a
X-O MANOWAR #19 NYCC 2018 Exclusive Variant
featuring artwork by
Walter Simonson
, and much more!
Plus: Skip the shipping costs of the online store and check out the rest of what Valiant has to offer at
Booth #1635
, including the
BLOODSHOT 1/6 SCALE ACTION FIGURE,
convention-exclusive T-shirts, and other amazing offerings!
We'll see you in the Big Apple!
FREE GIVEAWAYS
VALIANT BEYOND SNEAK PREVIEW
Get a first look at Valiant's most anticipated upcoming series with previews for BLOODSHOT RISING SPIRIT #1, LIVEWIRE #1, and 2019's THE LIFE AND DEATH OF TOYO HARADA #1!
--
THE LIFE AND DEATH OF TOYO HARADA #1: RETAILER-EXCLUSIVE ASHCAN EDITION
The entire first issue of Joshua Dysart's long-awaited prestige series, with black-and-white art by CAFU and Mico Suayan! Strictly limited to those who attend Diamond's Retailer Breakfast at New York Comic Con!
--
NYCC EXCLUSIVES:
VALIANT ENAMEL HEAD PINS COLLECTOR'S EDITION MASTER SET [$60]
Produced by FanSets
Limited to only 50 sets at Valiant Booth #1635, collect all five of Valiant's newest convention-exclusive pins at once – plus an extra SHADOWMAN pin exclusive only to this collection – on a limited-edition exclusive backer card that can't be found anywhere else!
--
X-O MANOWAR #19 NYCC 2018 EXCLUSIVE VARIANT [$10]
Available exclusively at Valiant Booth #1635, Matt Kindt and Juan José Ryp's descent into the Unknown begins with a brand-new arc in X-O MANOWAR #19 – featuring this transcendent cover by
comics legend Walter Simonson!
--
FAITH: DREAMSIDE #1 NYCC 2018 EXCLUSIVE VARIANT
Available exclusively via the Reedpop store at NYCC! Faith and Doctor Mirage take their team-up to the New York Public Library in this exclusive cover drawn by Becca Farrow (Ladycastle) for the next exciting miniseries by Jody Houser and MJ Kim!
'RICK AND MORTY™' GETS A SPECIAL DOUBLE-SIZE EDITION FOR LCSD 2018
09/24/18 @ 3:24 pm EST
Source:
Oni Press
| Categories:
MIsc
|
Comments
(0) |
E-mail Article
|
Add a Comment
Oni Press is gettin' schwifty over a brand-new
Rick and Morty™
treasury edition to be released on Local Comic Shop Day, November 17, 2018.
Rick and Morty™
is the critically-acclaimed, half-hour animated hit comedy series on Adult Swim that follows a sociopathic genius scientist who drags his inherently timid grandson on insanely dangerous adventures across the universe. Rick Sanchez is living with his daughter Beth's family and constantly bringing her, his son-in-law Jerry, grand-daughter Summer, and grand-son Morty into intergalactic escapades. Can the family survive Rick's insanity and all the chaos the universe throws at them?
Rick and Morty stars Justin Roiland (
Adventure Time
), Sarah Chalke (
Scrubs
), Chris Parnell (
Saturday Night Live
) and Spencer Grammer (
Greek
). The series is created by Dan Harmon (
Community
) and Roiland who also serve as executive producers.
This special double-size treasury edition for Local Comic Shop Day includes issues #35 and #40, two hilarious standalone issues written by Kyle Starks (
Sexcastle, Kill Them All
) and illustrated by series artists Marc Ellerby and Sarah Stern. Come for the jokes, stay for the soul-crushing ennui. Wubba lubba dub dub!
Local Comic Shop Day® is the celebration of Local Comic Book Shops and unique and exclusive comic books sponsored by ComicsPRO, the trade association of specialty comic book retailers. LCSD calls attention to locally owned independent comic book specialty stores, celebrating their unique and vital role in being the primary fire-starters of pop culture. Pop Culture begins in your Local Comic Shop!
LEV GROSSMAN'S THE MAGICIANS COMES TO BOOM! STUDIOS
09/24/18 @ 2:59 pm EST
Source:
BOOM! Studios
| Categories:
MIsc
|
Comments
(0) |
E-mail Article
|
Add a Comment
​
BOOM! Studios today announced it has acquired the comic book and graphic novel publishing license to
THE MAGICIANS
, the award-winning,
New York Times
bestselling adult fantasy novel series created by Lev Grossman, which has become a worldwide pop culture phenomenon and inspired a hit television series on Syfy, whose fourth season will premiere in 2019.
Originally published in 2009,
THE MAGICIANS
introduces readers to Brakebills College for Magical Pedagogy, which boasts a prestigious and dangerously difficult curriculum, famous and infamous alumni, and a record of only…a few deaths per graduating class.
The first release in this partnership will be
THE MAGICIANS: ALICE'S STORY
, an all-new original graphic novel hardcover set in the world of the book trilogy by Grossman, from acclaimed writer Lilah Sturges (
Lumberjanes: The Infernal Compass, Jack of Fables
), rising star artist Pius Bak and featuring a cover by Steve Morris (
Buffy The Vampire Slayer
).
Debuting in July 2019,
THE MAGICIANS: ALICE'S STORY
expands the mythology of
The Magicians
, the first novel in the series trilogy, through the perspective of lead character Alice Quinn before she joins Brakebills and embarks on an epic journey in the magical land of Fillory.
Alice is manifestly brilliant, and she's always known that magic is real. During her years at Brakebills Alice rises to the top of her class, falls in love with Quentin Coldwater, and witnesses a horrifically powerful magical creature called the Beast invade their dimension. Soon after graduation, Alice and Quentin set their sights on the idyllic setting from their favorite children's books, Fillory. In Fillory, magic flows like a river but even with talking animals, enchanted items, and the chance to become king and queen of a magical land in the offing, nothing is what it seems and something far darker lies in wait behind the spellbinding facade. Now fans will learn untold secrets of Alice's journey, the world of
THE MAGICIANS
, and will find answers to some of their biggest questions.
"Usually when your work is being adapted, you just hope you'll end up with something reasonably faithful to your vision," said novelist Lev Grossman. "You never expect to have that vision turned around and expanded to reveal incredible new things you never even knew were there. But that's what happened with
ALICE'S STORY
."
"Working on
THE MAGICIANS
has been a complete joy for me from beginning to end," said writer Lilah Sturges. "The original novel is so good. It's just so good. Like, have you read this thing? And it really speaks to me, being as it is the emotional biography of basically every sensitive gifted-and-talented kid. The best part for me was getting to adapt it in a way that presents the events of the novel in an entirely new context, by focusing on Alice rather than Quentin. It's a change that, perhaps not coincidentally, makes it one of the most effortless jobs I've ever had; in real life I'm only a hair's breadth away from Alice personality-wise, for better or worse."
"What I enjoy most about drawing is that it allows me to create things that are not real by building worlds and exploring them in my art. So I feel very lucky to get to be working on
THE MAGICIANS
, because drawing Fillory and the magical world surrounding it is so much fun!" said artist Pius Bak. "The original novel is incredible and Lilah's adaptation of it . . . is just perfect. This feels like the best work of my career and I can't wait for fans to see the final graphic novel in 2019."
THE MAGICIANS: ALICE'S STORY
is the latest release from BOOM! Studios' eponymous imprint, home to a world-class group of licensed comic book series and ambitious original series, including Joss Whedon's
Firefly
and
Buffy The Vampire Slayer
,
Abbott
,
Mech Cadet Yu
,
Grass Kings
, and
Bone Parish
.
"
THE MAGICIANS
challenges readers with its unflinching look at the nature of the world around us, the way we mature (or not) through our toughest moments, the beauty of those trials, and introduces us to a cast of nuanced, flawed characters – with perhaps none as fascinating as Alice Quinn," said Sierra Hahn, Executive Editor, BOOM! Studios. "Lev, Lilah, and Pius have created a new canonical vision of that the first novel in the series, digging deeper into Alice's journey and exploring the depths – and heights – of her growth from fledgling magician to something even greater. First and longtime fans alike will discover something new in the heart of
ALICE'S STORY
."
Print copies of
THE MAGICIANS: ALICE'S STORY
will be available for sale in July 2019 at local comic book shops, bookstores or at the BOOM! Studios webstore. Digital copies can be purchased from content providers, including comiXology, iBooks, Google Play, and the BOOM! Studios app.
ARCHIE COMICS HITS NYCC 2018 AHEAD OF RIVERDALE SEASON 3 PREMIERE, NETFLIX'S CHILLING ADVENTURES OF SABRINA LAUNCH, AND HISTORIC ARCHIE #700
09/24/18 @ 10:49 am EST
Source:
Archie Comics
| Categories:
Archie
|
Comments
(0) |
E-mail Article
|
Add a Comment
Archie Comics, the acclaimed and bestselling home to iconic characters known across the world, unveiled their plans for New York City's premiere pop-culture event, New York Comic Con 2018.

Archie Comics characters are riding a wave in Hollywood with the third season of The CW's smash-hit Riverdale premiering October 10th and the highly anticipated October 26th launch of Netflix's Chilling Adventures of Sabrinastarring Kiernan Shipka. Archie Comics publishing continues its critically acclaimed evolution with November's ARCHIE #700, a return to legacy numbering for the flagship series and the arrival of the new creative team of superstar writer Nick Spencer (Amazing Spider-Man) and artist Marguerite Sauvage (Faith, Bombshells).

New York Comic Con is always a special, monumental event for Archie Comics, and this year will be no exception," said Jon Goldwater, Archie Comics CEO/Publisher and Executive Producer of Riverdale and Chilling Adventures of Sabrina. "The company is firing on all cylinders, with the new Riverdale season, Sabrina Netflix launch and ARCHIE #700 revving up to close out the year in grand fashion. It's a great time to be an Archie Comics fan."

New York City will become Archie Comics HQ during NYCC weekend, with members of the Chilling Adventures of Sabrina cast appearing at the "Netflix and Chills" panel on Friday evening, a jam-packed Archie Comics Panel with fan-favorite writers and artists on Saturday morning, and a Riverdale Q&A Panel on Sunday morning featuring KJ Apa, Lili Reinhart, Madchen Amick and Luke Perry. These buzz-worthy events pair nicely with a comprehensive creator signing schedule and convention-exclusive comics and merchandise at the Archie Comics Booth #2328 to create the ultimate Archie Comics fan experience at this year's show.

ARCHIE #700 PREVIEW






Panel Schedule




Netflix and Chills

Friday, October 5th

7:30pm – 9:30pm, Main Stage 1D

Featuring Kiernan Shipka, Michelle Gomez, Ross Lynch, Miranda Otto, Chance Perdomo, Lucy Davis of the Chilling Adventures of Sabrinacast, and Executive Producer Roberto Aguirre-Sacasa!

The midnight hour is close at hand with Netflix's Mega Block of chills, thrills, and everything else of the other-worldly variety. Join the casts of Umbrella Academy, The Haunting of Hill House, and Chilling Adventures of Sabrina as they descend upon New York Comic Con to discuss these highly anticipated new series. Plus, get a first look at The Dark Crystal: Age of Resistance before anyone else. The conversations will leave you sleeping with the lights on and texting your friends about the surprises along the way!

Archie Comics Forever: Riverdale and Beyond

Saturday, October 6th

11:00am – 12:00pm, Room 1A24

Moderator: Ron Cacace

Panelists: Jon Goldwater (Publisher/CEO, Riverdale EP), Victor Gorelick(Co-President/Editor-in-Chief), Mike Pellerito (Co-President), Alex Segura(Co-President), Nick Spencer (Writer- ARCHIE), Jamie L. Rotante (Writer - BETTY & VERONICA), Frank Tieri (Writer - JUGHEAD: THE HUNGER), Dan Parent (Artist - ARCHIE MEETS BATMAN '66), and Micol Oslow (Writer - RIVERDALE: THE DAY BEFORE prequel novel).

Join your pals from Archie Comics for exclusive news and announcements about your favorite comics!

Plus, get a look ahead at Riverdale Season 3 and Netflix's Chilling Adventure of Sabrina series!




Riverdale Exclusive Sneak Peek Q&A

Sunday, October 7th

10:00am – 11:00am, The Hulu Theater at Madison Square Garden

Panelists: Jon Goldwater (Publisher/CEO, Riverdale EP), Roberto Aguirre-Sacasa (Chief Creative Officer, Riverdale EP), and KJ Apa, Lili Reinhart, Luke Perry, and Mädchen Amick of the Riverdale cast! Join Archie and the gang as they continue to dive into the secrets that loom and keep emerging from the shadows in a town that once seemed like a quiet, ordinary place. Based on the characters from Archie Comics and produced by Berlanti Productions in association with Warner Bros. Television, this one-hour drama is a bold, subversive take on the surreality of small-town life.

Join us for an exclusive sneak peek at season three followed by a Q&A with series stars and producers. Riverdale returns for Season Three October 10, airing Wednesdays at 8/7c on The CW.

SIGNING SCHEDULE AT BOOTH #2328

*ALL TIMES/SIGNINGS ARE SUBJECT TO CHANGE*
Thursday, October 4
SHOW HOURS: 10:00am-7:00pm

12pm-1pm THE ARCHIES: Alex Segura, Joe Eisma, Matt Herms
1pm-2pm JUGHEAD: Derek Charm
2pm-3pm COSMO: Tracy Yardley, Matt Herms, Vincent Lovallo
4:30pm-5:30pm JOSIE & THE PUSSYCATS: Cameron DeOrdio, Marguerite Bennett

Friday, October 5
SHOW HOURS: 10:00am-7:00pm

12pm-1pm JUGHEAD: THE HUNGER: Frank Tieri, Joe Eisma, Matt Herms
1pm-2pm ARCHIE MEETS BATMAN '66: Dan Parent, Michael Moreci
2pm-3pm BETTY & VERONICA: Jamie Lee Rotante, Sanya Anwar, Laura Braga

Saturday, October 6
SHOW HOURS: 10:00am-7:00pm

12:15pm-1pm CHILLING ADVENTURES OF SABRINA: Robert Hack
1pm-2pm ARCHIE: Nick Spencer
2pm-3pm JUGHEAD: THE HUNGER: Frank Tieri, Joe Eisma, Matt Herms
3pm-4pm ARCHIE MEETS BATMAN '66: Dan Parent, Michael Moreci


SNEAK A PEEK INSIDE TEE FRANKLIN & ALITHA E. MARTINEZ'S HORROR SERIES 'JOOK JOINT'
09/24/18 @ 10:34 am EST
Source:
Image
| Categories:
Image
|
Comments
(0) |
E-mail Article
|
Add a Comment
Image Comics is pleased to reveal a chilling preview excerpt from the forthcoming JOOK JOINT by Tee Franklin (BINGO LOVE) and Alitha E. Martinez (Black Panther: World of Wakanda)—a dark horror series, filled with blood and revenge, hitting stores this October.

JOOK JOINT drops readers in the Deep South and introduces Mahalia, who runs the hottest spot in all of 1950s New Orleans—The Jook Joint. Here she keeps the jazz popping, people bopping… and the women? The women are to die for. There's only one rule: "Keep your hands to yourself." But some men think rules don't apply to them, and Mahalia and her coven of slain women enjoy reminding them that they most certainly do…

Best described as American Horror Story meet Law & Order: SVU, JOOK JOINT is a comic unlike any other. When asked in an interview with The Hollywood Reporterabout her departure from BINGO LOVE's romance and shifting to horror, Franklin described her long-time love of the genre.

"Stephen King's It—the hardcover edition—was the first book I can remember checking out of the library; I was 10 years old. I could not put this book down. I would take It out of my backpack, on the 6 train or the No. 36 and 15 buses to Harlem, and read until it was my stop. I finished It in two days. Then it was on to Pet Sematary, Salem's Lot, Misery, and after I finished a majority of his collection, I moved on to other horror writers," said Franklin. "I wanted more, and I found Japanese horror—Takashi Miike is my favorite director. Four years ago was when I had found out about the existence of horror comics, and there was no going back. I love a good scare, creep-out, and, of course, anything bloody and full of gore. Don't judge me when I say this, as I realize I sound rather serial killer-ish, but horror makes me feel warm and fuzzy inside. Horror is truly my happy place."

The #1 issue will also feature a special Cover B showcasing Mike Hawthorne's artwork, the proceeds for which will be donated to Joyful Heart Foundation, a non-profit founded by celebrity Mariska Hargitay, which stands to transform society's response to sexual assault, domestic violence, and child abuse, support survivors' healing.

JOOK JOINT #1 hits comic shops on Wednesday, October 3rd and Franklin is set to make appearances at New York Comic Con and Midtown Comics the week of launch. Visit Midtown Comics, Downtown location (64 Fulton St, New York, NY 10038) on Thursday, October 4th from 8-10 PM where she will be signing alongside Gerry Duggan, John McCrea, David O'Sullivan, Mirka Andolfo, and Joe Casey.


ADRIAN MARTINEZ JOINS THE CAST OF 'LADY AND THE TRAMP'
09/24/18 @ 10:29 am EST
Source:
Bleeding Cool
| Categories:
Disney
|
Comments
(0) |
E-mail Article
|
Add a Comment
Adrian Martinez has joined the cast of the
Lady and the Tramp
remake as Elliot the dog catcher. (via
Bleeding Cool
)
The movie, which will be a mix of animation and live action, is one of the projects that Disney is working on to help kick off its streaming service. Other projects Disney is pursuing for its streaming service includes a live-action remake of
The Sword of the Stone
and other original projects.
Lady and the Tramp
is set to debut on the Disney Play streaming service in 2019.
ROBERT ENGLUND RETURNS AS FREDDY KRUEGER ON HALLOWEEN EPISODE OF 'THE GOLDBERGS'
09/24/18 @ 10:21 am EST
Source:
Bleeding Cool
| Categories:
MIsc
|
Comments
(0) |
E-mail Article
|
Add a Comment
He's baa-aack! And we're not talking Terminator.
Bleeding Cool
reports that actor Robert Englund, who has played Freddy Krueger for 34 years now, will don the iconic make-up again,! But not on the big screen.
Englund will reprise his role on this year's Halloween episode of
The Goldbergs
sitcom.
Freddy Krueger burst onto the scene in 1984 and the
Nightmare on Elm Street
franchise both scared and delighted fans for decades.
The program will air Halloween night, Wednesday, Oct. 31, at 8 PM on ABC.