BUSIEK JOINS DF TEAM FOR AVENGERS/JLA SIGNING!
Signed Copies Now Available By Both Writer and Artists of Titanic Cross-Over!
July 16, 2003, Runnemede, NJ – Dynamic Forces, the leader in signed, authenticated collectibles, has upgraded their signed edition of Avengers/JLA #1 and added writer Kurt Busiek to the DF line-up!
"Avengers/JLA is going to be the BIGGEST book of the year," said Nick Barrucci, President of Dynamic Forces. "I was hopping Kurt would come on board and sign our edition along with George [Perez] and Tom [Smith], and after playing a bit of phone-tag, we've nailed it down to make this the ultimate signed edition of this ultimate cross-over!"
This September, Marvel and DC unleash the first issue of the most anticipated cross-over of all time! 20 years in the making, prepare yourself for JLA/Avengers! And we have the first issue available signed by Kurt Busiek, George Perez and Tom Smith, as well as a special Re-Marked Copies (details below)!
• AVENGERS/JLA #1! – Signed by writer Kurt Busiek, and artists George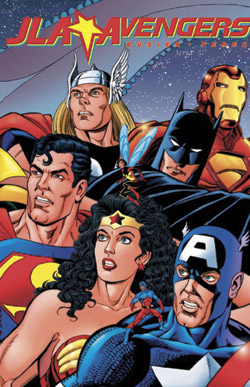 Perez and Tom Smith!
http://www.dynamicforces.com/htmlfiles/p-C97927.html
20 years in the making, THE MOST HIGHLY ANTICIPATED AND GREATEST CROSSOVER EVENT OF ALL TIME has finally arrived!
Dynamic Forces is celebrating the event by having Kurt Busiek, George Perez and Tom Smith sing this limited edition!
$49.99 Suggested Retail Price.
ALSO AVAILABLE AS A DF RE-MARKED COPY WITH HEAD SKETCHES OF SUPERMAN ON EACH COVER FOR THE MSRP OF JUST $69.99!
ALSO AVAILABLE AS A DF RE-MARKED COPY WITH HEAD SKETCHES OF BATMAN ON EACH COVER FOR THE MSRP OF JUST $69.99!
ALSO AVAILABLE AS A CGC GRADED EDITION OF 9.6 UNSIGNED AT THE MSRP of $69.99!
Each Signed copy is hand-numbered, features a certificate of authenticity and is sealed with a DF Holo-Foil sticker!
Please note that the signed and remarked comics will ship in November.
Retailer note: Special Ordering incentives are available, please contact Dynamic Forces for more details.
For more information on Dynamic Forces specialty merchandise, product art, exclusive creator interviews and upcoming releases – including more Signed Marvel Product, please visit the Dynamic Forces website at www.dynamicforces.com
------------------------
Dynamic Forces is the comic book and collectible industry's top producer of limited edition comic books, lithographs, and more.
A licensee of DC Comics, Marvel Comics, Top Cow Comics, Dark Horse Comics, Universal Studios, Paramount Studios, Pressman Film's classic film "The Crow", Sony Pictures "Underworld", T2, Jim Starlin's "Dreadstar", Sandy Frank Productions "Battle of the Planets (G-Force)" and many other industry giants, DF continues to set the pace in the comic collector and comic memorabilia markets. Recent product line expansions includes: action figures, vinyl and poly resin statues, lunchboxes, trading cards, lithographs, giclees, apparel and much more!