THE DC ANIMATED UNIVERSE: THE END OR JUST ANOTHER BEGINNING?
by Brandon Jerwa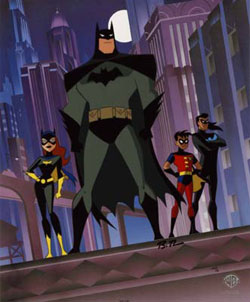 On September 5th, 1992 the Fox network aired the first episode of a show that many viewers expected to be nothing more than a children's cartoon. On that day, the bar was well and truly raised in the world of comic-book-inspired animation; "Batman: the Animated Series" was the beginning of a new era of domination for the Warner Bros. / DC Comics partnership. That success continues to this day, but the end might be looming on the horizon.
Let's go back to the beginning, with the pairing of writer Paul Dini and animator Bruce Timm, the unquestionable architects of this animated universe. Dini had made a name for himself working on "Star Wars: Ewoks" and "He-Man and the Masters of the Universe" and was eventually recruited by the WB for their highly successful "Tiny Toon Adventures" series. His efforts on that show earned him the triple-threat role of writer/producer/editor of "Batman."
Bruce Timm was also a veteran of "Tiny Toon" and several other animated shows; ironically, he had tried to obtain employment at both DC and Marvel a few years earlier and was rejected by both. Timm joined Dini on "Batman" as co-creator and producer with his distinct rendering style setting the visual tone for the series.
The Dark Knight's cartoon history had been checkered at best. Often portrayed as a smiling, kid-friendly super hero on his own 1970s series and as a member of the "Super Friends," Batman was long overdue for an interpretation loyal to his darker comic book roots. Timm and Dini delivered that interpretation in spades.
What viewers discovered on that fateful September night was a straight-faced take on the Caped Crusader with noirish atmosphere and striking characterization. The material wasn't so adult as to preclude children from watching it, but it was clear from the first frames that this was not "kid's stuff. "
Voice actor Kevin Conroy's portrayal of Batman was delivered with all the gravity of a feature film performance, driving home the pathos of the character while retaining a naturalistic human edge. Set against a Gotham City backdrop that hearkened back to 40s crime dramas, this was a vision of Batman's world that managed to reconstruct the mythology from the ground up but still be recognizable to long-time fans.
While we could certainly dwell on this series for hours, it's time to move ahead and examine its legacy. The "proper" run of "Batman: the Animated Series" lasted until 1995, but the show wouldn't stop there, as we will discuss a little bit later. In the meantime, Dini and Timm turned their attention to the other half of DC's "World's Finest" duo – Superman!
"Superman: The Animated Series" debuted in 1996 with Tim Daly as the Man of Steel and Dana Delany taking on the role of Lois Lane. Where Batman's Gotham City was shadowy and historically classic, Superman's Metropolis was bright and futuristic. The animation style stayed fairly well consistent between the two shows, however, making it clear to eager viewers that they were seeing another area of a shared DC universe. Batman appeared more than once, both physically and in reference, furthering the notion of common ground.
Superman was a hit, but Batman was still keeping busy. The Batman series had been reborn as "Batman: Gotham Knights" (also known as "Adventures of Batman and Robin") and later as "The New Batman/Superman Adventures," with the titular characters splitting an hour-long show between them. Bruce Timm and Paul Dini were at the top of their games, winning Emmys and garnering praise for these two successful animated epics…
…but they didn't stop there.
While the Batman series had built a foundation on familiar characters and situations, 1999's "Batman Beyond" was a bold new take on the Dark Knight. Set in a Gotham City of the future, the series told the story of Terry McGinnis, a young man thrust into the role of Batman by tragic circumstance and a cranky, elderly Bruce Wayne. Armed with high-tech armor and techno-gadgets, this new Batman was a bold new addition to the "animated DCU", as it was now known. Fan reaction was mixed; some of the die-hard fans thought a non-Bruce Wayne Batman was sacrilege but the show was a hit regardless, winning over a mixed audience of old and young alike.
By the turn of the 21st century, both the Batman and Superman animated series had run their course; although both would go on to find success in straight-to-video movies in the years to come. "Batman Beyond" had another year of life ahead of it (with video sequels as well) and was soon to spawn a short-lived spin-off series, "The Zeta Project." Zeta didn't have the steam of Dini and Timm behind it, but it was co-produced by Alan Burnett, who had been involved with the animated DCU since the beginning as well.
It was around this time that producer Dwayne McDuffie debuted "Static Shock," another series steeped in the lore of DC continuity. "Static Shock" is clearly a cousin to the Batman and Superman shows, occasionally featuring guest appearances from several key characters. The show was a big success with the Saturday morning cartoon crowd, but as time marches on, it doesn't seem to hold the same position of reverence as its predecessors. As a chapter in the greater story, though, it still deserves recognition.
By this time, Paul Dini had decided to focus on other projects, leaving the future of the animated DCU somewhat in question. A collective sigh of relief was heard throughout the ranks of fans and programmers alike when Bruce Timm agreed to create and produce a "Justice League" cartoon for the Cartoon Network. The goals were simple: deliver a Justice League series that was faithful to the standards of previous animated efforts and featured a large, diverse cast of favorites.
"Justice League" debuted in 2001 and succeeded admirably on all fronts. Batman (still voiced by Kevin Conroy) and Superman (now played with remarkable continuity by George Newburn) were joined by Wonder Woman, Green Lantern, Hawkgirl, Flash and Martian Manhunter to begin with. When the show was modified to include an even larger cast under the name "Justice League Unlimited," seemingly hundreds of fan-favorite heroes were added to the lineup.
Gone were the days of "buddy-buddy" super-hero relationships; at times, the members of the team could best be described as antagonistic in their dealings with one another. At the end of the day, however, they could always be counted on the get the job done. While the show's ever-growing cast may have caused a slight shortage of ongoing character exploration, the massive scale of the storylines and action sequences certainly managed to distract from any perceived deficiency.
We should also take a moment to address "Teen Titans," also airing on Cartoon Network. While the show features animated DCU characters, the rendering style and certain continuity differences make it a questionable fit with the rest of the Dini/Timm 'canon', but the show has been an unquestionable hit and a favorite among many DCU fans.
The Cartoon Network recently announced that "Justice League Unlimited" is coming to an end, with only a handful of episodes left before the final half-hour installment airs later this spring. Bruce Timm has hinted that the futuristic "Legion of Superheroes" may write the next chapter for the animated DCU, but details are still making their way to the surface. Fans eagerly await official announcements, but all signs seem to indicate that they will soon have reason to cheer.
If no more animated DCU adventures come to pass, we should certainly raise our glasses to DC and Warner Bros., if only for delivering a consistent Batman on our TV screens for the last fourteen years. They've changed the landscape of television animation for eternity, and even their toughest critics can't deny that.
Here's to the next fourteen years!