GARY WHITTA AND DARICK ROBERTSON

SEND THIS TO A FRIEND!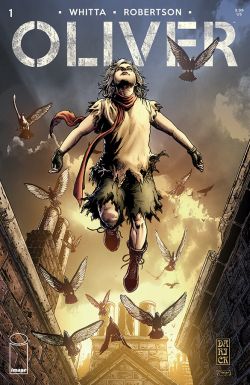 DF Interview: Gary Whitta & Darick Robertson reimagine a literary classic as a sci-fi superhero saga in 'Oliver'
By Byron Brewer
Award-winning screenwriter Gary Whitta (Rogue One: A Star Wars Story, The Book of Eli) teams with celebrated artist Darick Robertson (The Boys, Transmetropolitan, HAPPY!) for a new take on a literary classic – with a futuristic twist.
Oliver reimagines Charles Dickens' most famous orphan as a post-apocalyptic superhero fighting to liberate a war-ravaged England while searching for the truth about his own mysterious origins.
DF sat down with the creators for an interview. This is Gary Whitta and Darick Robertson told us.
Dynamic Forces: Gary, you've been quoted as saying that Oliver, your new retelling of a classic Charles Dickens story, has been on the Whitta backburner for over a decade or more. Tell readers, if you will, about this comic's genesis and subsequent stewing.
Gary Whitta: Oliver actually started life as a screenplay for a feature film. When I was trying to break into the screenwriting business back around 2002, Oliver was the first thing I wrote that actually got me an agent and a manager. Everyone really liked the story but the thinking at the time was that it was too big and ambitious to try and sell from a "baby writer", as I was back then and so although the script got me my foot in the door in Hollywood it just kind of sat on a shelf and never went out to the town. But the story always stayed with me and I was determined to tell it in some form or another, so about a year later the idea struck me that it might just as effectively be told as a comic-book series. The problem was that I knew almost nothing about comics beyond being a fan, and certainly knew nobody in the comics business. But I did know who I admired, and on top of that list was Darick Robertson thanks to his amazing work on Transmetropolitan with Warren Ellis. I took a stab at reaching out to Darick and amazingly he was very receptive, considering he didn't know me from Adam. He did a few sketches that helped bring the characters and world of Oliver to life, but it took a while for Darick to fully engage with it because he was so busy with other projects. And that's kind of been the story of the following 15 years, Darick and I stealing time whenever we could between other projects to put Oliver together a small piece at a time.
DF: What can you tell us about the world you and artist Darick Robertson are building in the series?
Gary Whitta: Part of the fun with this project has been taking all the trappings of Charles Dickens' Victorian-era world and bringing those elements into a futuristic, sci-fi context. As it turns out, the two have more in common than you may think! Our futuristic London, which is kind of an irradiated, bombed-out city years after it's been decimated by nuclear war, is not all that dissimilar from Dickens' working-class London slums; they're essentially both the province of members of society who have been forgotten about and marginalized. In our futuristic version, that's because the city has been settled by the battle-scarred veterans of the third World War, cloned soldiers who have been surplus to requirements following the end of the war and now constitute a population that the more fortunate members of society would rather pretend no longer existed. They're considered less than human. Because they were genetically engineered to withstand radiation, they've settled in the big cities like London which are too irradiated for anyone else to live in. Meanwhile, the rest of England is still getting back on its feet following the war, and it's a pretty brutal, feudal landscape presided over by a despotic governor. And that's the world Oliver is born into.
DF: Can you give us an extended pitch for Oliver? (No fair using solicit copy. LOL)
Gary Whitta: Oliver is part Dickens adaptation, part original superhero origin myth. If that sounds a bit bizarre then good, that's what I was going for. Basically the story re-imagines the Oliver Twist character as a kind of post-apocalyptic superhero for the modern age. For reasons I won't spoil as they're revealed later in the story, he's born with special powers that he doesn't yet fully understand. Part of his journey is a kind of voyage of self-discovery as he sets out to figure exactly who he is and why everyone seems to be trying to kill or capture him. Part of the story takes place in London, in the bombed-out slums where Oliver is born, and the rest takes him on an odyssey across southern England as he tries to figure out the secrets of his past and get revenge against those who have taken everything from him. In that sense, it really is a good old-fashioned revenge story, which I always enjoy.
DF: Who is Oliver – as a character, a hero – and why should readers care about him?
Gary Whitta: I hope that people will find Oliver relatable in that, when it all comes down to it, he's just a kid trying to find his place in the world. What makes that more difficult is that the world doesn't seem to want him, through no fault of his own he's considered a fugitive from the moment he's born, so everywhere he goes he's a danger to those around him. But as harsh as the world is, he hasn't allowed that to make him cynical or jaded, he's a good-natured kid who's just trying to figure out who the hell he is.
DF: Darick, in speaking of this coming Image Comics series, you've talked of your passion for visual storytelling. Can you discuss and elaborate a little more on that please?
Darick Robertson: As a huge fan of cinema, I've often studied it for lighting, ways of framing things on screen and adapting those clues to comics, in an effort to bring a more natural flow and more fully realized vision to the worlds I've designed and co-created. With Oliver, and my close collaboration with Gary, I've been able to bring that effort to a more fully realized product as Oliver is a sweeping and epic story, that allows me to make the backgrounds as much a part of the story as the lead characters.
DF: I assume it was you who got to design all these fantastic characters. Tell readers about some of your favorites (or least favorites). What about set pieces?
Darick Robertson: I haven't really been able to enjoy drawing all the designs yet as the first four issue of the story unfold Oliver's early life and sets up the conflict for the latter 8 issues, so we don't meet Dodger or Fagin until issue five! So far the most challenging thing has been the dedication to the detail (inking these pages I started saying I got 'brick fatigue') and drawing the multiple clones, as I want to really impress the reader with the sheer number of them, as that is part of what makes the story work. If you don't get a sense of how many more clones there are than Government thugs, then the story and the struggle might seem wanting. I'm hoping I communicate that well.
DF: How do you use your artist's tool box to create the post-apocalyptic world from Gary's scripts and bring this futuristic war-ravaged England to life? Make it almost a character in its own right, as is, say, Gotham in Batman?
Darick Robertson: That's very much what I'm going for. What New York is to Spidey, what Gotham is to Batman, I want Oliver to embed himself in this post-apocalyptic London. The key was to not only get the details and locations as accurate as I could for the introduction, but to make the world feel like it was once lived in, which I hope comes through.
DF: Talk, if you would, about the importance of working with color artist Diego Rodriguez and his palette to create mood, emotion, etc. for the series.
Darick Robertson: Diego Rodriguez has been coloring my stuff for a while now and we are good friends who have yet to meet face to face. Yet I know I can trust him, and he has an uncanny sense of what I'm going for and is open to direction and communication until things are just so. And it's so important as what he brings to the final look of the book elevates it over my abilities to tell the story in black and white. I notice every time I'm showing the work to someone, they inevitably note the color and comment on it, and ask who's behind it. Diego's just that good, and I'm so grateful he's stuck by me.
DF: Question from Far, Far Away: Gary, can you briefly tell readers what it was like to be a part of such an iconic franchise in writing Rogue One: A Star Wars Story?
Gary Whitta: Writing for Star Wars was without a doubt the greatest privilege of my professional life. As a kid who grew up loving Star Wars, I can't tell you what a thrill it has been to contribute even a small piece to that legendary canon. I'll always be grateful to the people at Lucasfilm for letting me play in that universe.

DF: Darick, how does it feel having The Boys back in the mainstream again with the coming TV series? Aren't you and Garth Ennis executive producers on the show?
Darick Robertson: We are, we share a Co-Executive Producer credit. It's been really gratifying, mostly because I've seen first hand the love, respect and downright enthusiasm the cast and crew have for the original comics. While they are doing their own thing with it and changing up the timeline, where it counts, they really understand what makes The Boys work. It's raunchy, it's violent, and yet has the necessary underlying heart in the story that I believe will earn us all new fans and please the existing ones. It's was 10 years hoping this thing would get made, and personally, it's been worth the wait.
Dynamic Forces would like to thank Gary Whitta & Darick Robertson for taking time out of their busy schedules to answer our questions. Oliver #1 from Image Comics hits stores Jan. 23rd!
For more news and up-to-date announcements, join us here at Dynamic Forces, www.dynamicforces.com/htmlfiles/, "LIKE" us on Facebook, www.facebook.com/dynamicforcesinc, and follow us on Twitter, www.twitter.com/dynamicforces.
THE BOYS #7 COVER B - SIGNED BY GARTH ENNIS AND DARICK ROBERTSON
THE BOYS TPB - SIGNED BY GARTH ENNIS AND DARICK ROBERTSON
THE BOYS #7 - SIGNED BY GARTH ENNIS & DARICK ROBERTSON
THE ART OF THE BOYS: THE COMPLETE COVERS BY DARICK ROBERTSON - SIGNED AND REMARKED BY DARICK ROBERTSON
DEAN KOONTZ'S NEVERMORE #1 DARICK ROBERTSON "VIRGIN ART" DF COVER
---
NEW! 1. 11/25/2020 - STEVE SKROCE
4. 11/16/2020 - RYAN O'SULLIVAN
5. 11/16/2020 - RYAN O'SULLIVAN