STEVE SKROCE

SEND THIS TO A FRIEND!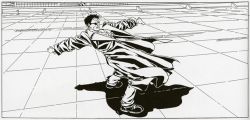 DF Interview: Steve Skroce: From comics to storyboarding for films and back again
By Byron Brewer
Writer and artist Steve Skroce has been involved in the comic book industry since 1993 and his work for Marvel, but mention the name to most folk and they know Skroce for his film storyboards, chief among them those for The Matrix.
DF recently had a chance to sit down with Skroce and ask about the cinematic side of this comic book creator. Here's what he told us.
Dynamic Forces: Steve, to start the ball rolling, tell me how you became interested in being an artist, and how that eventually phased into comic book art (Ectokid, Cable, Amazing Spider-Man).
Steve Skroce: It's the same old story, "Little nerd spends all his time reading and drawing his favorite Marvel and DC characters and decides he wants to become a comic book artist". I'd been sending out my art samples to editors since I was thirteen, I'd get encouraging rejection letters and then when I was about eighteen I got the call. I was the new penciler on a comic called Ectokid. It was a line of horror/hero books from the mind of Clive Barker, published by Marvel.
DF: How did the big break in doing storyboards for films arise? Was The Matrix your first effort toward the vocation? (Obviously successful, eh?)
Steve Skroce: Ectokid was written by the Wachowskis [Lana and Lilly] and that's where the relationship started. They actually tried to hire me for their first film, Bound, but I didn't want to leave the rock solid stability of the comics industry to work on this flash in the pan "show biz thing". We always kept in touch and they hired me for their next project, The Matrix. I could barely draw and had nearly no fundamental skills but I guess they liked me and I got to go on this big movie adventure. Those were exciting days.
DF: Having done comic book art first, what are some of the major challenges you have to overcome – some mentally, some procedurally, I am sure – in doing film storyboards? Can you compare and contrast for us?
Steve Skroce: Storyboards are great training for comics, you need to be able to draw realistically and understand cinematic visual storytelling. A comics page is sometimes about one pretty image but boarding is about making a scene work as a whole and often your draftsmanship and style are not that important, you're one of many helping hands making a blueprint for this larger thing. You're a kind of scout that's sent ahead of the army so that everyone back at camp understands the lay of the land ahead. A lot of it is about revision, you're doing things over and over, trying to land on the director's vision.
It's very collaborative and comics is usually just a couple of people. You get a comic script and the artist visualizes it and then it's sent to the colorist or letterer. Sometimes there's a change or two but deadline pressure keeps that to a minimum, that was my experience at Marvel anyway. I remember hating to have to do a change on a comic page because each drawing is so precious and labored over, in movies every drawing is disposable and part of a quest to find the best possible version.
DF: Tell us about your relationship with authors Lana and Lilly Wachowski. How important have they been in your given success in the storyboarding field.
Steve Skroce: I doubt I'd ever have found my way into movies without meeting them, when I was young all you needed to live a full life was to draw the X-Men! Luckily, they let me ride their coattails and I got to see how the sausage was made cinematically speaking. I did get to draw a single issue of Uncanny X-Men, #humblebrag.
DF: What other movies have you done storyboards for?
Steve Skroce: A bunch of different stuff over the years and I'm kind of a curse when it comes to getting movies NOT made. I've spent months on movies that ultimately didn't happen or another version of it did years later. I did this George Miller Justice League movie years ago, that was a great experience, I was a fan of him and those characters. I drew Superman, Wonder Woman and Batman fights all day long for months, I really felt like I was getting away with something! I was sooo into it, I think they thought I was a little odd. I've done all the Wachowski projects and they've been highlights. They love working with artists and it's always an interesting process.
DF: As an artist, do you approach each storyboard differently, as you would, say, different genre comics, or is it pretty much cut-and-dry procedural?
Steve Skroce: When working from comic or movie scripts there is a lot of similarity when you're breaking ground, images and compositions fill your sketchbook, there's a lot of ideas your building on. But boarding is something that's supposed to be happening in real time, you're showing the beginning, middle and end of a lot of different shots and don't forget the revisions. You're generating ten times the drawings, at least. In comics, the story unfolds across much smaller real estate. Each drawing should work like a descriptive sentence or paragraph from a novel. Conveying the character's emotions, designing and rendering backgrounds and other elements are more important to the final product in a comic book.
DF: You have recently been doing an Image comic called Maestros, on which you are both writer AND artist. Does this mean you're on hiatus from film storyboarding for awhile?
Steve Skroce: Yes. I'm fully back into comics and loving it. Movies are great but I've been blessed with a high "comic nerd midichlorian count".
DF: If you could storyboard any movie for the sake of doing it, kind of a dream job, which film past or present would it be and why?
Steve Skroce: The live action Rick and Morty feature film? That's probably a terrible idea, but I'd still like to visit the reality where that happened.
Dynamic Forces would like to thank Steve Skroce for taking time out of his busy schedule to answer our questions.
For more news and up-to-date announcements, join us here at Dynamic Forces, www.dynamicforces.com/htmlfiles/, "LIKE" us on Facebook, www.facebook.com/dynamicforcesinc, and follow us on Twitter, www.twitter.com/dynamicforces.
WE STAND ON GUARD #1 FIRST PRINTING FOUR PACK!
WE STAND ON GUARD #1 FIRST PRINTING TRIPLE PACK!
WE STAND ON GUARD #1 FIRST PRINTING DUAL PACK!
---
NEW! 1. 11/25/2020 - STEVE SKROCE
4. 11/16/2020 - RYAN O'SULLIVAN
5. 11/16/2020 - RYAN O'SULLIVAN