JIM ZUB

SEND THIS TO A FRIEND!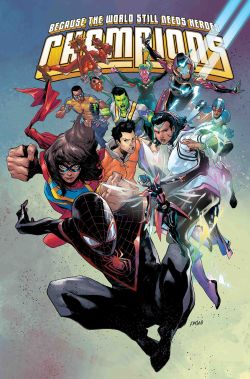 DF Interview: Jim Zub takes teen superheroing global in 'Champions'
By Byron Brewer
The Champions are worldwide! The team has seen explosive growth under Ms. Marvel's leadership, with super-powered members ready to answer the call in a dozen different countries. They're saving people and improving lives across the planet while they inspire the next generation... but something sinister lurks beneath the surface of their expanded mission. It's a dark secret that could destroy the team and everything they stand for!
Jim Zub (Avengers: No Surrender, Wayward) and Steven Cummings (Wayward, Legends of the Dark Knight) ignite a new era of Champions, filled to the brim with action, adventure and drama in the Mighty Marvel Manner! DF wanted to explore the expanded team, so we sat down with the Zubmeister himself.
Dynamic Forces: Jim, whether it be "Avengers World" in the mags or Justice League Unlimited on the tube, there is always a stretch in a super-team's history (or more!) when it goes, as they say, "Legion of Super-Heroes" on us. Why is this happening now in Champions?
Jim Zub: The Champions have always wanted to fight for the world they and their peers are inheriting and Kamala has reached a point where she doesn't feel like things can wait any longer. She reaches out to as many young heroes as she can to ask for help and a whole bunch agree and join the team. In our first issue we have 14 heroes in the mix (plus Viv's dog Sparky), with more to come in future issues.
In our first issue, this new expanded Champions team is performing a "stress test" with multiple groups responding to threats happening in different places around the globe. How does it go? Read our first two issues and you'll find out.
DF: What can you tell readers about the new status quo of the group (leader, HQ, mission, etc.)?
Jim Zub: Ms. Marvel was hesitant about taking on a leadership role at first, but after the events of Secret Empire and the confidence she's gained on her solo adventures, Kamala is stepping up to it now to try and push the team to a higher level.
The Champions Mobile Bunker is still the team's HQ, but it isn't big enough to house everyone, so that's something they'll have to address in future issues. The Champions as a concept and a team is going global, so we're looking at 'hubs' of characters in different places undertaking different missions as needed. Some of those missions will be humanitarian in nature while others will be classic "heroes vs. villains" dust ups.
DF: A team this big spanning a good chunk of the globe has to have a "core," someone in which readers are emotionally involved. Who will be at the heart of the Champions?
Jim Zub: Our original team members are still the emotional core of the Champions story: Kamala, Miles, Amadeus, Viv and Sam are at the center, with Nadia, Riri and Amka right next to them and then the rest of our new recruits filling in the back.
Balancing this many heroes with 20 pages per month isn't easy, but having those original 5 as the emotional anchor makes it all work.
DF: During these cases, there is sometimes a new member(s) on board or old members returned in a new light. Who will be the newbie/returnee(s) in Champions? A character that will be a major focal point?
Jim Zub: Sam lost his Nova helmet during the Infinity Countdown: Champions issues and that's weighing heavily on him as the series gets underway. I don't want to spoil how our current Weirdworld-centric 3-part story wraps up but suffice to say that Sam still has stuff he needs to deal with.
DF: Any new supporting characters coming with the new #1? (Is there room for supporting characters? LOL)
Jim Zub: The new Champions recruits are going to take on a supporting-style role in the story as they push up against the original team and their expectations. Keeping team unity won't be easy, especially with so many different heroes and personalities coming together to try and build a better world.
DF: What can you tell readers about the main storyline for the inaugural arc? Can you in a non-spoilery manner hint at our first big-bad?
Jim Zub: The expansion of the Champions and their newfound momentum isn't as straight-forward as everything I've told you above. The first arc deals with a dark secret that lurks underneath all of it and when that gets revealed it will rock the team to its core.
Marvel EiC CB Cebulski challenged me to make Champions feel 'big' and the best way for me to do that was to bring an A-List villain to take them on. Who that is remains a secret for now, but the reveal will get readers talking.
Up until now the Champs have had it relatively easy, but with this new series the gloves are off. They're stepping up to confront larger threats and in turn they're making themselves visible to a higher caliber of supervillains in the Marvel Universe. The threats are bigger and the price for failure might be more than they can bear.
DF: Elephant in the room: Okay, Zub, okay, I will ask: What is it like working with your loooongtime Wayward co-creator and artist Steven Cummings on a book from the House of Ideas?
Jim Zub: Steven and I are a smooth-running machine and that gave me a lot of confidence to really swing for the fences with this relaunch. Sean Izaakse and Kevin Libranda were brilliant to work with but Steven and I have been doing the teen action-drama thing together for the past four years so I know exactly how to make this work with him on board.
DF: Spinning from the above, Jim, what IS it like for you now in a world without Wayward?
Jim Zub: It's weird because Wayward is all done, but with Steven stepping on to start drawing Champions less than a week after we wrapped production on Wayward #30, it also kind of feels the same. The momentum is still there, I just needed to explain a lot more superhero continuity to him as we got it into gear.
DF: I'm a new fan who never heard of Champions … or an old Quite Nuff Sayer (some of us are still alive) whose last Champions book had Hercules and Ghost Rider in it. Why should I buy Champions #1?
Jim Zub: The Champions are a new generation of Marvel heroes trying to find their way in an increasingly dangerous world. They're going to inherit the Earth and are ready to fight for what they believe in, while at the same time trying to figure out their own lives. It's teen drama and action on a global scale, diverse and dynamic.
DF: Jim, wassup in new projects land besides Avengers: No Road Home?
Jim Zub: The final issue of Rick and Morty VS Dungeons & Dragons (co-written with Pat Rothfuss) should be out around Christmastime. I've got another D&D comic mini-series arriving at some point next year.
I've just pitched on a couple of other Marvel projects and my fingers are crossed that they move forward.
On top of all that, I've got a new creator-owned series starting to build momentum that I should be announcing by the summer. There's lots to look forward to in Zubville.
Dynamic Forces would like to thank Jim Zub for taking time out of his busy schedule to answer our questions. Champions #1 from Marvel Comics hits stores Jan. 2nd!
For more news and up-to-date announcements, join us here at Dynamic Forces, www.dynamicforces.com/htmlfiles/, "LIKE" us on Facebook, www.facebook.com/dynamicforcesinc, and follow us on Twitter, www.twitter.com/dynamicforces.
PATHFINDER VOL. 1: DARK WATERS RISING HC - SIGNED BY JIM ZUB
CHAMPIONS #1 DYNAMIC FORCES EXCLUSIVE BY JOHN CASSADAY CGC GRADED!(Previous volume)
CHAMPIONS #1 1:100 VARIANT BY ALEX ROSS! (Previous volume)
CHAMPIONS #1 DYNAMIC FORCES EXCLUSIVE BLACK & WHITE VARIANT COVER BY SUPERSTAR ARTIST JOHN CASSADAY SIGNED BY MARK WAID! (Previous volume)
CHAMPIONS #1 SIGNED BY MARK WAID (Previous Volume)
---
NEW! 1. 02/10/2022 - SIMON SPURRIER
4. 01/31/2022 - TIM SEELEY & AARON CAMPBELL
5. 01/27/2022 - TYLER BURTON SMITH