PETER MILLIGAN

SEND THIS TO A FRIEND!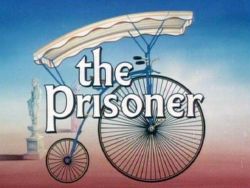 DF Interview: Peter Milligan breaks The Prisoner out of limbo just in time for 50th anniversary
By Byron Brewer
In 1968, the strange genre-defying television show The Prisoner first aired in the United States. (It had aired on the United Kingdom's ITV network in 1967.) In 2018, 50 years later, Titan Comics will revive the cult classic with a new comic book.
The series will be written by Peter Milligan (Kid Lobotomy, Terminal Hero) with art by Colin Lorimer (The X-Files).
DF wanted to gather more intel for you, our "Number Two" (Prisoner-speak for authority figure), so we sat down with scribe Peter Milligan.
Dynamic Forces: There are certain shows from my past, some with obvious British origins, that are special: The Avengers (Steed and Mrs. Peel), The Saint and obviously The Prisoner. Peter, were you a fan of these cult favorites, and what are your thoughts on the TV version of the book you are about to unleash on our readers, The Prisoner?
Peter Milligan: I was a big fan of The Avengers and The Prisoner, especially The Prisoner; its weirdness and its hero in an existential crisis suited my sensibilities. I was a borderline obsessive reader of Franz Kafka when I was younger – still am, especially since writing Kid Lobotomy over at IDW – and something about the Prisoner's plight, unsure why he's where he is or where he is, had a pleasing quality for me.
DF: Perhaps these first two questions are in reverse order, but can you give us a capsule summary of the original televised Prisoner, what it was basically all about?
PM: The original TV series is about a former British agent (played by Patrick McGoohan) who is abducted and imprisoned in a surreal seaside colony known as The Village, where he is interrogated to find out – perhaps – why he resigned from his job at British Intelligence. He is assigned the number Six, although he continuously declares that he "is not a number". Is this all a drug trip? Has our hero gone mad? Does he have some vitally important information? Or is this some examination of what it is to be an individual man in the modern age of anxiety? Everything is possible, nothing is definite. What the show was about depends on how your trousers fit.
DF: What can you tell us about your coming comic? Will this be an adaptation, all-new material? And will Patrick McGoohan's unnamed former spy be at its center?
PM: The new Prisoner is not an adaptation, it is all-new material set some time after the events of the original Prisoner show. Although our hero is not Patrick McGoohan, he does work for British Intelligence. The story is about what happens when you cease to believe in all you once held true. In this, it has echoes of other stories about "the burnt-out spy" but because this is The Prisoner there is another element, a kind of force of nature that is drawing our spy out of the recognizable espionage world towards another world, one of strangeness and contradiction … which challenges his sense of who and where he is.
DF: The Prisoner series is renowned for its oddness, its twists and turns, Kafkaesque and existential, as it were. How do you meet the challenge of doing something like that in a comic book? Or will you be taking another path on this theme?
PM: It's this aspect of the story – the Kafkaesque, the weird – that most appeals to me. But I was intent on not making this a surreal fest right from the beginning. We're trying to create a hero, in a recognizable world, a recognizable genre if you like, and examine how he reacts when the certainties of this world are taken from him.
DF: I know, at least by what has come before, that the vagueness of the piece is part of its charm, but can you tell us anything at all (if not the names, the numbers, laughs) of some of your cast upcoming?
PM: We have our hero, Breen. To some extent, I've based him on Alec Leamas, the hero of John Le Carre's The Spy Who Came in from the Cold, the finest spy novel ever written. There's a woman, who might or might not be a double agent. And there's Number Two. He's not the same as Number Two in the original story: but after all, he's a number, not a man.
DF: Talk about working with Colin Lorimer and what that artist brings to the table.
PM: We've only just started on this so it's a bit hard to really talk about this, but I like what I've seen and look forward to forging a fruitful collaboration.
DF: This book will launch 50 years after The Prisoner TV series' original U.S. debut. How does it feel to be part of such an historic event, and to be adding your own contribution to the iconic franchise?
PM: I don't think too much about that kind of thing, but it does feel pretty special, to be adding a little to what was one of the most original and creative shows ever made.
DF: Peter, is there anything you are working on, inside or outside comics, you'd care to tell the readers about?
PM: I'm writing the third storyline of Britannia at Valiant and also working on the miniseries Legion for Marvel. But what I'd like to flag up again is the comic I mentioned earlier: Kid Lobotomy. I'm really proud of this series: it's very different from The Prisoner but also takes our hero into a world of the surreal and the Kafkaesque – although I sometimes wonder how many people who throw around the term "Kafkaesque" have actually read anything by the great man?
Dynamic Forces would like to thank Peter Milligan for taking time out of his busy schedule to answer our questions. The Prisoner #1 from Titan Comics hits stores in 2018! Stay tuned to DF News for more info!
For more news and up-to-date announcements, join us here at Dynamic Forces, www.dynamicforces.com/htmlfiles/, "LIKE" us on Facebook, www.facebook.com/dynamicforcesinc, and follow us on Twitter, www.twitter.com/dynamicforces.
ALL NEW MIRACLEMAN ANNUAL #1 JEFF SMITH VARIANT CGC GRADED!
ALL NEW MIRACLEMAN ANNUAL #1 JOE QUESADA VARIANT CGC GRADED!
---
NEW! 1. 11/30/2020 - SKYLAR PATRIDGE
5. 11/16/2020 - RYAN O'SULLIVAN