TINI HOWARD

SEND THIS TO A FRIEND!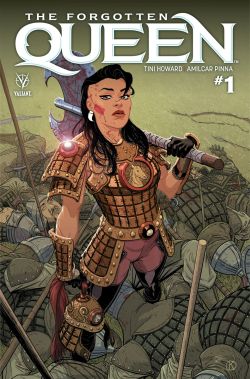 DF Interview: Tini Howard unfolds the saga of War-Monger in 'The Forgotten Queen'
By Byron Brewer
Long ago, the mighty generals of the Mongol Empire rode from Siberia to Carpathia and conquered all who stood in their way. Legends tell of a witch who walked with them, who could infect the hearts of any warriors in her midst with an unquenchable thirst for battle and bloodshed... a War-Monger. And now she is walking again.
Join writer Tini Howard (Captain America Annual #1, Assasinistas) and artist Amilcar Pinna (Generation X) as they unleash hell in a brand new saga of honor, love and savagery in Valiant's The Forgotten Queen. DF spoke with scribe Tini Howard about the book.
Dynamic Forces: Tini, first off, let me congratulate you on a swiftly-rising career. I recall when I first interviewed you as winner of the 2013 Top Cow Talent Hunt, and immediately afterward for Magdalena: Seventh Sacrament. Has all that time zoomed by for you as it has for me, or has it been a long and winding road?
Tini Howard: Can I say both? Some days it feels like life before writing comics professionally was a thousand years ago, and some days it feels like I'm still wandering around cons as a cosplaying, roleplaying, goggle-eyed fan. I guess I'm still all of those things, too.
It's definitely been a winding road! People often comment on how prolific I've been, and I just don't know any other way. I love this job. I want to do it as much and as often and for as long as I can.
DF: I love how Valiant is taking some of its most beloved (or reviled) characters and really building solid stories around them. Livewire is certainly an example, but we have another here with the villain War-Monger. What can you tell us about the classic Unity foe and what's different about her in this limited series?
Tini Howard: Well, when we see her in Unity, when Matt Kindt created her, she was a foil for them. They see her as a problem to be managed, she's an incursion into their book, you know? This is the book where she's on the cover, she controls the narrative. I mean, I guess *I* technically control the narrative, but as any writer can tell you – characters have their own directions they go in.
DF: Approaching her as the writer of The Forgotten Queen, tell us about War-Monger as a character. How will you be trying to define this once-fallen foe?
Tini Howard: That's a great word – once-fallen. She's been once-everything, hasn't she? That's a lot of what I approach with her, the complexity of someone who has been around for longer than any of us, hundreds and hundreds of lifetimes, stretching all the way back to the beginning of human history. Immortals simply have more time than any of us, they have different priorities, and it shapes everything about how they approach the world.
DF: What can you tell us about the storyline going forward for the book?
Tini Howard: A team of researchers are funded by a mysterious benefactor who seeks the armor of a long-lost historical figure. As the seas get more and more treacherous, we learn more about her past and how she came to fight Unity. There are a lot of things she has done countless, countless times. But she only fell in love once.
DF: What other characters can you reveal that may (or may not) be important to The Forgotten Queen?
Tini Howard: Some famous faces in history! Or some less famous ones that I love and wanted to bring to the forefront. Hopefully anyone who reads this book will come away intrigued and dip into their history books.
DF: Talk about the epic art of Amilcar Pinna.
Tini Howard: His work is amazing -- it's so gorgeous and expressive. I gave him a tall order -- lots of horses and boats and things that can be difficult to draw, and he's just knocked everything out of the park. There's an incredible perspective to his work, he's so good at evoking the feeling of a panel with kinetic energy. He can stop a raging battle dead in its tracks with a single panel that's got you holding your breath -- that's what you have to look forward to from Amilcar.
DF: So Tini, wassup with you in the new year? What upcoming projects can you tell readers about?
Tini Howard: I'm working on a lot right now, but very little I can share yet! I can say that I've got Fair Trade, my and Eryk Donovan's upcoming book with Amazon/ComiXology, out in 2019. And of course, the thrilling conclusion of The Forgotten Queen.
Dynamic Forces would like to thank Tini Howardfor taking time out of her busy schedule to answer our questions. The Forgotten Queen #1 from Valiant Entertainment hits stores Feb. 27th!
For more news and up-to-date announcements, join us here at Dynamic Forces, www.dynamicforces.com/htmlfiles/, "LIKE" us on Facebook, www.facebook.com/dynamicforcesinc, and follow us on Twitter, www.twitter.com/dynamicforces.
---
NEW! 1. 11/25/2020 - STEVE SKROCE
4. 11/16/2020 - RYAN O'SULLIVAN
5. 11/16/2020 - RYAN O'SULLIVAN