RON MARZ

SEND THIS TO A FRIEND!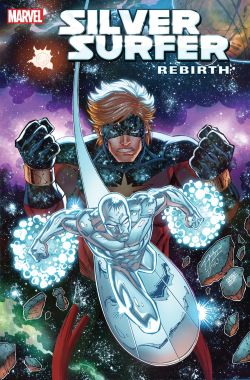 DF Interview: Ron Marz writes the Sentinel of the Spaceways in a tale from his fan favorite run in 'Silver Surfer: Rebirth'
By Byron Brewer
Someone has stolen the Reality Gem, an object that allows the user to fulfill any wish no matter the consequences! But whoever has taken it is doing things like bringing back the dead hero Captain Mar-Vell. It's up to the Silver Surfer to team up with the least likely of allies, Thanos the Mad Titan, to find the Gem and restore reality to its proper form.
Legendary creators Ron Marz and Ron Lim return in the new Silver Surfer: Rebirth limited series to tell a story set during their fan favorite run on Norrin Radd's former title. As soon as I heard about the Ron reunion on a Marvel Cosmic book, I was there and talking to scribe Ron Marz.
Byron Brewer: Ron, if memory serves, your initial stint working on a Silver Surfer mag with Ron Lim was your very FIRST job in comics. How does it feel to be reunited all this time later?
Ron Marz: Yup, the first comic script I ever wrote was a Silver Surfer Annual drawn by Ron Lim, so this is definitely a homecoming. In a lot of ways, it feels like no time has passed at all. I'm writing a silver guy on a surfboard, and getting back pages drawn by Ron Lim, with his classic storytelling and clean lines. Time is a flat circle, right?
Byron: As you know, I am second to none in my admiration for your ability to write complex, character-driven cosmic sagas. Your John Carter at Dynamite was a masterpiece. And while I wish this Surfer book were an ongoing instead of a limited series, for comics pros (as it was in an era gone by), is it still a "special thing" to do a Silver Surfer book… a character so beloved at the Bullpen for decades he was only written in solo stories by Stan the Man himself?
Ron Marz: That's very kind of you to say. I do think the Surfer is kind of a special thing, from the standpoint of Jack Kirby having such a larger role in creating him, and then Stan being so connected to the character. The first time I met Stan was at a Marvel Christmas party, and Stan told me he liked what I was doing on Surfer at the time. I have no idea if Stan knew who I was, and had even read any of my Surfer stuff, but he was kind enough to say so, and I was walking on air the rest of the night. Surfer also has an amazing artistic pedigree from Kirby to John Buscema to Moebius, all the way to Mike Allred. Big shoes to fill.
Byron: Before we hit the beach in our baggies (surfer lingo lol), let's talk a bit about continuity: This story actually takes place during the initial run of you and Ron Lim, is that correct? For those among us who have been reading comics across long lives, where does this fit into that time stream and what was going on at that time in the regular series?
Ron Marz: Yes, the idea is that this is an untold saga that fits into our run, probably somewhere between issues #75 and #100. I purposefully didn't want to be more specific as to where in that timeframe, because I'm not overly interested in that kind of continuity minutiae. The story is more important than the details. So readers can make up their own minds as to where the story fits, if they so choose. The main goal was to get the band back together and tell a compelling story, and hopefully we're doing that.
Byron: I see that Mar-Vell is on the cover, and that always represents class to me. Tell us a bit about what this five-issue LS is all about and how Mar-Vell is involved.
Ron Marz: I'm hesitant to say too much beyond what's been in the solicits, because I don't want to spoil anything. But I can tell you that Mar-Vell as well as his son Genis-Vell appear in issue #1. And I guess it's not a secret that Thanos plays a big role in the story. I hesitate to call him an ally for Surfer, but he's at least a companion as the story unfolds. with the Reality Gem having fallen into the hands of … someone. We've got lots of cosmic characters, lots of big action, and a really nasty villain.
Byron: A team-up with Thanos with the prize the Reality Gem? I hope Norrin isn't bargaining for a whole lot of trust here?
Ron Marz: Well, certainly I wasn't going to go play in the cosmic playground and not find a spot for Thanos. Certainly the Mad Titan is now an iconic character all over the world since I last wrote him. I was in Nairobi, Kenya a couple years ago, and saw someone wearing a Thanos T-shirt, and it really struck me at how much comic culture has become the worldwide pop culture. Plus, I always loved writing Thanos whenever I was able to get my hands on him – in Surfer, in Secret Defenders, in Cosmic Powers. He's just such a rich character, certainly not a hero, but not entirely a traditional villain either.
Byron: Any other cosmic critters lurking about in these pages?
Ron Marz: Oh, we've definitely got some cosmic guest stars waiting in the wings. The preview pages have already revealed Legacy, of course, and the issue #1 cover reveals the original Captain Marvel. I think it's safe to say that Galactus might put in an appearance. I don't want to give away more specifics, but readers will definitely get to see some favorites, going back to Surfer's early days.
Byron: No one does cosmic like Ron Lim. Talk a little more about his art, and specific to this coming book.
Ron Marz: Working with Ron on literally the first scripts I ever wrote was a huge boon in my career. He's such a seasoned pro, and such a good storyteller, that I learned a huge amount seeing how he translated my scripts to the page. We really formed a great partnership that lasted quite a few years, both at Marvel and over at DC. It's just such a pleasure to be working together again. We're just having fun. I think for a lot of people, Ron Lim's Surfer is the quintessential Surfer, so being able to get that in front of readers again is a lovely opportunity.
Byron: Ron, what other projects might you be involved with – in or out of comics – that you can tell readers about?
Ron Marz: I've got the "Almost American" series coming out from AfterShock right now, which is a real-life spy story, and the Civil War-era horror story "Swamp God," which is being serialized in Heavy Metal magazine, as well as released as single issues from Heavy Metal. Next year, Rick Leonardi and I have an original graphic novel called "Blue Angel" coming from Naval Institute Press, and the creator-owned cosmic graphic novel "Resolution" with Andy Lanning that we're publishing ourselves. Andy and I also co-wrote a Twilight Imperium graphic novel based on the board game, which will be out next year, and we just started on a Dynamite series that's yet to be announced, and another Heavy Metal project we'll be co-writing. There are a few more unannounced things coming as well. And I'm working on a video game too. Never a dull moment.
Dynamic Forces would like to thank Ron Marz for taking time out of his busy schedule to answer our questions. Silver Surfer: Rebirth #1 from Marvel Comics is slated to be on sale January 19th!
For more news and up-to-date announcements, join us here at Dynamic Forces, www.dynamicforces.com/htmlfiles/, "LIKE" us on Facebook, www.facebook.com/dynamicforcesinc, and follow us on Twitter, www.twitter.com/dynamicforces.
SILVER SURFER REBIRTH #1 PEACH MOMOKO VARIANT CGC GRADED
SILVER SURFER REBIRTH #1 CGC GRADED
SILVER SURFER REBIRTH #1 DAN JURGENS VARIANT SIGNED BY DAN JURGENS
SILVER SURFER REBIRTH #1 SILVER SIGNATURE SERIES SIGNED BY RON MARZ
SILVER SURFER REBIRTH #1 SIGNED BY RON MARZ PLUS 1
SILVER SURFER REBIRTH #1 SIGNED BY RON MARZ
JUSTICE LEAGUE ENDLESS WINTER #1 SIGNED BY RON MARZ DUAL PACK!
JUSTICE LEAGUE ENDLESS WINTER #1 SIGNED BY RON MARZ!
JOHN CARTER: WARLORD OF MARS #1 RARE J. SCOTT CAMPBELL "MARS RED" EDITION
---
NEW! 1. 01/18/2022 - JEREMY BASTIAN
2. 01/10/2022 - DAVID F. WALKER
3. 01/04/2022 - BENJAMIN PERCY