DAVID ANDRY & TIM DANIEL

SEND THIS TO A FRIEND!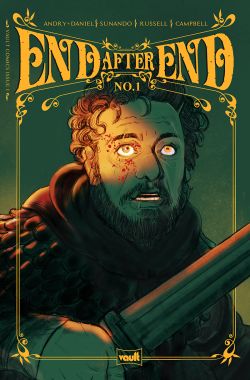 DF Interview: David Andry & Tim Daniel reveal a different take on the afterlife in 'End After End'
By Byron Brewer
Life is nothing if not a series of endings. School. Jobs. Friendships. Love. Until THE end.
Walter Willem's end was fast and unexpected. His was an unremarkable life. So, how is it that his story continues as cannon fodder in an endless war waged against an insatiable darkness hellbent on consuming all of existence?
And is Walter right in believing he's arrived in the midst of this titanic battle as the one destined to finally end it?
From Vault Comics comes End After End by writers David Andry & Tim Daniel and artist Sunando C. I had the pleasure of discussing the coming book with the authors, and this is what they told me.
Byron Brewer: David and Tim, how did this story of the afterlife (or an iteration thereof) come together for you guys?
Tim Daniel: A very long-overdue phone call last March where I think we both came to the startling realization that after having known each other for nearly a decade, and finding ourselves in a similar creative space, sharing frustrations and rewards, that we should be working together. Mutual admiration and support only led us to feeling pretty comfortable taking the next step.
Okay, fine. I needed a life preserver and parachute because I was thoroughly burned out. David is the kind of human that naturally buoys everyone he comes into contact with. So I was selfish. But damn, I'm grateful for the results.
David Andry: And it was pretty amazing. I've never had a writing partner before, so I didn't know what to expect. Tim and I naturally fell into a rhythm and started building upon each other's ideas. The themes of End After End just came from things we were both feeling at the time: striving to make a mark on the world and trying to do good.
Byron: Tell readers about the background against which End After End will play out, the "world" you both and artist Sunando C are creating.
Tim Daniel: We start with a northern California travel institution, BART. And who doesn't love a train that takes you under the Oakland-San Francisco Bay? Well, Walt doesn't, because it punches his ticket to the End After End -- a once idyllic paradise utterly descrecrated by a force that only wishes to consume everything possible until there is nothing. This is not the afterlife because that suggests either heaven or hell or even purgatory, if you believe in such things, and this is both or all, a place of perpetual war, the EAE is like landing in Henson's Dark Crystal during the Battle Of The Black Gate of Mordor in Tolkien's Return Of The King and finding you'll need to survive the opening of Saving Private Ryan while running like 1917.
We're third-acting this entire series. It's intense and immediate, shoving your face in the dirt and thrusting a sword in your hand and trusting you'll figure it out just like Walt must.
David Andry: It's a world that has been in perpetual war for ages. All efforts go toward survival so nobody is creating or building anything new that isn't specifically for battle. But there are still pockets, hidden areas that we'll find during the series that have remained untouched. Every single issue is a monumental task of creation for Sunando. We are in new locations in each issue, we see creatures, new enemies. This is not a kick back and take your time series, this is hold on and try to catch your breath.
Byron: Introduce us, if you will, to Walter Willem. Who is he as a character as we encounter him in issue #1? (Please don't say "dead". LOL) What characteristics, if any, may we watch for here that may assist him in his challenges down the line?
Tim Daniel: We've heard a lot of talk comparing our Walt to Walter Mitty (from the Secret Life Of Walter Mitty, Ben Stiller film), and there's some truth in that. Maybe it's the namesake thing, yet where Mitty fantasizes his way through and eventually out of the monotony and mundanity of his life, our Walt is more reflecting back on what once was and what can be. Their journeys are similar, in that both Walters need to work hard at determining not who they think they should be but becoming more fully who they already are -- and they are both in serious need of help to achieve that goal.
David Andry: I think one of the quintessential characteristics I try to channel through Walt is frustration. Frustration with the world, both the 'real' world and the End After End. Frustration with his place in these worlds and frustration with his feeling of helplessness and powerlessness. I think we all want to be able to shape our destiny, to become the person we imagine ourselves to be. But Walt, in his heart, is trying to be good. The challenge is, how good can you be in a world at war?
Byron: What other protagonists can you tell readers about? Can you spotlight a few here?
Tim Daniel: And yeah, Walt is far from alone, that's for sure.
Grink is Walt's mentor or guide. Quick with a quip and a lesson. A bit Shakespeare's Falstaff, a smidge Degobah Yoda. With Grink, it's hard to tell if he's really terrible at his job as mentor or in fact highly skilled. Or as a third read, is Grink a mentor with something to learn and Walt is the perfect vessel for those lessons?
The Catha is our Sergeant Rita Vrataski, aka the Full Metal Bitch from Live.Die.Repeat. Except she rides dragonfly dropships, has an elite squadron she captains and wields a single weapon in the form of a simple hilt which she conjures into many different blades in the heat of battle based on the situation's tactical needs.
The second half of the series greatly expands the cast, and Walt meets several potential allies in Haven, which is a group of very unique individuals who have found a sanctuary amongst the perpetual chaos. David is really responsible for the creation of every one of them. Originally they were transitory characters bridging the second and third act of the story, but then they really endeared themselves to us and so they now play a very vital role.
David Andry: Walt also runs into Stills, a Navy Seal, who finds himself thriving in a world of war. Fighting and killing is what he is best at. Walt is impressed by Stills, who has the confidence and capabilities that Walt lacks. Stills can definitely survive this world where the fighting never ends, but Walt will have to decide if that's the kind of person he wants to emulate.
Byron: Can you give us the main storyline for End After End?
Tim Daniel: NO! But I will say this, we may picture ourselves as the cornerstone of a story, the conquering hero of the tale, the savior... and what does that really look like if you strip away the "chosen one" myth? What if Walt is nothing more than someone who is saddled with some of the same challenges you or I have?
David Andry: Give the people a little something, Tim! Walt will find himself as part of a quest to gather relics to summon an ancient power that can hopefully end the war for good. How big a part of this quest he ends up being, well... you'll just have to read and find out!
Byron: Without spoilers, can you give readers any clues about the "insatiable darkness" that, I take it, represents the big-bad for the piece?
Tim Daniel: They are the Wreek, led by the Ulc.
Byron: Why is Sunando C the right artist for End After End?
Tim Daniel: Sunando gives us an unexpected look. If this were a movie and he was on-screen talent then he'd be cast against type. His previous work, Memoria with Curt Pires for Comixology is crime, very gritty and character-focused. Since fantasy tends to be rather ornate in presentation, Sunando is delivering all the foundational elements you'd expect, but trimming off the excess. His style centers your attention on the characters and flavors the story in a grittier, unexpected manner that is atypical of the genre.
We'd be remiss if we did not talk about what colorist Kurt Michael Russell brings to this book. We've looked at a lot of Ralph Bakshi's animation, particularly Fire & Ice and Lord Of The Rings and Kurt has been experimenting with different approaches based on the look of those films. Kurt is so talented, he's really an art director in many ways, that we're pretty confident he's going to take us to a place that's unique to this book.
Byron: Tim and David, what other projects in which you are involved can you tell readers about?
Tim Daniel: David and I have spent the last 19 months hammering out story after story, moving from genre to genre going wherever the creative flow took us. We've found ourselves with three horror stories, a fantasy in End After End, an all-ages fantasy, an earth-bound sci-fi space epic and another distant future sci-fi tale. A couple are currently placed with publishers and a couple of others are in development, while one is completely outside the realm of comics altogether. What was a challenging time obviously proved to be very creatively rewarding. I think we're both very grateful for that.
Dynamic Forces would like to thank David Andry & Tim Daniel for taking time out of their busy schedules to answer our questions. End After End #1 from Vault Comics is slated to be on sale January 12th!
For more news and up-to-date announcements, join us here at Dynamic Forces, www.dynamicforces.com/htmlfiles/, "LIKE" us on Facebook, www.facebook.com/dynamicforcesinc, and follow us on Twitter www.twitter.com/dynamicforces.
---
NEW! 1. 01/18/2022 - JEREMY BASTIAN
2. 01/10/2022 - DAVID F. WALKER
3. 01/04/2022 - BENJAMIN PERCY