MIKE FEDERALI

SEND THIS TO A FRIEND!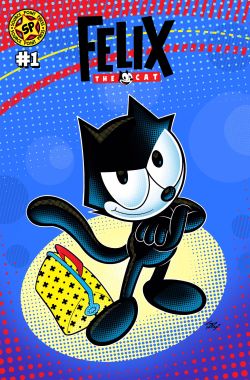 DF Interview: Mike Federali brings a venerable silent-era theatrical toon tabby to the comic book page in 'Felix the Cat'
By Byron Brewer
An iconic black-and-white feline from the earliest beginnings of theatrical animation hits the pages and panels for an all-new series. Felix the Cat, written by Mike Federali (Metalshark Bro) with art by Tracy Yardley (Sonic The Hedgehog, Sonic Universe) breathes comic book life back into the silent-era classic character.
Created in 1919 by Pat Sullivan and Otto Messmer during the silent film era, the anthropomorphic black cat with white eyes, black body, and a giant grin is one of the most recognized cartoon characters in film history. DreamWorks Animation acquired the rights in 2012.
In the new series, Felix and friends face the mysterious Xilef the Extraordinary, an all-new foe more powerful than all of Felix's past enemies combined. Can Felix and friends (classic and new) save the world from this magical melodramatic Machiavellian malcontent? To find out this and more, I – a huge fan of things both toon and old-timey – sat down with scribe Mike Federali.
Byron: Mike, as a fan of old time toons I stand in appreciation and gratitude. Tell me: Why is NOW the right time to reintroduce the silent-era icon, Felix the Cat?
Mike Federali: Good question. I think there's never a bad time for a fun adventure. What made me pitch the book in the first place was just that classic sense of humor that only comes with Felix the Cat. I will say, though, that this version is definitely the motormouth version and not the silent type.
Byron: No joke, there are probably a ton of fans who may be unfamiliar with Felix and his importance in animation and in film. Can you give readers a thumbnail history of the funny feline?
Mike Federali: I feel like you just casually asked me to sum up what could be an amazing nine-part Netflix series narrated by Seth McFarlane. Which, oh man, can we get that rumor started? Your move, Mr. McFarlane.
But no joke, we're talking about a cat that's been around since 1919. That's older than sliced bread, older than Mickey, and older than what we think of as comic books.
Byron: What can you tell us about this new series?
Mike Federali: It's jam-packed with all your favorite friends and foes of Felix, and some new extremely silly sidekicks and mischief makers as well.
Byron: When I think of Felix, it's only natural to think of a certain Mouse shortly afterward. But whereas Mickey seemed to have a Greek chorus of supporting cast, when I think of the Felix films and decades of reworks I think of a solo character. Are there any "supporting" characters in issue #1 or going forward we should know about?
Mike Federali: There's the first new foe in years for Felix in issue #1, and shortly after, we introduce some new characters that add to Felix's existing supporting cast.
Byron: Does Felix have his own designated big-bad?

Mike Federali: (Laughs like Felix) Oh indeed! It took me a long time to get the character just right and be someone even Felix's usual big-bads would think of as a bigger-bad. Bigger Badder? Bigger Badder Baddie? That last one sounds right.
Byron: What types of stories will we be reading in Felix's new comic?
Mike Federali: I can't give away too much on that front. Issue #1 lays down the challenges Felix is going to face so I'll just say it's a fun adventure ride that will really push Felix in ways fans will enjoy.
Byron: Talk about the luscious lines of artist Tracy Yardley.
Mike Federali: He's just SO good. Right? I've been a fan of his since his Sonic the Hedgehog work. Sometimes I'll get pages in and for a moment I'm the first fan in the world reading the all-new Felix book. I'm in awe of his sense of storytelling and attention to detail with this book.
Byron: Mike, what other projects may be coming readers' way from you?
Mike Federali: Here's where I have to be coy and just say there's two new projects I'm thrilled about but can't really talk about. But I'm very, very, very excited for fans to eventually see them. And thank you very much for taking the time to talk with me.
Dynamic Forces would like to thank Mike Federali for taking time out of his busy schedule to answer our questions. Felix the Cat #1 from Source Point Press is slated to be on sale in January 2022!
---
NEW! 1. 05/24/2023 - DOUG WAGNER
3. 02/10/2022 - SIMON SPURRIER