DAVID M. BOOHER

SEND THIS TO A FRIEND!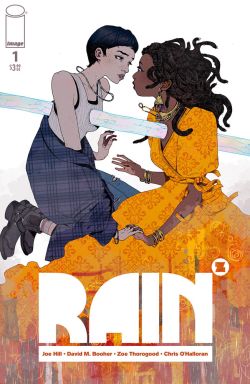 DF Interview: David M. Booher launches a novella adaptation while Image Comics launches a new imprint with 'Rain'
By Byron Brewer
On a seemingly normal August day in Boulder, Colorado, the skies are clear, and Honeysuckle Speck couldn't be happier. She's finally moving in with her girlfriend Yolanda. But their world is literally torn apart when dark clouds roll in and release a downpour of nails—splinters of bright crystal that shred the skin of anyone not safely under cover. Rain makes vivid this escalating apocalyptic event, as the deluge of nails spreads across the country and around the world, threatening everything young lovers Honeysuckle and Yolanda hold dear.
So begins a gripping 5-issue presentation of New York Times bestselling author Joe Hill's acclaimed novella, Rain, adapted by writer David M. Booher (Canto) and artist Zoe Thorogood (The Impending Blindness of Billie Scott). Of course, it took me little time once finding out about the novella's adaptation to an Image Comic to sit down with scribe David M. Booher for a talk.
Byron Brewer: David, not only is your new assignment Rain an awesome adaptation of Joe Hill's acclaimed novella but it also represents the very first in Chris Ryall & Ashley Wood's new Syzygy imprint line of titles at Image Comics! Does all this weigh heavy on the shoulders of the adaptoid (no, wait, that's a Marvel villain, sorry) … the adapter (you)?
David M. Booher: Now that you mention it… *collapses under the pressure*. In all seriousness, the entire process has been a dream. I've been a fan of Joe's work since his earliest stories in 20th Century Ghosts. When I read Rain in Strange Weather, I fell in love with this story and these characters. It immediately crystallized in my mind as a comic (pun intended!). To have Chris and Ashley make Rain the debut title for their Syzygy Publishing imprint with Image Comics is a testament to the power of the story.
Byron: In adapting this novella, did you get to work/consult with Hill at all? How much leeway have the multiple powers that be given you for what you put in and what you put out? A 5-issue miniseries only stretches so far!
David M. Booher: It's true—a 5-issue miniseries doesn't create a ton of space to tell a sprawling apocalyptic road story like Rain. I worked with Joe to ensure the comic was true to the spirit of the story, but I also had lots of space to put my own spin on it. Comics is different from prose, which is different from TV, which is different from film. Everybody involved understands that, so they gave me the freedom to make the best possible adaptation of Joe's story for the comics medium.
Byron: Introduce readers to Honeysuckle Speck and her girlfriend Yolanda. What can you tell us about them as individuals and as a couple. Any clues as to their past and what may lie ahead?
David M. Booher: Honeysuckle is a no-nonsense gay girl in cowboy boots. When her parents mostly rejected her, she built up a tough skin and struggled to love others until Yolanda came along. On the other hand, Yolanda is a free spirit who fell in love with Honeysuckle easily. Yolanda's parents accepted Honeysuckle with open arms, filling the gap left by her own parents. When the rain of nails threatens to take that away, Honeysuckle will do what it takes to save the ones she has grown to love.
Byron: Hard to tell metaphor from actual description in the solicits. What is the great catastrophe, the escalating apocalyptic event that threatens our protagonists? The "Rain"?
David M. Booher: I can assure you we have dispensed with metaphors in the solicitation text. Dark clouds roll in and release a literal downpour of crystal needles over Boulder, Colorado. It kills thousands within a handful of minutes. Like so many outside on that day, Honeysuckle and Yolanda are affected by this spreading weather phenomenon in shocking, profound ways. They face a brutal new world where storms of water may be a thing of the past.
Byron: For those unfamiliar with Joe Hill's epic work, can you give readers a taste of what the storyline for this miniseries might be? An expanded pitch, perhaps?
David M. Booher: It's a road story set during this growing apocalypse. I mentioned earlier that Yolanda's parents accepted Honeysuckle as if she were their own daughter. When the rain falls, the family is separated. Cell service and wifi have failed, so the only option is to walk through the horrifying landscape to ensure everyone is safe. It… doesn't go well.
Byron: I know that most writers have a style or styles depending on the genre they are writing that is their own, but adapting someone else's prose is just the antithesis of that. How do you make Rain both Joe Hill's AND David M. Booher's?
David M. Booher: Style is never something I think about. It's like everyone's personality. It just kinda… is. Again, I had lots of freedom to approach this story through my own lens, my own experiences, and my own voice. It's probably the best part about writing an adaptation of someone else's work. If you're doing your job right, you can preserve the existing story while adding new layers and perspective. Joe's voice is loud and clear in Rain, and I like to think I got some words mixed in there with him.
Byron: Tell us about your collaboration with artist Zoe Thorogood.
David M. Booher: Every page Zoe draws is a delight. It's always an exciting experience to send a script to an artist and see what comes out on the other side. With Zoe, I'm constantly surprised by her ability to draw honest-to-goodness emotion on the page. Rain is an emotional story, and Zoe has been the perfect partner to tell it.
Byron: David, what other projects, inside or outside comics, can you tell readers about?
David M. Booher: Canto (IDW) is still going with the last story arc coming in 2022. The collected edition of Killer Queens (Dark Horse) is coming in March 2022 along with what I hope will be an exciting announcement about the future of our sassy space assassins. I have a couple of other projects in the works, and I can't wait to share those when we're a bit further along.
Dynamic Forces would like to thank David M. Booher for taking time out of his busy schedule to answer our questions. Rain #1 from Image Comics is slated to be on sale January 12th!
For more news and up-to-date announcements, join us here at Dynamic Forces, www.dynamicforces.com/htmlfiles/, "LIKE" us on Facebook, www.facebook.com/dynamicforcesinc, and follow us on Twitter, www.twitter.com/dynamicforces.
---
NEW! 1. 01/18/2022 - JEREMY BASTIAN
2. 01/10/2022 - DAVID F. WALKER
3. 01/04/2022 - BENJAMIN PERCY