MICHAEL MORECI

SEND THIS TO A FRIEND!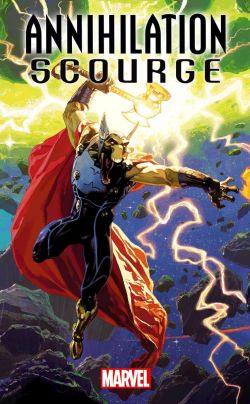 DF Interview: Michael Moreci thunders into cosmic chaos with 'Annihilation - Scourge: Beta Ray Bill'
By Byron Brewer
Something is stirring in the Negative Zone … something that the Marvel Universe isn't ready for. The Scourge has arrived! And as local populations become infected, cosmic heroes make their stand. But will noble Beta Ray Bill be able to fight back the horde and save the innocents – or are they already lost? Overwhelmed, will Bill himself fall victim to the Annihilation wave?
So many mysteries, and so much anticipation for this solo one-shot featuring everyone's favorite horse of course, Beta Ray Bill! The cosmic stormbringer faces off against the unknown, and bringing it to us is writer Michael Moreci and artist Alberto Alburquerque. DF sat down with scribe Moreci on a nearby asteroid and got the 411 on this highly-anticipated cosmic one-shot.
Dynamic Forces: So Michael, how does it feel to work on your first Marvel book? How did this gig come about?
Michael Moreci: Couldn't be better. I've been a Marvel kid since I was five years old, and I've wanted to write for them since about that time. I couldn't be happier.
DF: For a one-shot, Annihilation – Scourge: Beta Ray Bill really has the buzz going … maybe even more than the Silver Surfer or Nova versions. Why does everyone love Bill?
Michael Moreci: Well, we seldom get to see Bill on his own, unfortunately, so if there's any anticipation it's mostly due to that. But in general, Bill's a classic iconic character—tragic and heroic, and he's got one of the best designs. He's the Norse horse!
DF: Without spoilers, before we talk Bill's book, can you give readers just the overall storyline for Annililation – Scourge itself? Something cosmic, obviously, but wassup?
Michael Moreci: I don't think I can say much here, sadly. There's some pretty cool twists and surprises, and it's hard to talk around them. But it's big, it's cosmic, and it harkens back to the original Annihilation, which is one of the best Marvel crossovers ever.
DF: Tell us about how Bill becomes involved with this saga that I take it is tied to Annihilus but not in a way the usually-villain likes.
Michael Moreci: It's more like the saga comes to Bill. We find him and Lockjaw protecting a planet, and this takes place shortly after their appearance in Donny Cates's Guardians of the Galaxy series, when all this galactic trouble drops on their doorstep.
DF: Does this at all connect to Bill's time with the Guardians of the Galaxy [still a member as of this writing]?
Michael Moreci: Not really. Bill's away from the Guardians at this point.
DF: The solicit sounds like Bill might be coming up against some contagion. Can you comment at all on that at this point?
Michael Moreci: Hmmmm…contagion might not be the word for it, but if you know the events of the previous Annihilation series, and the fallout, you know there's something out there that turns life as we know it inside out.
DF: Any other cosmic heroes bouncing around in this one-shot?
Michael Moreci: In a way, but not in a way you'd expect…
DF: Talk about the epic art of Alberto Alburquerque.
Michael Moreci: He's the best. Alberto is fun to work with; he brings so much joy and enthusiasm and passion. Every page reflects his exuberance, and it makes this story feel so full of life, and so larger than life.
DF: Michael, what other projects you may be involved in can you tell readers about?
Michael Moreci: I'm currently writing The Plot and Wasted Space for Vault Comics, Star Wars for IDW, Vamprionica for Archie, and Archangel 8 for Upshot!
Dynamic Forces would like to thank Michael Moreci for taking time out of his busy schedule to answer our questions. Annihilation – Scourge: Beta Ray Bill #1 from Marvel Comics hits stores Dec. 11th!
For more news and up-to-date announcements, join us here at Dynamic Forces, www.dynamicforces.com/htmlfiles/, "LIKE" us on Facebook, www.facebook.com/dynamicforcesinc, and follow us on Twitter, www.twitter.com/dynamicforces.
ANNIHILATION - SCOURGE: BETA RAY BILL #1 SIGNED BY MICHAEL MORECI
ANNIHILATION: CONQUEST #2 SIGNED COLLECTION
BATTLESTAR GALACTICA: TWILIGHT COMMAND #1 - ATLAS EDITION SIGNED BY MICHAEL MORECI
ROCHE LIMIT #1 SIGNED BY MICHAEL MORECI!
BATTLESTAR GALACTICA: TWILIGHT COMMAND TRADE PAPERBACK
ARMY OF DARKNESS: CONVENTION INVASION
---
NEW! 1. 11/25/2020 - STEVE SKROCE
4. 11/16/2020 - RYAN O'SULLIVAN
5. 11/16/2020 - RYAN O'SULLIVAN