S.M. VIDAURRI

SEND THIS TO A FRIEND!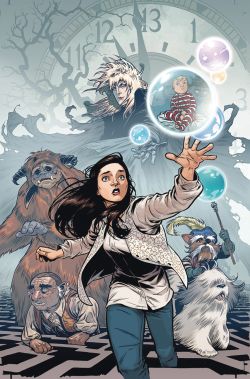 DF Interview: S.M. Vidaurri reveals a secret history from a familiar world in 'Jim Henson's Labyrinth: Under the Spell'
By Byron Brewer
An all-new collection of never-before-seen stories from Jim Henson's beloved fantasy classic Labyrinth, including the secret history of Sir Didymus and the vow he once made to guard the bridge over the Bog of Eternal Stench.
S.M. Vidaurri is among the writers – others include Michael Dialynas and Sina Grace – charged with embellishing the world of Labyrinth. DF spoke with the scribe about his tale and the book, Jim Henson's Labyrinth: Under the Spell, as a whole.
Dynamic Forces: Shane, like Dark Crystal, I was a very big fan of Jim Henson's Labyrinth fantasy film. Tell us about your (I assume) fascination with the property and a particular scene or two from the film that represents to you what Labyrinth is all about.
S.M. Vidaurri: Basically, any scene with Jareth enraptured me as a kid. He was such a cool villain, he's immature, but also extremely charismatic. He had self-confidence but also a lack of self-awareness, and so he's a perfect foil for a main character who is coming into her own and recognizing her own place in the world, because Jareth is unable to. He's the perfect foil for a coming-of-age story.
DF: Tell us about this special collection under BOOM's Archaia imprint and what readers will be seeing in the book. This IS all-new material, correct?
S.M. Vidaurri: Yup! It's brand new stories which deepen the world and lore of the Labyrinth. I'm really excited to see what the other creators come up with, I'm looking forward to it!
DF: What can you tell readers about the storyline you are working on in the book? Where does it fit (if at all) within the chronology of the franchise as a whole, and is this story (stories?) considered canon?
S.M. Vidaurri: Sir Didymus says he took a solemn vow to protect the bridge, and I wondered, who did he make that vow to? Why would you take a vow to protect a bridge in the middle of a horrible swamp? So I jumped from that spot and came up with what could have happened.
DF: What familiar characters will we be encountering in your tale? Could you do a few capsule intros for the uninitiated please?
S.M. Vidaurri: Sir Didymus and Ambrosius are kind of Henson's unique take on Don Quixote. He's chivalrous to a fault, but things seem to always work out for him. Ambrosius is his faithful companion, who may be more aware of Sir Didymus despite the fact that he's a dog.
DF: Any new characters? If so, tell us about them.
S.M. Vidaurri: Mariell is the champion of the Eternal Tournament, and the person that Didymus strives to beat in order to win. Though, Mariell doesn't seem to be super happy to be champion, and as Sir Didymus competes, he learns why she might not be so excited.
DF: Aside Q: Before we go any further, tell us your own feelings about the genius and imagination of the late Jim Henson.
S.M. Vidaurri: Jim Henson is a singular talent that comes along every few generations. He's inspired countless works, he's touched Star Wars and Sesame Street. What other creator has had that same impact? It's hard to really find a peer to compare him to. He has his own movies, his own works he's famous for, but he also worked on so many other things and shaped popular media in a unique way. He was kind and his family continue his legacy. I'm super proud to have been able to work on Jim Henson properties, and hope one day I may again.
DF: What artist(s) will be making Under the Spell come to life in the comic?
S.M. Vidaurri: The interior art is by Sarah Webb, the creator of the webcomic Kochab (http://kochab-comic.com/). Her drawings of Didymus and Ambrosius are so cute and playful and her goblin designs are wonderful and fit perfectly into the Labyrinth world. I'm so excited for everyone to see all of her hard work because the comic is just beautiful.
DF: Shane, what other projects can you tell readers about in which you are involved, in comics or out?
S.M. Vidaurri: I'm currently writing the Steven Universe: Harmony miniseries! I'm also working on a graphic novel with Hannah Krieger that will be announced sometime in the future, but right now, we're hard at work getting it done.
Dynamic Forces would like to thank S.M. Vidaurri for taking time out of his busy schedule to answer our questions. Jim Henson's Labyrinth: Under the Spell#1 from BOOM! Studios hits stores Nov. 28th!
For more news and up-to-date announcements, join us here at Dynamic Forces, www.dynamicforces.com/htmlfiles/, "LIKE" us on Facebook, www.facebook.com/dynamicforcesinc, and follow us on Twitter, www.twitter.com/dynamicforces.
---
NEW! 1. 01/21/2021 - RORY MCCONVILLE
5. 01/07/2021 - DARICK ROBERTSON