W. MAXWELL PRINCE & JOHN AMOR

SEND THIS TO A FRIEND!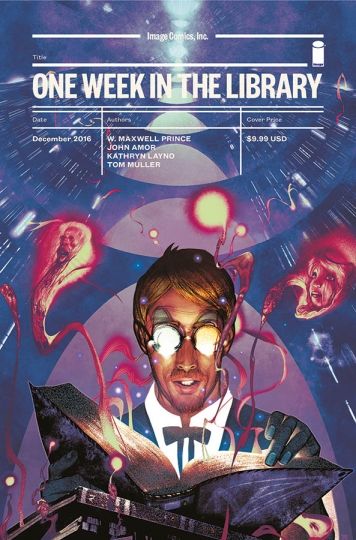 DF Interview: W. Maxwell Prince, John Amor bring enchanting tales to life in experimental OGN, One Week in the Library
By Byron Brewer
Welcome to the Library. It's here that every story ever written is catalogued and monitored by a single man, who's begun to notice something strange: the books are rebelling.

Image Comics brings to readers this experimental graphic novella from writer W. Maxwell Prince and artist John Amor, one which recounts a troublesome week in the Library via seven short stories -- one for each day -- that use comics, infographics, prose and poetry to play with the graphic medium and explore the multivalent world of living narrative.
To learn more about this bold book, DF spoke with creators W. Maxwell Prince and artist John Amor.
Dynamic Forces: Will, tell me how this concept of storytelling for your original graphic novel, One Week in the Library, came about.
W. Maxwell Prince: John and I wrapped up a graphic novel for IDW in 2015, which took us like five or six years to make. It was my first published work, and at the end of the thing I was deathly afraid of having all of these newfound comics-writing muscles I'd developed atrophy and disappear. So I proposed to John that we work on something low-stakes—something that didn't carry the burden of will this be published? that would allow us to just do good work together. A short story seemed the perfect thing.
Story-wise, I'd been reading a lot of Borges (I always am), and it occurred to me that I wouldn't mind writing something inside a space similar to his "Library of Babel." And this may sound kind of gooey, but one day the first line of the book just sort of fell into my lap, right down from the sky: On Thursday, a book makes itself known to me in a dream. I wrote the script for the first "day" (Thursday), and when John finished drawing it, I liked the thing so much that I asked, "Well, what about Friday?"
DF: Tell us about "the Library" and the single person who's caretaker for "all the stories ever written."
W. Maxwell Prince: The Library is where words and ideas live. For Borges, the Library represented the universe. He's got this great line about what the books in an infinite library might cover:
All—the detailed history of the future, the autobiographies of archangels, the faithful catalog of the Library itself, thousands and thousands of false catalogs, the proof of the falsity of those false catalogs, a proof of the falsity of the true catalog, etc etc etc.
So the Librarian lives inside a place much like that. He's sort of a mix of a sedulous, monkish clerk and the guy at the end of the Twilight Zone episode Time Enough at Last. He's religiously committed to the Library, but like most piety it's also his source of greatest frustration.
DF: Can you briefly summarize each of the seven stories told in this OGN?
W. Maxwell Prince: Sure! I've been using this handy little crib sheet lately:
Thursday - intro to the library and the leaky books; an epistemological meditation
Friday - twist on Pinocchio/hero's tale
Saturday - features typeset prose; Goldilocks, but with antidepressants and a horny ghost
Sunday - features infographics/charts by Ashley Walker; the Librarian's lament
Monday - silent story; merges the worlds of the Ugly Duckling, Charlotte's Web, Babe, and some other stuff
Tuesday - plays with color; exploration into "other worlds" by way of Narnia, Wonderland and the Matrix
Wednesday - culmination; features me (W. Maxwell Prince) as a character, with a little cameo by Grant Morrison.
DF: John, have you ever worked with anything similar to this as an artist? Was this OGN a pleasure or a great challenge for you, or both?
John Amor: The closest I ever got to something this surreal was probably back when Will and I worked on Judas: The Last Days (IDW). That dealt a lot with the nature of fiction and made use of vignettes out of Judas' life, much the same way these short stories explore different ideas about reality. I like to think I'm the kind of artist who enjoys a challenge, and there was certainly no shortage of that in Library. Each story has a different mood and approach so the switching gears could get a little tough, but I'm quite proud of what we ended up with.
DF: Which part of this novella was the most difficult to execute, and why? Which was the most enjoyable?
John Amor: The most difficult was probably Tuesday, the chapter with the office scenes. In a book full of surrealistic imagery, those pages required a surprising amount of restraint. We also opted to go with grid paneling to evoke a sense of monotony, which may or may not have affected me while working on those particular pages.
My favorite would have to be a toss-up between Monday and Wednesday. I found both to be very affecting, narratively, and I feel they really capture the essence of what our book is trying to say. One deals with Transition while the other sort of touches on artistic insecurity, so it should come as no surprise that they hit close to home. And while all the chapters are visually rich, I found the scenes in those two to be very appealing … to me, anyway.
DF: How did you work to bring a sense of variety to the art with each of the seven stories presented?
John Amor: Will and I would discuss a bit about each chapter before I would work on it, to give me a sense of what the story needed, visually. Some are more fantastical while others are very grounded in reality. I'm a big fan of horror and fantasy, genres that are sadly somewhat under-represented in comics, so it was refreshing to play around in literally all of fiction, with no real constraints. Some stories will look more unique than others, but there was a conscious effort to give each Day its own flavor.
DF: Guys, each one of you tell us about working with the other in this collaboration: the process, how closely, etc.
John Amor: Will and I already have a lot of experience working together. Judas was a project that took a long time to finish, art-wise, and I learned a lot about the craft and how I fit in the production machine during that time. Will seemed to already emerge fully-formed as far as being a writer is concerned. He hardly ever second guesses a scene or a line of dialogue once it's been sent to me for rendering, which is a feat considering just how weird those scenes can get. But by the same token, he's very trusting of my talent and what I bring to the table.
One fun aspect of working with Will is that the scripts are never just scripts -- they're conversations. He will include little asides in the notes, either calling attention to a quirky detail or just preemptively apologizing for an upcoming panel that has something like 30 extras in it. That keeps the labor light and fun for me, knowing that I'm working with another person who is keenly aware of the effort that goes into making these things. Illustration is a very solitary trade, so you take your friendly interactions where you can get 'em. Luckily, Will is a funny guy … a sadist at times, but a funny guy.
W. Maxwell Prince: John's right in saying I trust him. I imagine this happens with a lot of sequential collaborators, but I now tend to "see" new ideas in my noggin as if they were drawn by him—I dream in Amor-vision.
But John's wrong in saying I don't second guess myself; I question everything, all the time, every day. Wednesday, the closing chapter of OWITL, tries to address that in some small way.
DF: Out of all the stories presented in One Week in the Library, which is your favorite tale or character, and why?
W. Maxwell Prince: I could write a whole book about Freddy Flotsam, our Pinocchio analogue from Friday. He wants so badly to be a good person, but constantly finds himself falling short. I know how he feels.
John Amor: I personally found the Librarian himself to be very engaging. At the end of the day, he's faced with an impossible task, so really he's at the mercy of this vast living, breathing place which he is supposed to be in charge of. At least nominally. To me his character represents young artists slowly figuring out what it means to create and to be a creator. Fiction after all is a sea of creation, and it's very easy to get lost in it.
DF: Do you have any projects current or near-future, inside or outside comics, you can tell us about?
W. Maxwell Prince: I have a series at IDW that's just started (issue #1 out now!) called The Electric Sublime. It's about art history and mental illness. Beyond that, I'm currently filling a notebook with impossible things for John to draw.
John Amor: I have a couple of un-pitched projects that I can't really discuss yet, but, yeah, I keep busy. My webcomic Oscuro (on Tumblr) is taking a bit of a break while I work on said pitches, but I do appreciate people still taking the time to check it out. Will and I are slowly crafting a new thing to work on together, but we probably won't be able to share anything specific until some time next year.
Dynamic Forces would like to thank W. Maxwell Prince and John Amor for taking time out of their busy schedules to answer our questions. The One Week in the Library OGN from Image Comics hits stores Dec. 7th!
For more news and up-to-date announcements, join us here at Dynamic Forces, www.dynamicforces.com/htmlfiles/, "LIKE" us on Facebook, www.facebook.com/dynamicforcesinc, and follow us on Twitter, www.twitter.com/dynamicforces
---
NEW! 1. 11/25/2020 - STEVE SKROCE
4. 11/16/2020 - RYAN O'SULLIVAN
5. 11/16/2020 - RYAN O'SULLIVAN