JIM ZUB

SEND THIS TO A FRIEND!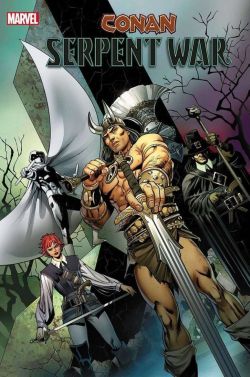 DF Interview: Jim Zub creates a team-up across time in 'Conan: Serpent War'
By Byron Brewer
James Allison will soon die. But it's not his first death. He's lived many lives, in many places -- lives he can recall in vivid detail. But when an Elder God called the Wyrm reaches across time to James, an ages-spanning quest begins! The serpent god Set plans to usher in an eternity of darkness, and only the chosen warriors across time and space have a hope of stopping him: Conan the Barbarian, Solomon Kane, Dark Agnes and the man known as Moon Knight!
In an unprecedented comics event, Robert E. Howard's characters join forces along with Marvel's Moon Knight in an all-new saga built on REH and Marvel lore from across the ages. From writer Jim Zub and a legion of talented artists comes this four-part saga, Conan: Serpent War!
DF wanted to get in on the ground floor of this unheard-of time-tossed team-up, so we sat down with scribe Jim Zub.
Dynamic Forces: Jim, it seems like days of old with Conan the Barbarian all over the comics rack (or shop these days, I guess) and with "Marvel Comics" on the label. How did you become involved in this new Conan mini-series?
Jim Zub: Earlier this year, I wrote both Conan's introduction to the Marvel Universe in Avengers: No Road Home, and a three-part Savage Sword of Conan story called "Conan: The Gambler". Both of these stories made a strong impression on Conan comic editor Mark Basso and the Conan Properties crew who approve all the Robert E. Howard character material being done at Marvel, so they reached out to me to see if I'd be interested in writing a crossover between REH characters with some Marvel aspects sprinkled in for good measure.
DF: Tell us about your take on Conan as a character and a hero.
Jim Zub: Conan in Serpent War is at a younger point in his life. This story takes place a day or two after the events of the "God In The Bowl" story, so Conan is brash, confident, and still finding his way in the Hyborian Age. He's not in his 'prime', if you will, and that gives us some room to play in terms of the choices (and sometimes mistakes) that he makes.
DF: Mighty Marvel is allowing you to touch time everywhere with your guest stars, aren't they? Tell us about the rundown of luminaries (heavy on the REH) co-starring with the Cimmerian in this four-parter. Any reasons for the line-up choices?
Jim Zub: The line-up of Robert E. Howard characters who show up in this story is pretty wild – Conan, of course, but also Solomon Kane and Dark Agnes as well, and a more obscure character named James Allison. Those four are swept up in this adventure along with Moon Knight, which seems strange as well until you see the bigger connective elements of the Egyptian deities and Set, the Great and Evil Serpent, who is naturally connected to Khonshu, and has a large role to play in the Hyborian Age.
Solomon Kane and Agnes are conflicted heroes from different eras and teaming them up with Conan and Moon Knight creates some fun character moments as we see the similarities and differences between them. Conan and Agnes are both obstinate and unyielding. Marc Spector and Solomon Kane are on "holy missions", but how they approach this stuff and the way they battle evil, that's where the real fun comes into it.
DF: OK, OK, I'll ask: What is the primary storyline guiding the heroes through this adventure? Give readers an extended pitch for Serpent War.
Jim Zub: Without giving away too much, Serpent War is about Set the Serpent God making a concentrated push to control reality on two different fronts, the Hyborian Age and 16th Century Earth. Like many gods, he's not limited by time they way we are, so these events can be happening simultaneously and effect each other in strange ways. At the same time, James Allison lies dying in his bed in 1930's Texas, and he sees a larger cosmic pattern, and a way to possibly push this evil back. Through James, these heroes are pulled together, but the act of doing so unlocks all kinds of other unexpected threats…
Serpent War is a swashbuckling sword & sorcery epic with a weird and wonderful cast of heroes put into a situation way over their heads.
DF: Believe it or else – even I do not know why, except I was in love with Conan AND Thor at the time – I own the issue of Marvel's Supernatural Thrillers that has the one-issue "Valley of the Worm" story. How does this brilliant Roy Thomas/Gil Kane adaptation of a classic Robert E. Howard story tie into Serpent War?
Jim Zub: "Valley of the Worm" is one of the complete James Allison stories written by Robert E. Howard and it sets the tone for this metaphysical and multi-dimensional tale. James is an author in 1930's Texas who has lived a near-infinite number of lives as heroes across the ages. These reincarnations give him insight and haunt him at the same time. In "Valley of the Worm", he remembers an adventure as a hero called "Niord", who slays a giant snake and an otherworldly worm, and the consequences of that have rippled forward in unexpected ways that create our Serpent War story and bring the heroes together.
DF: With the mini taking what looks like deep cuts into Howard/Conan lore, can a reader who knows none of these characters nor ever picked up a single Conan comic or REH novel reap enjoyment out of this saga?
Jim Zub: Absolutely. We want this to act as an introduction for new readers to discover and enjoy these characters, while giving proper nods to longtime REH fans in terms of continuity and characterization.
I really hope that Serpent War inspires comic readers to dig back into the original prose stories and appreciate the atmosphere and intensity in those tales, but knowing them is not necessary in any way to read and enjoy the comics.
DF: Talk about the artists involved and their inspirations: Scot Eaton, Stephen Segovia, Luca Pizzari, Vanesa Del Rey and Ig Guara. And those Carlos Pacheco covers!
Jim Zub: Our art teams on this mini-series are all incredible, and surprisingly compatible as well. Each one has their own visual flare, but it hangs together with a gritty and pulpy feel throughout the story. It's also been really fun having all four art teams interacting via email as the issues are being drawn, doing symbolic callbacks throughout the stories, with compositions and symbols echoing throughout each timeline and big scene. Vanesa Del Rey is on board, illustrating a special sequence that runs through all four issues, giving them a distinctive visual flare. Keeping all this organized has been quite the task for Mark Basso and Martin Biro, our editors, but it's really coming together well.
DF: Elephant in the room: Does being a die-hard Dungeons & Dragons enthusiast like yourself help or hurt in your scripting a largely-Howard tale? And why or why not?
Jim Zub: Dungeons & Dragons is its own form of fantasy storytelling, and it draws elements from the pulp writing of Robert E. Howard, but it's also quite different. When I wrote Savage Sword of Conan, and when I'm writing Serpent War, I'm taking a cue from the original REH prose and the Roy Thomas comics more than other "high fantasy-high magic" material. I try to keep the head spaces for them separate when I'm working. I love D&D, but Robert E. Howard's "low fantasy" is distinct and that's a good thing.
DF: Jim, what other treats do you have loaded in your Zubmobile trunk for the holidays for readers?
Jim Zub: Black Panther and the Agents of Wakanda continues on a monthly basis, and that's jam-packed with action and intrigue.
Rick and Morty VS Dungeons & Dragons II: Painscape is the sequel to the hit-mini-series from last year. It's a fun and frantic send-up of the gaming hobby, nostalgia and the reasons why we gather around a table and chuck dice.
Dungeons & Dragons: Infernal Tides launches in late November and that's as D&D as I can make it – channeling material from the recent Descent Into Avernus adventure book to take our adventuring party on a hellbound ride.
That's my announced comic slate right now and I couldn't be happier. All kinds of stuff I love with creative teams that are a joy to collaborate with.
Dynamic Forces would like to thank Jim Zub for taking time out of his busy schedule to answer our questions. Conan: Serpent War #1 from Marvel Comics hits stores on Dec. 4th!
For more news and up-to-date announcements, join us here at Dynamic Forces, www.dynamicforces.com/htmlfiles/, "LIKE" us on Facebook, www.facebook.com/dynamicforcesinc, and follow us on Twitter, www.twitter.com/dynamicforces.
PATHFINDER VOL. 1: DARK WATERS RISING HC - SIGNED BY JIM ZUB
PATHFINDER VOL. 1: DARK WATERS RISING HC
PATHFINDER VOL. 3: CITY OF SECRETS TRADE PAPERBACK
PATHFINDER VOL.2: OF TOOTH & CLAW TRADE PAPERBACK
PATHFINDER VOL. 1: DARK WATERS RISING TRADE PAPERBACK
PATHFINDER: CITY OF SECRETS #1 (OF 6) ULTRA-LIMITED EDITION COVER
PATHFINDER VOL. 3: CITY OF SECRETS HARDCOVER
RED SONJA: TRAVELS VOL. 2 TRADE PAPERBACK
PATHFINDER VOL. 2: OF TOOTH AND CLAW HC
---
NEW! 1. 06/05/2023 - JEFF LEMIRE
5. 02/10/2022 - SIMON SPURRIER