VITA AYALA

SEND THIS TO A FRIEND!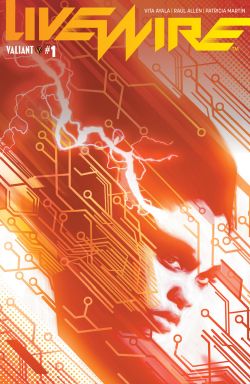 DF Interview: Vita Ayala brings electrifying hero into solo series with Livewire
By Byron Brewer
Accomplice. Mentor. Savior. And now, Enemy of the State. Seeking to protect other vulnerable super-powered psiots like herself, Livewire plunged the United States into a nationwide blackout with her technopathic abilities, causing untold devastation. After choosing the few over the many, she must now outrun the government she served -- and those she once called allies. With the whole world hunting her, what kind of hero will Livewire be … or will she be one at all?
From writer Vita Ayala (Supergirl) and artists Raúl Allén and Patricia Martín (Secret Weapons) comes an electrifying new series that will launch the Valiant Universe into a new age of champions! DF wanted to know more, so we sat down with Vita Ayala.
Dynamic Forces: Vita, Amanda McKee – Livewire – has been one of the backbone characters and major players of the Valiant Universe for years. Why has it taken so long for Livewire to get a solo series – this is her first, I believe – and what does it say about the strength of the creation she has managed to stay on the front burner of the VU despite NOT having a solo series?
Vita Ayala: Amanda McKee, a.k.a. Livewire, has absolutely been one of the quintessential Valiant Universe characters, especially since the re-emergence of the company in 2012. She is my favorite!
I think her longevity and her position in the various books that she has been in speaks very strongly to her staying power and to her complexity and versatile nature. She can be a leader, a teacher, a fighter, a mother and a crusader all at once. And, always, a genius …
DF: Give us your perceptions of Livewire (and of Amanda McKee) as a character. Any of the tendencies you see in her reflective of her current creator?
Vita Ayala: I think Amanda is a layered, nuanced character. Her family is her primary motivation, and her duty to other psiots like her is right behind it. To me, her empathy and her need to protect her people are at the center of her character, and I as a person sympathize with that!
DF: What might readers new to Livewire need to know from her past to better enjoy this new solo series? Can you summarize?
Vita Ayala: One of the things that we really strived to do was make this series accessible to people who had never read anything in the Valiant Universe. Anyone can just jump right in!
But, if people are interested in a little background, knowing that she is a psiot – a person with strange and extreme mind-based power – is a good one. She is technopathic, which basically means she can interact with and control technology with her mind. She is her own Siri!
Another good thing to know is that psiots are persecuted in her world, and that, as of the beginning of the series, she is public enemy number one for using her power to shut down all technology in the country – including the power grid – in order to try and protect her people (psiots) from being hunted and killed by the government.
There is a small group of young-adult psiots in particular that she is very concerned with protecting. They are her family, not related by blood, but no less so.
DF: What is the storyline of this new ongoing?
Vita Ayala: The first story arc is a redemption arc. The actions that Amanda took – turning off the power and tech of the entire country – have had much larger consequences than she anticipated, and she has to face those, and find her way back to being a champion of good.
DF: Can you introduce us to any other important characters in the series please?
Vita Ayala: The antagonist of the series, [REDACTED], is incredibly personal and important. But other than that, I don't think I can get into things without giving away more than I should.
DF: Talk about the stunning art of Raúl Allén and Patricia Martín.
Vita Ayala: I could go on FOREVER about how INCREDIBLE Patricia and Raúl are! Such an amazing team in general, and the PERFECT team for Livewire. The way that they play with pacing is next-level to me, and how they draw out details to heighten tension and drama! And their color work? I could stare at a single page for HOURS. I actually started crying in public when I got the first pages for this in my email. That's how good they are.
DF: Vita, are there any projects in which you are involved that you can tell readers about?
Vita Ayala: I have been working on my creator-owned series, The Wilds [Black Mask Studios] and Submerged [Vault Comics]. I am also writing Black AF: Devil's Dye for Black Mask Studios and Magic: The Gathering: Chandra for IDW Publishing.
I hope people connect with Livewire – she is such a wonderful character and the team behind this book really loves her and is passionate about making a book worthy of her name!
Dynamic Forces would like to thank Vita Ayala for taking time out of their busy schedule to answer our questions. Livewire #1 from Valiant Entertainment hits stores Dec. 19th!
For more news and up-to-date announcements, join us here at Dynamic Forces, www.dynamicforces.com/htmlfiles/, "LIKE" us on Facebook, www.facebook.com/dynamicforcesinc, and follow us on Twitter, www.twitter.com/dynamicforces.
VALIANT COMICS ETERNAL WARRIOR HIGH-END LITHOGRAPH
VALIANT COMICS X-O MANOWAR HIGH-END LITHOGRAPH
---
NEW! 1. 01/18/2021 - STEVE ORLANDO
4. 01/07/2021 - DARICK ROBERTSON
5. 01/04/2021 - CONOR MCCREERY