JOE BENITEZ

SEND THIS TO A FRIEND!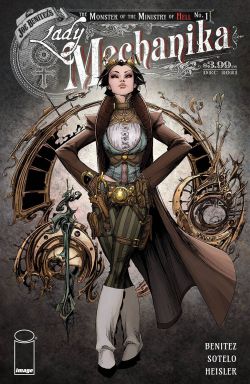 DF Interview: Joe Benitez looks at his steampunk adventurer's beginnings in 'Lady Mechanika: The Monster of the Ministry of Hell'
By Byron Brewer
Set in an asylum full of grotesque inmates, sadistic guards, and a fanatical doctor, Lady Mechanika: The Monster of the Ministry of Hell introduces readers to a young lady who wakes to find her arms and legs have been replaced with mechanical limbs. But who among this gruesome menagerie is the true monster of the Ministry of Hell? The origins of the notorious Lady Mechanika!
Artist/writer Joe Benitez explores the mysterious genesis of his eponymous steampunk adventurer in the forthcoming Lady Mechanika: The Monster of the Ministry of Hell. This upcoming four-issue tale will launch from Image Comics in December. I was on board for an interview when the word first came out, and thus sat down with creator Benitez to find out more about this historic time in Lady M's career.
Byron Brewer: Joe, I have followed her adventures with enthusiasm. But why is now the right time to tell the full origin of Lady Mechanika and how does that coincide with her arrival at Image Comics?
Joe Benitez: We're not actually telling the FULL origin of LM, since there's quite a bit to tell. This story will be about the time when the authorities first discovered her, with mechanical limbs and no memory. And it's just good timing that we happen to be moving to Image now. But it is the perfect time for it, since new readers will be able jump right on board with an origin story (and long time readers have been waiting for this story too). We've been working on this story for a while, before we were even considering moving to Image. At first, it was more about the characters from Vol 1 in the present time, then it evolved into a story about the misadventures of young LM and Winter (from Vol 1), and then finally it became the story of when LM first met Winter.
Byron: Before we take a deep dive into the latest four-issue limited series, Lady Mechanika: The Monster of the Ministry of Hell, what was the true-life inspiration behind the character?
Joe Benitez: The main inspiration behind Lady Mechanika was actually steampunk cosplayers. I was at DragonCon in 2009 and was really impressed and inspired by the great steampunk costumes a lot of people were wearing, and wanted to do my own take on steampunk, and that eventually evolved into Lady Mechanika. I knew the main character was going to be female, at first I considered making her half-vampire. Kind of like a steampunk Selene (from the movie Underworld). But then I decided to make her a cyborg instead, and keep her origins mysterious. There's a touch of Lady from The Quick and the Dead, her attitude. Early on with her holster, I was trying to mimic how she positioned the holster on her belt as a nod to that character. LM's outfits were inspired by model and designer Kato of Steampunk Couture, and various steampunk cosplayers. Basically I googled sexy steampunk, took it all in and put it in a blender and came up with my own take on it.
Byron: Tell us a little about the world you have created for her adventures.
Joe Benitez: It's an alternate, historical fiction version of our world, a Victorian Era where technology has advanced further and in different ways than it did in our reality. I wanted to incorporate fiction from that time, but not use the actual characters. It's heavily inspired by Jules Verne, H. G. Wells, Mary Shelley, Bram Stoker, Robert Louis Stevenson, trying to make my own version of that particular world of sci-fi and supernatural.
Byron: As you unfold Lady M's origin, introduce readers to her as we meet her in this limited series. Who was she? Who is she? What challenges are immediately before her?
Joe Benitez: She's a woman with no past beyond the point when she was discovered, which is what we're touching on in this story. She has no memory before the time she was found, and it's become an obsession to find out who she is, it's a driving force in her life. She follows leads that may or may not have anything to do with her past, and in doing so she's become well versed in situations of a peculiar nature and people go to her if they need help with something that the regular authorities don't know how to deal with.
Byron: Can you spotlight any other protagonists in this particular tale?
Joe Benitez: The other protagonist in this tale is a young Commander Winter from Vol 1. This is how they met, and their relationship. I've been wanting to tell this particular story for a while, so people can understand a little bit more about the interactions between them in Vol 1.
Byron: Give readers, if you can, some clues as to who or what may be behind the big-bad role in this series.
Joe Benitez: The main "villain" in the story is a mad scientist, the main surgeon of the Ministry of Health who experiments on the patients and LM becomes one of his victims.
Byron: As the character's creator and book's artist AND writer, speak a little about designing the characters and set pieces herein. Discuss how you use your artist's toolbox to depict emotion, mood, etc. as a comic goes from scene to scene. Fascinates me.
Joe Benitez: At the end of the day, my job as an artist it to try to create the most interesting visuals possible. My goal is to design characters that are interesting to look at, and to lay out a page as visually interesting as possible while still trying to tell a coherent story. I pay particular care with trying to get the right emotional impact that's called for in the scene, using the characters' expressions as well as the choice of panels to get the right mood across.
Byron: Joe, are there any other projects involving you that you can tell our readers about? Are there any details of upcoming Lady M projects you can reveal?
Joe Benitez: At the moment we're actually working on several other stories in various stages of development. We have a story written by Brian Augustyn which is sort of a tip of the hat to arguably the first steampunk comic, Gotham by Gaslight, which he wrote. We also have a story that takes place in Siberia and is being drawn by Siya Oum. And we have a story written by steampunk scribe Madeleine Holly-Rosing called The Secret Garden. We're also working on a story about airship pirates, and a Lovecraftian tale that I've been working on for a while. Basically we're working on a lot of LM stories!
Dynamic Forces would like to thank Joe Benitez for taking time out of his busy schedule to answer our questions. Lady Mechanika: The Monster of the Ministry of Hell #1 from Image Comics is slated to be on sale December 8th!
For more news and up-to-date announcements, join us here at Dynamic Forces, www.dynamicforces.com/htmlfiles/, "LIKE" us on Facebook, www.facebook.com/dynamicforcesinc, and follow us on Twitter, www.twitter.com/dynamicforces.
THE PRECINCT #1 DF EXCLUSIVE BY JOE BENITEZ
THE PRECINCT #1 (OF 5) RARE JOE BENITEZ "VIRGIN ART" EDITION
LEGENDERRY: VAMPIRELLA #1 (OF 5) RARE JOE BENITEZ "VIRGIN" ART EDITION
LEGENDERRY: RED SONJA #1 (OF 5) RARE JOE BENITEZ "VIRGIN" ART EDITION
LEGENDERRY #7 (OF 7) HIGH-END JOE BENITEZ "VIRGIN ART" ULTRA-LIMITED EDITION
LEGENDERRY #6 (OF 7) HIGH-END JOE BENITEZ "VIRGIN ART" ULTRA-LIMITED EDITION
LEGENDERRY #5 (OF 7) HIGH-END JOE BENITEZ "VIRGIN ART" ULTRA-LIMITED EDITION
LEGENDERRY #3 HIGH-END JOE BENITEZ "VIRGIN ART" ULTRA-LIMITED COVER
LEGENDERRY #1 HIGH-END JOE BENITEZ BLACK & WHITE ULTRA-LIMITED
MISS FURY #3 HIGH-END JOE BENITEZ "BLOOD RED" ULTRA-LIMITED COVER
LEGENDERRY: A STEAMPUNK ADVENTURE TRADE PAPERBACK
LEGENDERRY: GREEN HORNET TRADE PAPERBACK
LEGENDERRY RED SONJA: A STEAMPUNK ADVENTURE VOL. 2 TRADE PAPERBACK
---
NEW! 1. 12/06/2021 - VAN JENSEN & ERICA SCHULTZ
3. 11/29/2021 - DAVID ANDRY & TIM DANIEL