EMMA KUBERT & JOHN STANISCI

SEND THIS TO A FRIEND!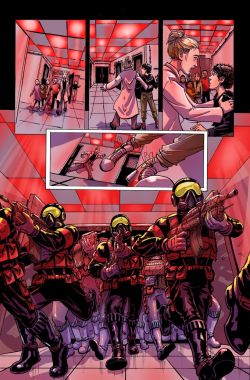 DF Interview: Emma Kubert & John Stanisci bring new comics series 'Foundlings' to Kickstarter
By Byron Brewer
Years in the future, a virus has been weaponized by a Russian government hell-bent on destroying America from within. This deadly new strain has been perfected to kill within 24 hours of contact, and only small groups of children carry an immunity to the effects. They are the Foundlings: a diverse group of children under the age of 16, who alone carry the hope for a possible cure, and a solution to extinction.
Foundlings is a brand new dystopian young adult comic book series co-created by John Stanisci (Batman Beyond) and Emma Kubert (Inkblot) in the vein of Stranger Things and The Goonies, tackling issues of diversability and empowerment. DF wanted to watch this one from the start, so we sat down with creators Kubert and Stanisci.
Dynamic Forces: John and Emma, tell me about the genesis of your comic book, Foundlings.
John Stanisci: Many years ago, I knew someone who was a nursing supervisor at the Foundling Hospital in NYC. I learned of these kids who were abandoned by their parents because of their physical and emotional differences. I always had this idea that these kids were, basically, the unwanted of the Earth and wouldn't it be great if, in some future dystopian world, everything changes and these abandoned kids are the key to humanity's survival! This year, when the pandemic hit, I thought this would be the perfect time to bring this story out. Luckily for me, at roughly the same time, I met Emma Kubert and brought Foundlings to her in the hopes she would want to partner with me on this. Luckily for me and Foundlings, she said YES!
Emma Kubert: And then! When John came to me with Foundlings, I was working on Inkblot and realizing the kind of stories I love working on — creator-owned. I just love the kind of emotion and voice that goes into someone's passion project. John gave me the pitch for Foundlings, basically a couple of sentences, and I was hooked. It's an underdog story, full of diversity and representation, told in an interesting way. How could I not say YES?!
DF: Why did you select the crowdfunding way to go with publication, and how did you guys happen to become collaborators on this property?
John Stanisci: We decided to go to Kickstarter because it seems like a lot of the publishers we would bring this to have all had a bit of slow down in terms of taking on new projects in the wake of the pandemic. A lot of well known comic creators have since turned to Kickstarter as never before, getting to quickly announce their projects and bring it directly to the comic book audience. We honestly feel so excited about Foundlings that we didn't want to wait any longer to announce it and bring it to an audience! So, it was really all about our excitement to get the book out as soon as we could! As for our collaboration, when I decided to take Foundlings 'out of the drawer' earlier this year, I knew I had to find the perfect artist for it. It had to be someone who had a great storytelling sense, a sense of cinema, and a love for YA sci-fi. I'm not exaggerating when I say that within 24 hours of thinking all this, Emma and I connected through Linkedin. I saw her work and it was, like, BINGO! THIS IS THE PERFECT ARTIST FOR FOUNDLINGS! I brought it to Emma and, thankfully, she said yes! And we have been off to the races ever since.
Emma Kubert: I always felt crowdfunding was the perfect way to engage your audience on a personal level. It's just creators, trying to make stories, and seeing who likes it. But with Foundlings, our team was just so excited to get this story off the ground. We really think it's something special, so we wanted to get it out into the world as soon as possible!
DF: John, tell readers about this world you and artist Emma Kubert are creating for Foundlings.
John Stanisci: Well, it's a world that, unfortunately, could be all too possible if some current trends play out in the worst way in America. It's several years in the future and Russian scientists have discovered ancient seeds buried beneath the permafrost in Northern Siberia (this is actually true!). The seeds are inexplicably still 'active', still alive! The Russians extract a deadly toxin from the seeds and use it to create a weaponized virus. They unleash this virus upon the U.S. and invade our shores! At the opening of Foundlings, the U.S. power grid is down, the government has disappeared and only very small pockets of American resistance are around to try to repel the Russian military that has taken the country. In NYC, this special group of Foundling kids, who all have physical and emotional differences, seem to be the only ones immune to the virus. They are being experimented on in a secret location in NYC when the Russians find them. The kids grab the ancient seeds they have stored at the facility and go on the run! The whole first part of Foundlings is about these kids trying to literally escape from a war-ravaged Manhattan! I won't give it away, but there are some truly thrilling surprises in store with the story!
DF: Can you introduce us to some of your protagonists?
John Stanisci: Emma and I felt it very important to make sure that our cast of characters was very diverse. First, we have SuJeong Kim, who is a little older than the other Foundlings (12 or 13) . SuJeong struggles with serious emotional differences and doesn't feel she's qualified to be 'the leader'. We have Adrian (11), who was abandoned by his parents as an infant. He was found by police stuffed behind a radiator by his parents. His face is partially disfigured and he wears a mask to conceal it. There is Becky (11), who is on the autistic spectrum. Her parents could not manage her care and placed her with the Foundlings. She communicates mostly through her drawings in her sketch book. There is Nijah (11), who is blind. Her family was killed here in America as a result of a hate crime. She was an eyewitness to their deaths and what she saw caused her to lose her sight. There is Dwayne (10), who was born a hemophiliac and left with the Foundling hospital as an infant. He cannot be cut or bleed as it can result in his death. Dwayne must be constantly bundled in extra layers of clothing, gloves, etc. Dwayne is also different from the other Foundlings in that he knows his mother died in childbirth. Lastly, we have Spartacus, a three-legged cat who joins the group a little later in the series.
DF: Emma, what can you tell us about the storyline of Foundlings (great title, as I understand the book)?
Emma Kubert: Foundlings is about a group of children with disabilities who have been outcast by society and were sent to the Foundlings Hospital. As the Soviet army demolishes the U.S., these children become the last and only hope for the world. When John came to me with this idea, I immediately was hooked. It really is the story of the underdog, very relatable to everyone. It has the intensity of Stranger Things with the lighthearted character dynamic of The Goonies. Not only do I believe the story to be great, but this isn't the typical kind of characters you see in the media. You normally don't see minorities, like these children, be the hero in the story. As my career grows, I realize that as creators, we have the power to change that. When I was young, I didn't take to comics because I didn't see characters I related to, but what if I had? Representation matters to everybody out there, and this is a story for the underrepresented.
DF: Talk about how you are approaching this book from an artist's perspective. Your work on Inkblot was certainly unique!
Emma Kubert: I like to approach each story with a new perspective. Every story has its own unique aesthetic and vibe, and I think it is important to capture that. With Inkblot, Rusty and I wanted you to feel like you are in a mystical, whimsical world, off on a fantastical, lighthearted adventure. Foundlings has a sense of urgency and suspense to it. I want the reader to be on the edge of their seat, rooting for these children who are against all odds to win. Having that in mind, I adjust my storytelling and art accordingly, so the reader can actually experience the world while they read.
DF: Emma & John, what can you tell us about the Kickstarter campaign?
John Stanisci: The Kickstarter campaign is very exciting! It has provided Emma and I the opportunity to get Foundlings out sooner rather than later. Kickstarter has already named us a 'project we love'. We are only a few days into the campaign and the support is already incredible! Our first goal ($8,000) will give us the ability to get the first issue of Foundlings into everyone's hands. However, we are really hopeful to hit a stretch goal as it would give us the ability to do the entire graphic novel (six issues of story). So, if you love what you see of Foundlings on our Kickstarter, please help support this project with a pledge and by spreading the word. We cannot wait for everyone to see Foundlings!
Emma Kubert: It's incredibly exciting! As John said, it's allowing us to get our story out sooner rather than later. We've already received a ton of support from a lot of people. We want to create an entire graphic novel eventually, but our Kickstarter goal is to create our first issue for everyone to enjoy. Throughout the campaign, John, our team, and I will be doing all the social media know-how, so please follow along on our journey! Donate if you can, there are multiple reward tiers for you all, and like John said, spread the word! We are excited for all of you to join Foundlings!
Instagram Handles
@emmakubert
@johnstanisci
Twitter Handles
@emmakubert
@johnstanisci
https://www.kickstarter.com/projects/punkhouse/foundlings-a-new-comic-from-john-stanisci-and-emma-kubert
Dynamic Forces would like to thank John Stanisci & Emma Kubert for taking time out of their busy schedules to answer our questions. Foundlings is up on Kickstarter now!
For more news and up-to-date announcements, join us here at Dynamic Forces, www.dynamicforces.com/htmlfiles/, "LIKE" us on Facebook, www.facebook.com/dynamicforcesinc, and follow us on Twitter, www.twitter.com/dynamicforces.
---
NEW! 1. 12/04/2020 - JOSH BLAYLOCK
3. 11/30/2020 - SKYLAR PATRIDGE