ALEX DE CAMPI

SEND THIS TO A FRIEND!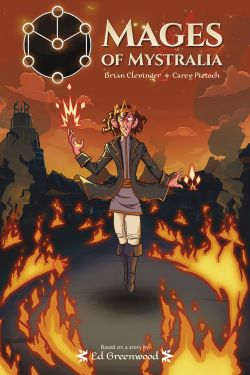 DF Interview: Alex de Campi brings the Cold War to '70s California in Mayday
By Byron Brewer
A Cold War action-thriller like no other. That's Mayday, from Image Comics by critically-acclaimed writer Alex de Campi with art by Tony Parker and Blond.
It's 1971, and two young Soviet operatives are sent to California to kill a defector and recover top-secret information. As the mission falls apart into a mess of good sex, bad drugs and ugly violence, the young Russians are faced with a dilemma: they need to rely on each other to escape America, but they must betray each other to survive Russia.
What to know more? Us too! So we sent DF's best secret agents to hunt down and interrogate the scribe. This is what Alex de Campi would reveal.
Dynamic Forces: Alex, the first description of Mayday I saw was you saying it was akin to "Ken Russell directing a Bond film in California." So I take it Soviets are involved? (LOL) Tell us a little about Mayday.
Alex de Campi: A KGB general defects in Hong Kong, with a list of all Soviet assets in the Far East ... including Vietnam. The CIA gets him to the U.S. as fast as possible, stashing him in a safe house in Palm Springs, but it's not fast enough – a KGB team has already been sent out to reclaim the information and silence the defector. The team are: Codename: Rose, a sophisticated female operative who is the daughter of Moscow's upper class and is very comfortable in the West, and Codename: Felix, an assassin on loan from Military Intelligence (GRU). Felix's English isn't great and the U.S. is a shocking, strange land to him, but he'll pull the trigger ... and he does.
Then the mission goes to hell. Felix and Rose need to work together to get out of the U.S. alive, but they need to betray each other to survive judgment back in the U.S.S.R. There's fast cars, naked women, drugs, sex, and a whole lot of violence, all set in 1971 when the idealism of the hippie movement had turned sour and selfish.
DF: Setting an action-thriller in the 1970s promises a great adventure, but did you consciously make any list of Cold War tropes you would try to avoid in the book or are you just flying fun and free with the clichés?
Alex de Campi: Well, in the first place, the book is set in sunny California, the opposite of the tight little European Cold War thriller – and it's filled with the U.S. counterculture of the time. Hippies, Vietnam protestors, etc. The book also came about from my ongoing interest in the spy genre and just how ridiculously codified it is. What happens when you take the spy out of his suit? I mean, spies are read as OK because they're white and wear suits. In this book, the CIA case officers wear suits but that's it. Felix and Rose are dressed just like any other twentysomethings in Cali in '71, and that makes the violence a whole lot more uncomfortable. Spying is just the official, Western state-sponsored version of terrorism, and James Bond is only remotely OK because he's a white guy in a suit with a British accent. You don't have to change the spy genre radically to make it feel incredibly fresh and modern; you just have to take away a couple of its standard props. And by leaving the story in 1971, there is enough historic difference that the terrorism aspect of Felix's actions isn't too triggering.
Also, I'm a giant history nerd, and hopefully Mayday will be the start of a group of discrete miniseries about the Cold War, following Felix and Rose and Jack and Penny. The next book would be in Berlin, about the Baader-Meinhof group, and as Mayday is a parable for the uncomfortable nature of the special tasks/active measures operative, it's a parable for toxic fandom/toxic subcultures. Then to Romania for a thriller on the Bucharest – Vienna sleeper ...
DF: Wow! Tell us more about your protagonists.
Alex de Campi: I think we all forget how little the U.S. and the U.S.S.R. knew about each other in the Seventies, and how therefore fascinated the youth of both sides were with each other. I bring that out a lot with Felix and Rose, how they're in America for this mission and (especially Felix, as the less worldly of the two) is both amazed and repelled by The Main Adversary. Little things, like walking into a San Francisco supermarket and being overcome by seeing all the oranges and bananas and pineapples just piled up, without guards around them ... for anyone to take.
Felix and Rose are very opposite personalities. And they're young, and make bad decisions. Rose is very comfortable in America and speaks great English (though still misses the odd word, occasionally). Felix ... he's very unsure, but he's also the type that the more things go to hell, the more comfortable he becomes. They're from radically different socioeconomic backgrounds and regions within the U.S.S.R. Rose is firmly part of the nomenklatura, while Felix was a street kid from Volgograd/Stalingrad.
DF: What other characters in the series might we watch out for? In these things, of course, people are seldom who they seem. And you are a master of that.
Alex de Campi: The other main protagonist is Jack Hudson, our CIA junior case officer from SB (Soviet Bloc) Division, in what used to be called the Directorate for Plans and is now the Directorate of Operations. He's a light-skinned black guy with an air force background. He's brought along as a Russian speaker to meet the KGB General, and then ends up on the hunt for Felix and Rose ... and has an increasingly large grudge against Felix. He's also struggling against CIA politics – god, I could write a whole series just about the machinations and internal politics in the CIA in the 1970s, from the end of the Angleton era of paralysis to Stansfield Turner standing down all of Moscow Station in 1977.
DF: Tell us about working with Tony Parker and Blond. What type of design work went into the series from Tony – any historic research? – and did you work with Blond on a specific palette for a "feel" of the early 1970s?
Alex de Campi: Tony was really in charge of working with Blond on the palette, while our series editor Brendan Wright and I chimed in with occasional, belated notes. I try to make historical ref as easy as possible for artists (I don't want them to waste a day googling early 1970s 8-track players, for example, or what guns a Soviet operative would be likely to carry/use) so I provide a lot of links and we had a shared folder of photo ref, but Tony did an amazing job on his own.
DF: I am not sure how many fans know this, but you like a few other writers actually letter your books. What are the advantages of that, as a writer and as a creator?
Alex de Campi: First, I appreciate the art a lot more, because I spend hours poring over it at 1200% while lettering. Then, of course, there's the advantage of being able to tailor the dialogue and SFX directly to the art. So often, I'll re-dialogue on art, or add SFX, or move balloons between panels/cut dialogue, to make sure the art is working as closely as possible with the story. I also feel I'm more sensitive to integrating the art and the letters than many commercial letterers – I mean, so often on commercial books, it looks like the balloons are just shat anywhere on the art, and there's horrible, gradient-filled SFX that don't harmonize in any way with the underlying linework. That makes me very sad.
Mayday was also an experiment for me. Normally I use Comicraft letters in my books, plus a collection of grungy sanserif fonts for SFX. But for Mayday, I actually hand-lettered the book – a tremendous commitment of time, but one that I think fits the art and the attitude of the story.
DF: Alex, any other projects current or near-future you can let us in on?
Alex de Campi: Oh my goodness. So, so much, but nothing that's been announced yet. I'm working nonstop, to the point I can barely keep a handle on all the writing I'm contracted for. Chris Cross and I have a super cool action thing coming soon. That'll probably be the next thing announced. And my and Carla Speed McNeil's thriller No Mercy is in its final arc, so keep on with that!
Dynamic Forces would like to thank Alex de Campi for taking time out of her busy schedule to answer our questions. Mayday #1 from Image Comics hits stores Nov. 2nd!
For more news and up-to-date announcements, join us here at Dynamic Forces, www.dynamicforces.com/htmlfiles/, "LIKE" us on Facebook, www.facebook.com/dynamicforcesinc, and follow us on Twitter, www.twitter.com/dynamicforces
LADY ZORRO #1 (OF 4) Written by Alex de Campi
LADY ZORRO: BLOOD & LACE TRADE PAPERBACK Written by Alex de Campi
---
NEW! 1. 11/25/2020 - STEVE SKROCE
4. 11/16/2020 - RYAN O'SULLIVAN
5. 11/16/2020 - RYAN O'SULLIVAN