ZACK KAPLAN

SEND THIS TO A FRIEND!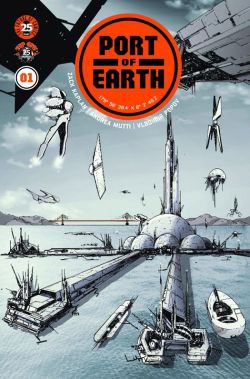 DF Interview: Zack Kaplan opens our planet for business in Port of Earth
By Byron Brewer
Imagine if aliens came to Earth not in war or peace, but with a business deal: open up a spaceport here on Earth in exchange for advanced technology. But when our alien visitors break Port restrictions and wreak havoc in our cities, it falls to the newly-formed Earth Security Agents to hunt down and safely deport the dangerous rogue aliens back to the Port of Earth.
From Top Cow and Image Comics comes Port of Earth, a gritty sci-fi action thriller from writer Zack Kaplan (Eclipse) and Andrea Mutti (Rebels, Star Wars, Batman Eternal, Prometheus).
To gather the full 411 for you, DF checked into a bizarre spaceport and in the lounge sat down with scribe (and admitted Earthling) Zack Kaplan.
Dynamic Forces: Zack, tell us how the idea for Port of Earth developed in your mind. Was it relatively recent, or something you've been wanting to pitch for years?
Zack Kaplan: I got the idea while I was reading about Europeans coming to America. When they came, it was quite clear the American continent was a prize, but they didn't invade at first. They simply established a presence and traded with the locals. And so many instances like that in human history seem to indicate that peaceful trade is the most likely outcome for two civilizations meeting. It made me wonder what it would be like if aliens came to Earth in a similar fashion. Like most of my ideas, it formed over months and maybe years, and then it was finally ready to pitch. I took it to Matt Hawkins at Top Cow and he loved it. He gave me the go-ahead and we began building Port of Earth. And the first thing we got was a great creative team in Andrea Mutti on art, Vladimir Popov on colors, and Troy Peteri on keyboard, I mean letters!
DF: (Laughs) … Was there any particular muse for inspiration of the new series? Movie, book, game, comic?
Zack Kaplan: Well, I looked at other alien arrival movies like District 9 and Arrival that put a unique spin on the genre, but the story also follows two agents on their mission to hunting down a rogue alien. You see, aliens are supposed to come in to Port, refuel their ships and then go, but never break the Port limits and infiltrate the human population. They don't always follow the rules. And bad things happen when they don't. So it's up the Earth Security Agency and their agents to deport them back to Port. And because the story follows a ride along with two agents, I looked at the movie End of Watch, because it captured that ride along, filmed footage feel. I couldn't find too many comic books that had a filmed footage device going on, meaning the characters are being filmed the entire time, and the reader is, in a way, watching that footage unfold, through the cameras.
DF: Tell us about the world you and artist Andrea Mutti are creating here for Top Cow.
Zack Kaplan: The world is not so different than our world. There are few changes. One, there's a giant alien spaceport off the California coastline, and spaceships come and go regularly. Two, aliens occasionally pop up in cities and human areas, so everyone's on edge. And there's a massive change in our energy usage and economy. We've traded access to our planet for the technology to freely convert water to energy. So bye bye coal, oil, gas, wind, solar, all of it! You can power your home and car on water. But that's caused a lot of economic turmoil, putting a lot of manufacturing jobs out of work. That's created a lot of resentment in hard working people towards aliens, for coming and ruining their way of life, and of course, occasionally showing up and killing some innocent people.
DF: So what specifically (and non-spoilery) can you tell us about these aliens?
Zack Kaplan: Well, that's the thing. They are all different. There are thousands of species out there. And in fact, the alien group we've done business with called the Consortium, it's no different than any human corporation that is represented by different nationalities and ethnicities. And the aliens that come and use the Port of Earth, they are paying the Consortium for the service, so they are all different, from different planets and different parts of the galaxy, and with different reasons for coming.
DF: Explain a bit more about the Earth Security Agency. Has the coming of these cosmic Chamber of Commerce reps caused Earth governments to go global?
Zack Kaplan: You know, I think it's a bit interconnected, probably. Governmental, United Nations, corporate and all. I imagine each ESA station in various countries is probably operated and overseen by the host government. There's probably all sorts of bureaucracy, a lot of former multi-national politicians and CEOs from all over working together there. When I think about the ESA, I think about a very large security group, the global equivalent of U.S. Border Patrol on a massive scale, but with a lot more hi-tech toys and alien guns should things get rough. And things do get rough in the comic!
DF: What characters might we closely encounter (ha!) in Port of Earth?
Zack Kaplan: I haven't mentioned the characters much here, but our heroes are George Rice and Eric McIntyre, two top notch ESA agents who have been handpicked to demonstrate to the public just how the ESA operates and how everything is under control. Another key character is Julia Campbell, a WNN anchor who is leading the investigative story into the ESA and the Port of Earth, in hopes of learning more about this mysterious alien deal.
DF: Can you compare and contrast Port of Earth with your solar apocalypse world in Eclipse?
Zack Kaplan: Eclipse is about the aftermath of something gone terribly wrong in the world, the sun turning deadly, and what we do about it and how we chose to live our lives without sun or hope of a remedy. Port of Earth is about a tenuous situation slowly going wrong, so it's far more immediate. I think Eclipse is actually a story of hope, but Port of Earth is clearly a cautionary tale, and without saying too much more, well, I guess I shouldn't say too much more.
DF: Talk about the art of Andrea Mutti and why it's right for this series.
Zack Kaplan: Oh man, it's so good! Andrea Mutti brings a lot of emotion to his art, and a lot of texture. I really wanted a gritty style, something that felt mature and authentic and gave us a world that was complex. Mutti has all of that. Go look at his Girl with a Dragon Tattoo or Evil Empire or Rebels even! Plus, he's no stranger to the sci-fi genre; he's done Aliens! So he knows aliens! It was a great fit. And we can't talk about the art without mentioning Vladimir Popov. Vlad does it all, but I had a very unique idea in mind for the colors, something that would be stark and dramatic. Vlad nails it! You can see it in the preview pages already out there, but the interior pages coming are so good.
DF: Speaking of Eclipse, congratulations on the property being in development for TV! Can you tell us anything at all about that, and what role if any you will play?
Zack Kaplan: Thank you! Yeah, it's extremely exciting! Unfortunately, I am not at liberty to say anything about that deal. But it's going be awesome!
DF: Any other projects you'd like to tell readers about?
Zack Kaplan: I'm working on some exciting things for 2018! Can't announce anything more now, but follow me online, at @zackkaps on Facebook, Twitter, Instagram. That's the best way to see more when it comes out!
Dynamic Forces would like to thank Zack Kaplan for taking time out of his busy schedule to answer our questions. Port of Earth #1 from Top Cow and Image Comics hits stores Nov. 8th!
For more news and up-to-date announcements, join us here at Dynamic Forces, www.dynamicforces.com/htmlfiles/, "LIKE" us on Facebook, www.facebook.com/dynamicforcesinc, and follow us on Twitter, www.twitter.com/dynamicforces.
---
NEW! 1. 11/25/2020 - STEVE SKROCE
4. 11/16/2020 - RYAN O'SULLIVAN
5. 11/16/2020 - RYAN O'SULLIVAN