V.E. SCHWAB

SEND THIS TO A FRIEND!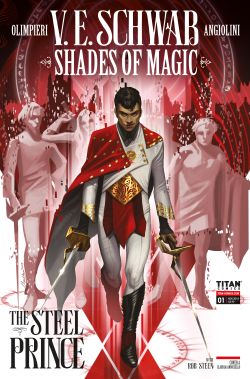 DF Interview: V.E. Schwab brings her Shades of Magic series to comics
By Byron Brewer
In a gaslamp world where magicians navigate alternate Londons, the prince of Red London pursues a dark version of his beloved city -- and faces worse than exile...
The highly-acclaimed YA fantasy series Shades of Magic comes to comics with its original author, award-winning New York Times bestseller V.E. Schwab, and sumptuously illustrated by Andrea Olimpieri (Dishonored) and Enrica Angiolini (Warhammer 40,000).
DF wanted to get the full 411 for you, our readers, so we chatted up this 4-issue limited series with the scribe herself.
Dynamic Forces: Victoria, what led to the decision to bring your brilliant and critically-acclaimed fantasy series to comics?
V.E. Schwab: I had a lot of story to tell, and not all of it fit cleanly into the pages of a book. Some of it spilled over and out. Some could be saved for the next arc, Threads of Power, and some had to be trimmed down, set aside for other use. One of those trimmed pieces I desperately wanted to explore – it was the story of King Maxim's youth, when he earned his reputation as the "Steel Prince". Comics seemed like the perfect way to bring that journey, through a world of magic and power and piracy, to the page.
DF: For the uninitiated (and you know who you are), tell readers about the world in which your Shades of Magic takes place.
V.E. Schwab: So Shades of Magic is a fantasy series set across four alternate versions of London, and the environs, each of which has a different relationship with magic. In Grey London, based on our own world c. 1819, magic has been forgotten. In Red London, magic thrives, and so do the people. In White London, the people have tried to bind magic to them, to devastating effect. And in Black London, magic was given free rein, and consumed everything. Prior to the start of the series, the other Londons, and their adjoining worlds, decided to sever ties in the hopes of protecting themselves from the magical sickness that consumed Black London, and now, only a certain kind of magician can move between worlds. The series is set primarily in Red and White, and Steel Prince is exclusively Red, a world in which most people possess at least one kind of magic.
DF: How, if at all, does this 4-issue limited series from Titan Comics hook into your novels? Is this a comics adaptation, new material connected to the Shades of Magic universe …?
V.E. Schwab: It's a prequel, set roughly 30 years before the start of A Darker Shade of Magic, and it's brand new material, hinted at in Conjuring of Light but unveiled for the first time in the Steel Prince series.
DF: Tell us about the storyline for the comic book series.
V.E. Schwab: It opens with a young Prince Maxim being summoned by his father, the king, after expressing too keen an interest in locating Antari, the magicians capable of moving between worlds. Asserting that the crown prince should be more concerned with the happenings of his own world, the king sends his son to Verose, a port city nicknamed the Blood Coast for its violence and lawlessness, and instructs him to cut his teeth whipping the soldiers there into shape. It doesn't go as planned.
DF: Can you introduce us to your protagonists please? Is there one character you look upon as the point-of-view character for the reader?
V.E. Schwab: In addition to Maxim Maresh, the rather arrogant prince who's in over his head, there's Isra, a young, brilliant soldier who takes it upon herself to keep the prince alive, a motley crew of soldiers and, of course, the main antagonist, Arisa, also known as the Pirate Queen. There's no real POV character, though readers will hollowly largely in Maxim's footsteps as he is plunged into Verose.
DF: Is this your first foray into comic books?
V.E. Schwab: It is! I have some experience writing scripts, and certainly a lot of experience reading comics, but this has been my first foray into writing them. I was very fortunate to have an incredible editor, Amoona Saohin, who's helped guide me up the learning curve. (winks)
DF: What do you think about the art of Andrea Olimpieri and Enrica Angiolini? What do they bring to your unique table here?
V.E. Schwab: Andrea has an extraordinary talent for movement and dynamic perspective, both of which help take the action in this series to a whole new level. I couldn't ask for more. And Enrica has taken on the not-insubstantial challenge of conveying magic using color and light in a way that's edgy without losing clarity. Together, the result is a visual interpretation that feels so true to the version in my head.
DF: Victoria, tell readers of any other projects, in or out of comics, in which you might be involved, presently or in the near-future. Also, can you speak at all to a coming film based upon your Shades of Magic work?
V.E. Schwab: Oh, I wish I could say more than I can. Suffice to say, I hope this won't be my last comic. Vengeful just hit the adult SFF shelves, and as far as things in the works, I CAN say that the second book in the City of Ghosts series is coming next summer, followed by my next adult novel, The Invisible Life of Addie Larue.
The film adaptation is still in the works, and like so much of Hollywood, it's a patience game. If readers want the most up-to-date information, they can follow me on Twitter or Instagram at veschwab.
Dynamic Forces would like to thank V.E. Schwab for taking time out of her busy schedule to answer our questions. Shades of Magic #1 from Titan Comics is in stores NOW!
For more news and up-to-date announcements, join us here at Dynamic Forces, www.dynamicforces.com/htmlfiles/, "LIKE" us on Facebook, www.facebook.com/dynamicforcesinc, and follow us on Twitter, www.twitter.com/dynamicforces.
---
NEW! 1. 11/30/2020 - SKYLAR PATRIDGE
5. 11/16/2020 - RYAN O'SULLIVAN