CHIP ZDARSKY

SEND THIS TO A FRIEND!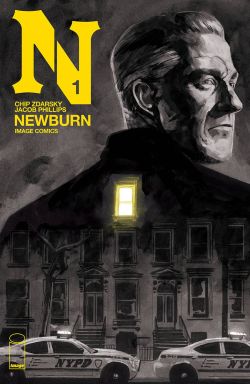 DF Interview: Chip Zdarsky discloses the dirty side of detective work in 'Newburn'
By Byron Brewer
Easton Newburn is a private detective without loyalties, investigating conflicts between rival crime factions while collecting enemies along the way. In the debut issue of Newburn, a man is murdered after stealing from his own mafia family, but they aren't the ones who ordered the hit…
Newburn is a brand new ongoing series from Chip Zdarsky (Daredevil) and Jacob Phillips (That Texas Blood) and features a riveting backup story, "Brooklyn Zirconia", by rising stars Nadia Shammas and Ziyed Yusuf Ayoub.
Crime noir and mysteries are one of my things, so it didn't take me long to sit down with scribe Chip Zdarsky to chat about this new Image Comics title.
Byron Brewer: Chip, tell readers about the origins of your new crime-centric ongoing, Newburn. Is this something that has been boiling on the backburner for awhile? After all the corrupt conniving going on with Kingpin in Daredevil and the coming Devil's Reign, it's hard not to be excited about this different take on the world of crime.
Chip Zdarsky: Yeah! Jacob and I have been working on this for a couple of years now. The basic idea of a detective who works for crime gangs just came to me one day and I immediately got excited and started thinking who would be great to illustrate this. I met Jacob a few years ago at TCAF and was an immediate fan, so I reached out to him and thank God he was as excited as I was about the idea!
Byron: Tell us what type of streetwise world you and artist Jacob Phillips are putting together here. A noir feel, that gritty Hell's Kitchen atmosphere, or totally something unexpected?
Chip Zdarsky: It's the New York City that you recognize, but we've been building a new mythology of crime to suit our story. Fictionalized crime families that have a hold on the city in a way that real-life counterparts don't anymore. I mean, there's still organized crime, but not as invasive as it was, say, 20 or 30 years ago.
Byron: Introduce us to Easton Newburn. Who was he, who is he, and what does he face going forward as we begin his saga in this debut issue?
Chip Zdarsky: He's our cold, quiet protagonist with a mysterious past. Easton was once a police detective, but something happened that pushed him out on his own. And since then, he's done quite well for himself. This isn't the private eye with the dingy office!
Byron: I love crime drama with a lot of different opposing gangs/families, which seems to be the case here. Can you tell readers about some of the "families" with which Newburn will be involved, and their bosses?
Chip Zdarsky: We meet Michael Albano in issue one, the freshly-installed head of an Italian crime family. He doesn't trust Newburn, or understand his role in keeping the families from killing each other, which makes him dangerous. The rest of the families end up being more fully revealed in issue three at "The Black Castle".
Byron: What other characters may be important to this book that we should know about? Can you spotlight a few key protagonists here?
Chip Zdarsky: Hm, I don't want to give too much away... Newburn has his trusty driver, Henry; and his ex-partner Casey, who gives him access to crime scenes and information. They tolerate Newburn, really.
Byron: As this ongoing begins, is there perhaps a dark mastermind manipulator pulling puppet strings along the way? Issue #1's solicit seems to indicate that, subtly. Any clues you can give readers whatsoever, aside from "read the book"? (Laughs)
Chip Zdarsky: Read the book. Ha!
It's less about an overall "mastermind" as it is about individual cases. We're essentially doing a crime procedural here, with done-in-one mysteries every issue!
Byron: Talk a little about the art of Jacob Phillips.
Chip Zdarsky: He's amazing! Not only is he a fantastic storyteller, his coloring is the best in the business, as everyone will know from his work with his dad, Sean. And not only does he do his own coloring and lettering, but he's also fast! Which is such a rarity in this industry!
Byron: Wow. Lettering too?!… Not to be left out, I hear issue #1 has a great backup story by Nadia Shammas and Ziyed Yusuf Ayoub. Can you tell us anything about this tale, and will a backup story be a regular book feature?
Chip Zdarsky: Yes! Nadia and Ziyed have crafted a really lovely story about estranged brothers and their history of crime with "Brooklyn Zirconia". I'm excited for readers to dig into it!
And yeah, it was important for me to have backup stories for each arc of Newburn, to introduce readers to newer creators that may be under their radar.
Byron: Chip, what else do you have coming out you can tell readers about?
Chip Zdarsky: Oh, god. Too much! Check out my Substack to see exactly HOW much:
https://zdarsky.substack.com/p/what-am-i-doing
Dynamic Forces would like to thank Chip Zdarsky for taking time out of his busy schedule to answer our questions. Newburn #1 from Image Comics is slated to be on sale November 3rd!
For more news and up-to-date announcements, join us here at Dynamic Forces, www.dynamicforces.com/htmlfiles/, "LIKE" us on Facebook, www.facebook.com/dynamicforcesinc, and follow us on Twitter, www.twitter.com/dynamicforces.
STAR WARS ADVENTURES ANNUAL 2021 CVR A FLOREAN CGC GRADED
DAREDEVIL #25 TODD NAUCK HOMAGE COMICXPOSURE EXCLUSIVE
DAREDEVIL #25 SECOND PRINTING VARIANT SIGNED BY FRANK MILLER
DAREDEVIL #25 SECOND PRINTING VARIANT COVER SIGNED BY FRANK MILLER DUAL PACK - HOT PICK!
DAREDEVIL #25 THIRD PRINTING VARIANT COVER CGC GRADED - FEATURED ITEM!
SPIDER-MAN: SPIDER'S SHADOW #1 CGC GRADED
HOWARD THE DUCK #1 - 1:25 RETAILER VARIANT BY CHIP ZDARSKY!
SEX CRIMINALS #1 RARE FOURTH PRINTING PHOTO COVER GOLD SIGNATURE SERIES ELITE EDITION SIGNED BY MATT FRACTION!
---
NEW! 1. 12/06/2021 - VAN JENSEN & ERICA SCHULTZ
3. 11/29/2021 - DAVID ANDRY & TIM DANIEL