BRIAN BUCCELLATO, JENNIFER YOUNG & MATIAS BERGARA

SEND THIS TO A FRIEND!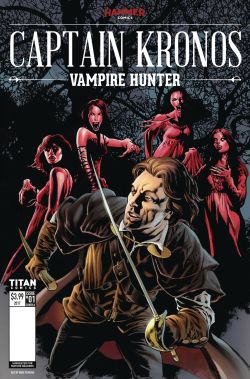 DF Interview: Brian Buccellato, Jennifer Young & Matias Bergara cook up thrills in Cannibal
By Byron Brewer
From Sons of the Devil scribe Brian Buccellato, writer/concept creator Jennifer Young and Sons of Anarchy artist Matias Bergara comes a southern gothic horror story about a town infected by a virus that causes its victims to become addicted to the taste of human flesh: Cannibal, a new series from Image Comics.
In Cannibal #1, with no cure for the bizarre virus in sight, the region has become split over what to do with the victims. For the Hansen family, the answer seems simple: kill them. However, all of that changes when the virus infects those the family cares about most.
DF sat down with creators Buccellato, Young and Bergara to discuss the intriguing new series further.
Dynamic Forces: Brian, usually if a reader knows the plot of a new series involves a pandemic – in this case, a virus which causes its victims to become addicted to the taste of human flesh – one these days thinks "apocalyptic." But you have stated the series will be very much the opposite, bolstered by the human spirit?
Brian Buccellato: Definitely bolstered by humans' will to not only survive, but continue their everyday lives. The story begins at the beginning of this pandemic, so it's not something that many folks have firsthand experience with – especially not the town of Willow, where the story takes place. You won't see the fall of mankind in this book… that's not the direction we want to go.
DF: Jennifer, you and Brian are co-writing Cannibal, which was in fact your original concept. Tell us, who are Cash and Grady Hanson, and -- living in the section of the Everglades when this virus strikes -- how do they and other denizens react? Like any other human experience, are there differing opinions?
Jennifer Young: Cash and Grady are brothers, who own the local bar and grill with their father, Roy. Cash's roots are tied more deeply to the town of Willow, so he works fulltime at the bar with his father. Grady, on the other hand, has a wanderer's spirit and has built a career as a commercial fisherman on shrimping boats. He is gone for months at a time. Grady has seen a lot more in his life than Cash, but even so has no personal experiences with the cannibal virus – at least not when the story opens.
Brian Buccellato: As far as the townsfolk… after the first cannibal attack hits, they start growing suspicious of strangers. And sometimes each other. It's an open carry state, so folks in Willow are quick to take their guns when they are out in public.
DF: As with most of your work, Brian, there is always an undercurrent of story. This first issue seems to involve two: the indomitable human spirit and addiction. True?
Brian Buccellato: Yes. For me, there always has to be an undercurrent of some larger themes. Writing is a personal medium (even when collaborating) and so I have to find elements to explore that are interesting to me. I would say survival and the effects of addiction on families are two themes that I am exploring with my contribution to the book.
DF: And Jennifer …?
Jennifer Young: We are also trying to explore the over-medicalization of society, as well as the stigma that is associated with diseases and illnesses of all kinds. It is really exploring how life's tragedies change you for better or for worse, but in a very fantastical way through my favorite genre.
DF: Matias, I assume you did some character designs for the book. Tell us about that. Did Brian or Jennifer have a hand, and which character so far in the series' execution may have become your favorite, or perhaps presented a unique challenge?
Matias Bergara: Well, I received some character profiles and ideas from Brian and Jennifer since they came out with the story. Most of what goes into character creation are attitudinal and "personal" traits you, as an artist, are supposed to let characters show throughout the pages and panels -- so in that sense, I have the freedom to choose certain ways of how to convey an air of seriousness or gravity into a character that is supposed to be serious looking. Maybe facial traits, body language or even clothing could do the work: deciding what or what not to use will differ from artist to artist. I'm still seeing these characters grow and mature as we go along creating the story, so I wouldn't be sure which one is my favorite. Roy is a very fun character to draw, since he's a tough old man in charge of a riverside barbecue down in the Everglades.
DF: As you say, this story is set in the Everglades. And sometimes in a gothic horror tale, especially in the South, the locale almost becomes a character. How have you established/carried over the mood the writers are trying to establish with your art?
Matias Bergara: I usually study and learn about the places, history, natural surroundings and everyday atmosphere of the setting of a given story I'm working on, and this is no exception. Of course, in my case I have to do it from a distance, using photo, video and other media research. I'd prefer to visit the places and people in person because there's an invisible vibe going on in any new place you see. It's invisible but not impossible to code into images and sequences, and doing it right is difficult and tricky but extremely rewarding to me as an artist.
Having said this, of course this is fiction, and being 100% accurate to reality is by no means a priority compared to being faithful to the story you need to tell. Someone -- I don't remember who, sorry -- said that you create the best art about things you don't really know by real life experiences. I think this is debatable but possibly true.
DF: Following up on my previous question, while you are setting a "mood" with your art, from the way Brian discusses the series it must also have the feeling of a real world, of normalcy for the characters in places. How does an artist handle/convey this dual responsibility?
Matias Bergara: Sometimes you gotta hold down a bit on the creative anxieties and quirks of comic book illustration -- you know, making every panel an explosion of dynamism, visual impact, action and exciting "camera" work. You have to understand how to move the story and the characters at different paces and in different moods, and that means you should be able to stimulate feelings of excitement, fear and humor as well as frustration, uneasiness and silence at times. Yes, it's a dual responsibility, but I think it's a very, very challenging and fun one. You can't do the same thing all the time without boring your readers, I guess.
DF: Guys, what is it like working with each other? Is this proving to be a successful collaboration?
Brian Buccellato: It's always a treat to work with passionate and talented people. Jenn and Matias have both of those qualities, so it's pretty easy to work together. Even when there are creative differences, it's only because we collectively have such high standards that we want things to be as great as they possibly can be. I'm really proud of the work we are doing and feel like we bring the best out of one another.
Jennifer Young: When I first thought of the idea for Cannibal back in 2010, I wasn't quit sure what medium was best to tell this story in. I knew that Brian had the experience, not to mention the talent, to collaborate and find a way to tell this story as a comic book. He taught me how to communicate with the artist and tell a story through panels and static images. And Matias… he made my dream come true with the very first "pitch pages." You can see those in issue #1, pages 1-5. Matias brings this story to life, gives our characters substance and really works well with our ideas and notes as well as bringing his own ideas to the table. I couldn't have asked for a better team.
Matias Bergara: I'm having a great time working with both of them! It's our first creative collaboration together. Distance -- we live on different continents and English is not my first language, as it probably shows by now -- hasn't become an issue, luckily.
DF: Tell us, if you can, of some present or near-future projects readers will want to watch for.
Brian Buccellato: I'm taking a break from DC work for a while as I concentrate on a writing fellowship that I recently got. But I still have Sons of the Devil coming out with Toni Infante.
Matias Bergara: I don't have many other projects for the near future; I've recently collaborated with covers and art for some books at BOOM! Studios and DC Comics and will probably be working on a book for a European publisher sometime during the next two years. Other than comic books, I usually post other kinds of artwork in my Instagram and Facebook pages.
Dynamic Forces would like to thank Brian Buccellato, Jennifer Young & Matias Bergara for taking time out of their busy schedules to answer our questions. Cannibal #1 from Image Comics is on sale now!
For more news and up-to-date announcements, join us here at Dynamic Forces, www.dynamicforces.com/htmlfiles/, "LIKE" us on Facebook, www.facebook.com/dynamicforcesinc, and follow us on Twitter, www.twitter.com/dynamicforces
BLACK BAT #1 HIGH-END BRIAN BUCCELLATO "CONCEPT ART" ULTRA-LIMITED COVER
FLASH #1 - SIGNED BY ARTIST/WRITER BRIAN BUCCELLATO
RED SONJA VOLUME 3: THE RISE OF KULAN GATH HARDCOVER - SIGNED BY MICHAEL AVON OEMING AND MEL RUBI AND WITH A REMARK BY MEL RUBI Brian Buccellato colors!
THE BLACK BAT OMNIBUS Written by Brian Buccellato
---
NEW! 1. 11/25/2020 - STEVE SKROCE
4. 11/16/2020 - RYAN O'SULLIVAN
5. 11/16/2020 - RYAN O'SULLIVAN