ROB CHAM

SEND THIS TO A FRIEND!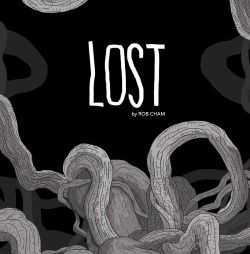 DF Interview: Rob Cham transports readers to the enchanting visual silence of 'Lost'
By Byron Brewer
When two best friends, Backpacker and Tear, fall through a magical portal, they find themselves lost and far from home in a strange dimension. Once again they find themselves on a dramatic adventure through a land of strange creatures and magical wonders. Eventually Backpacker and Tear must split apart so when they reunite they are able to find their way home together.
From artist/writer Rob Cham comes Lost, the gorgeously illustrated second book in his silent graphic novel series and follow-up to the National Children's Book Award-winning title, Light. DF wanted the 411 on this OGN, so we went to the source: Rob Cham.
Dynamic Forces: Rob, before we address your graphic novel Lost, tell readers how you first became interested in art, and art as a storytelling tool.
Rob Cham: Hi, Byron, thanks for having me. Really grateful for this!
When I was a kid, I'd make fan comics of cartoons I grew up with, my parents were encouraging and sent me to art classes on weekends and mentorships with different artists. I eventually just wanted to keep making stories and art, and comics was my favorite medium to do this.
DF: Some readers may know, but what is meant when publisher Buno Books term your work a "silent" graphic novel? Is it just an absence of dialogue, or is there something more, deeper?
Rob Cham: One of my favorite things about comics is all the tricks and possibilities it affords, and I just have always been in love with wordless comics, or silent comics. My first exposure to it was how my parents would go to the flea market and buy old books there, a lot of them were foreign comics in different languages, and I'd try and follow along despite the barrier, and that is kind of what comics is able to do where you can still follow along a story without the words. There was this particular Chinese comic I loved, Lao Fu Zi or Old Master Q by Alfonso Wong. It would be mostly wordless and it was a gag strip. Those were my favorites and I'd always try and copy his style where he told his stories completely without dialogue. I also would reread this one issue of Daredevil I found at a garage sale, where it was Alex Maleev and Brian Michael Bendis' run, and it was part of Marvel's "Month of Nuff Said" where all their comics didn't have dialogue, that was the only comic I read from that event but I was so drawn to it compared to other superhero comics I had. I then found more silent comics from the likes of Moebius, Manix Abrera, and Jason (Just Jason) comics.
I guess what I like about telling my stories without dialogue is just how it's a challenge and a puzzle on how I could say something despite not saying anything, relying on visuals alone. But I also tailor my stories to be about what can't be said, or how hard it is to put specific emotions into words. With Lost in particular, it's about losing the people around you, and what that feels like. At the time I was making it, I had friends moving away, people just leaving my life, and there was just this fixation I had about loss. I also don't feel that I'm good with words. It's tricky when I speak to people, how there could be so much room for misinterpretation and that kind of carried over to my art.
DF: Tell us what inspired these works for you: Light and Lost.
Rob Cham: Light was born from wanting to break away from the comics I was making at the time. I was doing autobiographical, slice of life comics, and I just wanted to grow. I was working as an illustrator but I didn't really put that effort into my comics, so Light was just me trying to build off that where I wanted to do more intricate comics work, and apply what I liked about the medium, from my obsession with colors, to how light warps how we see the world, then I built my story around that. The visual style was born from an experience I had camping where I was surrounded by complete darkness, and the light was only what I could make out from the moonlight and my friends who had flashlights in the distance, I never thought the world could look that way, and I just wanted to explore a story about what it would be like to be lost in a world of seemingly endless darkness.
Lost was supposed to be a completely different story, I had no plans to make a follow up to Light, and wanted to make another silent graphic novel, the concept was two universes separated by the left and the right page, and eventually the two would collide with one another, breaking the borders of the left and right page. I eventually scrapped the idea because as fun as it was, it didn't have heart or characters, then I kind of thought to retool a lot of the visuals I was planning for the world I built in Light, with the characters Backpacker and Tear – and, well, something clicked. I had a different ending in mind when I first started making it, but then I suffered from personal issues and it kind of made sense to me to end Lost the way it does because that was something I was going through at the time.
DF: What can you tell us about the overall plot of Lost? About your protagonists, Backpacker and Tear?
Rob Cham: Backpacker and Tear are two friends who get separated across time and space, across dangerous dimensions light years apart. They try to find each other once again, but what happens when the person you're looking for isn't the same?
Backpacker is this violent, angry, adventurous being who find themselves always getting into trouble because of their temper. Tear is the calm, calculated cynic of the two.
DF: What other characters might we keep an eye out for? Can you tell readers a little about them here?
Rob Cham: I would try to, but I honestly never gave these characters names until I had to start writing summaries and spiels for press materials and the like. Backpacker and Tear actually are nicknames given by readers for the two [main] characters. I guess I can say readers can look forward to other interesting, horrifying or fascinating monsters and critters in the book that they get to name for themselves.
DF: Although Light won the Children's Book Award, these OGNs are not necessarily for kids only, correct?
Rob Cham: I never really intended to make these books with an audience in mind, I just wanted to tell cool stories. How it turned out funnily enough was kids were drawn to it. I've had a lot of fan art sent to me by parents or uncles and aunts from kids who loved my comics, and it's always rad to see how they try to draw my characters. Never imagined that could happen. A thing about the Philippine comics scene is that we have comics in several languages, on account of how we speak so many dialects in different regions, so another unintended consequence was how my silent comics broke through the language barriers. An unintended side effect was also how it was less intimidating for young readers. I had some people send me letters about how it got kids into reading where they were hesitant about books in general and the words, where they saw how stories and comics were these amazing things, and it got them into reading more.
DF: That is awesome! … Rob, any other projects coming up, inside or outside comics, you can tell readers about?
Rob Cham: I'm working on the third book of the series now, due to be published next year, and I've always designed these books to be stand-alone stories so you don't have to read them in any particular order. I'm also working on animated adaptations of the first two books, Light and Lost, with Rocketsheep Studio, an animation studio based here in the Philippines.
Dynamic Forces would like to thank Rob Cham for taking time out of his busy schedule to answer our questions. The Lost OGN from Buno Books is in stores now!
For more news and up-to-date announcements, join us here at Dynamic Forces, www.dynamicforces.com/htmlfiles/, "LIKE" us on Facebook, www.facebook.com/dynamicforcesinc, and follow us on Twitter, www.twitter.com/dynamicforces.
---
NEW! 1. 11/25/2020 - STEVE SKROCE
4. 11/16/2020 - RYAN O'SULLIVAN
5. 11/16/2020 - RYAN O'SULLIVAN