JEFF LOVENESS

SEND THIS TO A FRIEND!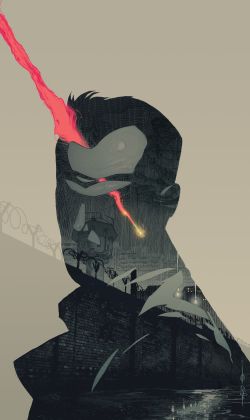 DF Interview: Jeff Loveness ushers a terrifying inhuman threat into the heart of the Cold War in 'Strange Skies Over East Berlin'
By Byron Brewer
It's 1973, and Herring, a disillusioned American spy, has spent the entire Cold War infiltrating the inner circles of East German intelligence for a cause he barely believes in anymore. He's seen everything and done anything his government asked, but his latest mission pits the brilliant embittered operative against an old Stasi foe and a strange force so powerful it threatens the very existence of humanity.
From BOOM! Studios comes Strange Skies Over East Berlin, an all-new original series from Jeff Loveness (Judas) and artist Lisandro Estherren (Redneck, The Last Contract). DF wanted to delve deeper into this intense thriller, so we spoke to scribe Jeff Loveness.

Dynamic Forces: Jeff, there is nothing I love more than spy novels. And they seem to make even better reading in comics, especially chillers like Strange Skies Over East Berlin. Tell us about your inspiration for this series.

Jeff Loveness: I'm right there with you. I love the Cold War Era. "The Lives of Others" is one of my very favorite movies. And "The Spy Who Came in From The Cold" is one of the best books to ever tackle the feel of that era. I also adore bleak, existential sci-fi movies of the era like Solaris and Stalker. I wanted to bring all of those things together into a Cold War spy thriller sci-fi horror comic. I think it's gonna be a pretty fun ride.

DF: You can't beat the Cold War for fantastic, thrilling spy stories. What can you tell us about the world-of-the-past you are building here for this book?

Jeff Loveness: The world has changed a lot from the Cold War… but not as much as we'd hope. The Stasi spy network of East Germany is now almost quaint compared to the security apparatuses we have in the government and meta-data sectors. America likes to think of itself as the moral authority in the world, but we are by no means innocent… and perhaps that superiority never should have existed in the first place. It's a story about your sins being unearthed, and the trauma that comes with accepting those sins. It's a book that looks at the world we have made… and realizes that it was never great. We were never enough. But perhaps once we acknowledge that truth, we can build something better.

DF: Did you or artist Lisandro Estherren do any research into the period? I love when readers find little gifts from creators like a correct movie poster or "current events" ref in these Cold War chillers.
Jeff Loveness: Absolutely. I flew to Berlin, visited a variety of sites, including the Stasi HQ, an old Stasi prison, and I photographed a few architectural references to give Lisandro some context of the Soviet period. I also read a few books on East Germany and a few other topics I can't disclose yet that come up in later issues. While this is by no means a historical account, I wanted the story to have an authentic, lived-in feel to it. And Lisandro's brought so much visual heart to every page. It doesn't look like anything else out there right now.
DF: Wow, impressive. … Introduce us please to your protagonist, the American Spy Herring. What can you tell us about him as a man, in addition to his job as a spy. What motivates him to keep going onward?
Jeff Loveness: I wanted to do the opposite of James Bond -- someone more cut from the cloth of a John LeCarre spy. Herring is tired and disillusioned from the Cold War. He's done everything America has asked him to do, and maybe he's lost his soul because of it. He wants out, but he's one of the last people they have in East Berlin… and this threat is too big to pass up. And once he discovers just how dangerous the threat is, it's too late for him to turn back and every secret he's kept is now turning against him.
DF: Who is Herring's "old Stasi foe"?

Jeff Loveness: I love Inspector Javert from Les Miserables, and it's been a thrill to come up with a Stasi equivalent of that. A master spy-hunter in a country full of spies. Beyond the supernatural threat, he'll be hounding Herring from the first issue, getting closer and closer as the series builds. He'll have some secrets of his own as the story continues. I love sad, broken men harboring darkness. He's a real favorite of mine. I hope you like him too.
DF: Talk about the marvelous work of Lisandro Estherren.
Jeff Loveness: He's a miracle worker. This is my first time working with Lisandro, but I'm truly in love with his work.
DF: Jeff, what other projects might you be involved with that you can tell readers about?

Jeff Loveness: I've got a Death of Superman story from the Dark Multiverse coming out on October 31st. It's about Lois Lane gaining the powers of the Eradicator and taking revenge upon the broken world that killed Superman. I think that's gonna be pretty dark and fun. I've been writing on Rick and Morty seasons 4 and 5… so check that out. Also got a few pilots and maybe a movie on the horizon, but I have no idea if those will ever see the light of day. Maybe check out my Twitter? Should I write a book? Someone please tell me what to do with my life.
Dynamic Forces would like to thank Jeff Loveness for taking time out of his busy schedule to answer our questions. Strange Skies Over East Berlin #1 from BOOM! Studios hits stores Oct. 2nd!
---
NEW! 1. 11/25/2020 - STEVE SKROCE
4. 11/16/2020 - RYAN O'SULLIVAN
5. 11/16/2020 - RYAN O'SULLIVAN