PAUL JENKINS

SEND THIS TO A FRIEND!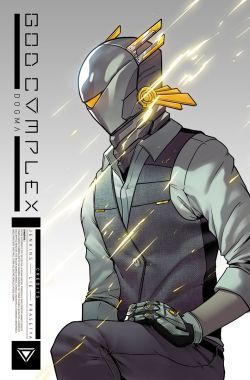 DF Interview: Paul Jenkins brings readers a mythological thriller in God Complex
By Byron Brewer
In the futuristic city of Delphi, a young digital-forensics investigator named Seneca finds himself embroiled in the bizarre murders of three church acolytes. Guided by his cryptic mentor, the Ruler named Hermes, Seneca uncovers a stunning conspiracy and a mystery that will turn his entire world upside down.
From writer Paul Jenkins (Inhumans, Wolverine: Origin) and artist Hendry Prasetya (Mighty Morphin Power Rangers) comes a unique vision of a digital future powered by mythological gods. DF had to know more, so we talked with scribe Paul Jenkins.
Dynamic Forces: Paul, tell us a little about the genesis, so to speak, of God Complex.
Paul Jenkins: This is actually a project brought to me by Matt Hawkins at Top Cow. I have done a lot of work for the Cow over the years – including Witchblade, Darkness and The Rapture. I love working with those guys. Sunny and the book's co-creator, Bryan Lie, have been developing a following with these characters in the Asian market for a few years now, and they're bringing them to the U.S. for the first time. I'm happy to be involved because it's such a neat project.
DF: There seems to a hodgepodge of elements involved in this series, from AI's to church acolytes! What can you tell us about the world you will be bringing us?
Paul Jenkins: I suppose you could say that the environment – a futuristic version of Delphi – is a sort of digital extrapolation of our own world. Like the city in Se7en, we never particularly state whether or not this is our world. Instead, there are obvious parallels. I think it's quite natural that our fiction reflects our current society, so we are dealing with situations that readers are familiar with – the mining of metadata to influence humanity, or the force feeding of information to create a desired result. The church, in a way, stands against such influences, yet it does not particularly promote free thinking. That is left to a band of rebels, who are seen as anarchists.
DF: Who is Seneca? What do readers need to know about him as a character?
Paul Jenkins: When we meet Seneca, he's presented as a forensic digital detective. He investigates digital intrusion, while at the same time keeping the peace for his corporate employers (Apollo and Hermes). He's thrust into the role of homicide detective when three church acolytes are found murdered on corporate premises. Seneca's an interesting character… his "inner monologue" is actually a voice he hears in his mind – it may be his conscience, it may be his delusions… but eventually, the truth behind this voice will be a huge surprise!
DF: What can you tell us about Hermes? What is his relationship with Seneca?
Paul Jenkins: Well, even though he is a Ruler, Hermes still follows the model of the trickster god. He's the most accessible Ruler, I suppose – one who can communicate directly with the population of Delphi. That being said, all of the Rulers are aloof; they are superior and ineffable at the best of times.
DF: Tell us more about the "gods" involved in God Complex?
Paul Jenkins: We've taken elements of worldwide mythology and populated this world with very advanced godlike beings known as Rulers. We never show their faces – if they even have faces! – and we imply that these are extraterrestrial beings ruling over the various cities. They mine metadata, and influence all of human thought with what they have gathered. And to make things worse, they have been doing it for thousands of years. I think it is open to interpretation as to where these beings come from.
DF: Can you give us any hints, in a non-spoilery manner, about the conspiracy that challenges Seneca? Is there a behind-the-scenes big-bad readers should be on the lookout for?
Paul Jenkins: Let's put it this way: when readers eventually discover the source of Seneca's inner voice, they will say, knowingly, that they suspected it all along. Even though it will throw them for a loop. (smiles)
DF: What does Hendry Prasetya bring to this most unusual table? Why is Hendry the right artist for God Complex?
Paul Jenkins: Hendry's been great – I know his work from the Power Rangers stuff he was doing for BOOM! Studios. To me, it's about dynamic storytelling and the ability to convey everything from physical action to nuanced expression. Really happy with what we've come up with so far.
DF: Paul, what other projects of yours might our readers be interested in?
Paul Jenkins: I am currently writing a series dear to my heart – Alters – for Aftershock Comics, as well as beginning a new series for them, which will be announced soon. I absolutely love doing creator-owned and independent work because I am driven by the creative freedom it affords me.
Dynamic Forces would like to thank Paul Jenkins for taking time out of his busy schedule to answer our questions. God Complex #1 from Top Cow and Image Comics hits stores Oct. 11th!
For more news and up-to-date announcements, join us here at Dynamic Forces, www.dynamicforces.com/htmlfiles/, "LIKE" us on Facebook, www.facebook.com/dynamicforcesinc, and follow us on Twitter, www.twitter.com/dynamicforces.
THE DARKNESS PRELUDE #1 - SIGNED VERSION (COVER A)
GENERATION M #1 - SIGNED BY WRITER PAUL JENKINS
G.I. JOE: FRONTLINE: ONE-SHOTS TPB
---
NEW! 1. 11/25/2020 - STEVE SKROCE
4. 11/16/2020 - RYAN O'SULLIVAN
5. 11/16/2020 - RYAN O'SULLIVAN