FRANK BARBIERE

SEND THIS TO A FRIEND!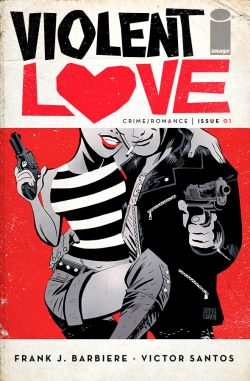 DF Interview: Frank Barbiere takes love on the run (with the law close behind) in Violent Love
By Byron Brewer
Later this fall, a new crime comic arrives as Frank Barbiere and Victor Santos' pulpy throwback Image Comics series Violent Love aims to tell the tale of two notorious criminals who could not be more different from one another but find that opposites attract and the results are deadly.
Violent Love is described as a romance comic as much as it is a crime comic, and one that takes its cues from "true events" in the same way that the Coen Brothers' classic Fargo used a similar tagline. The comic stars criminals Daisy Jane and Rock Bradley who fall in love and team up to go on a romance-fueled crime spree.
Wanna know more? Here with the 411, fresh from the DF News press room, is writer Frank Barbiere.

Dynamic Forces: Frank, publishers seem to be in the midst of a crime comics revival. Dynamite has many crime/noir titles out or coming, David Lapham's Stray Bullets returned and Titan Comics is launching an entire new imprint. How would you describe Image's new comic, Violent Love, which you are writing?
Frank Barbiere: I feel like "crime" is a genre that can be interpreted in almost endless permutations. When I really started getting into comics, Criminal and Powers were huge for me; they really showed me that comics can be just as dense and interesting as novels. I've always had a fondness for the genre and dipped my toes in a bit with The White Suits (Dark Horse Comics) and Black Market (BOOM! Studios), but with Violent Love I feel like we have the most "grounded" take on the genre for me so far. The real hook here is the love story and Victor's brilliant art.
DF: You have done a wide variety of writing for our friends in spandex. Tell us why you enjoy the crime drama genre.
Frank Barbiere: I think at the core of it there are a lot of anti-hero stories/tragedies which are also labeled as noir as well. For me, crime is really a unique melting pot of genres—I think my generation of writers has absorbed so many different genres that when we do a take on one, it is pretty unique.
DF: I love the cover for #1 that resembles an old-style 1970s (or thereabouts?) movie poster for the book! Are you a fan of such gangster sagas? Any films in particular?
Frank Barbiere: I've always appreciated the classic pulp aesthetics of older crime/pulp films from the era. I'm hardly an expert, but my co-creator and artistic collaborator VICTOR SANTOS is enamored with such material and is really working to infuse it into the piece. The story largely takes place in the 70's and we really wanted to give an era-appropriate look and style to the book and characters.
DF: Tell us about Daisy Jane and Rock Bradley. Who are they, aside from criminals inspired by Bonnie and Clyde (just a guess)?
Frank Barbiere: Bonnie and Clyde were a big touchstone for us when creating the book, but it quickly spun into its own beast as the characters developed their voices. Daisy is our lead and the story really spins out of a tragedy she has to face; when we meet her she's working a dead-end job and feeling directionless. She's a young woman who knows there's something bigger waiting for her, but suffering from small town ennui—little does she know she's going to become one of the most notorious criminals in the Midwest! Rock is a veteran and enforcer for small time criminals when we first meet him—he's a bit of a tough guy greaser, but we'll quickly see there's more to him than meets the eye.
DF: I know this is a shoot-'em-up with romantic undertones (overtones?), but I have also read enough Frank Barbiere comics to know there will be some deeper story, some subtext. What if anything can you tell us about that?
Frank Barbiere: For one, I've become very fascinated with the idea of storytellers within a story and Violent Love has a very carefully constructed frame story. Our narrator is an ex-cop named LOU who met our characters in their prime, and he narrates the story to a young girl named PENNY. We start the story with Lou telling Penny that Daisy and Rock died in a crazy blaze of glory, so we know things don't end too well for our characters, haha. I also really have studied love stories and have been working to make the plotline of Daisy and Rock falling in love and forming almost a criminal power couple really unique and engaging—in classic love story style, they don't immediately fall for each other, and in fact kind of hate each other, when they first meet.
DF: How does it feel to be reunited with artist Victor Santos? I believe the last book you two worked on together was Black Market, right? Why is Victor right for Violent Love (that doesn't sound right, lol)?
Frank Barbiere: I truly believe Victor is one of the best storytellers working in the medium today. I am overjoyed to be working with him and the energy and innovation he is bringing to every page is staggering. As a writer, you really only are as good as your collaborators, and Victor is making this book SHINE. He's handling every aspect of the art and doing a phenomenal job. I really hope this book puts him on the map, as he deserves it.
DF: Frank, what else is coming now or soon from that kinetic keyboard of yours?
Frank Barbiere: I've got The Revisionist coming out from Aftershock Comics with Garry Brown and Lauren Affe, as well as wrapping up Dejah Thoris over at Dynamite. I've been pretty busy putting together a few long-term creator-owned projects, so I hope to have more exciting stuff to announce soon! For now, all of my effort is thrown into Violent Love and we hope to have a nice, long run on the series!
Dynamic Forces would like to thank Frank Barbiere for taking time out of his busy schedule to answer our questions. Violent Love #1 from Image Comics hits stores Nov. 9th!
For more news and up-to-date announcements, join us here at Dynamic Forces, www.dynamicforces.com/htmlfiles/, "LIKE" us on Facebook, www.facebook.com/dynamicforcesinc, and follow us on Twitter, www.twitter.com/dynamicforces
HOWLING COMMANDOS OF SHIELD #1 ULTRA-LIMITED BLOOD RED SIGNATURE HIP HOP VARIANT COVER SIGNED BY FRANK BARBIERE!
BLACK MARKET #1-4 MASTER SET SIGNED BY FRANK BARBIERE!
SOLAR: MAN OF THE ATOM #1 Written by Frank Barbiere
---
NEW! 1. 11/25/2020 - STEVE SKROCE
4. 11/16/2020 - RYAN O'SULLIVAN
5. 11/16/2020 - RYAN O'SULLIVAN