D.J. KIRKBRIDE

SEND THIS TO A FRIEND!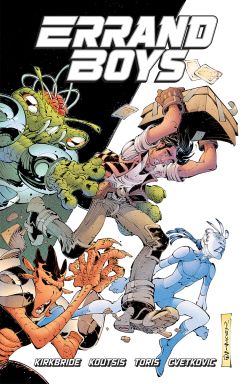 DF Interview: D.J. Kirkbride brings the sci-fi action and brotherly bonding in Errand Boys
By Byron Brewer
In the future, if you can't find a decent job, you run errands – the dangerous, often illegal kind. Thirty-year-old Jace Lopaz is a hard-worn scoundrel and a lifelong solo act – until he's saddled with his 13-year-old half-brother Tawnk full-time. Now Jace has two mouths to feed while evading the law, running from aliens, and jumping off skyscrapers. The only thing weirder than the vastness of space is family.
From writer D.J. Kirkbride and artist Nikos Koutsis comes Errand Boys, a fun tale of rollicking sci-fi adventure driven by character emotions and the heart of a family. DF wanted to know more, so we sent one of our own errand boys (Byron something-or-other) out, and sure enough, scribe Kirkbride came and chatted up the new limited series.
Dynamic Forces: D.J., despite its futuristic trappings, there seems something very personal here with Errand Boys. This is something many of us have experienced – living our lives for ourselves on our own terms, suddenly to have responsibility thrust upon us. What is the genesis of this limited series and its coming to Image Comics?
D.J. Kirkbride: The science fiction action of Errand Boys is a lot of the fun, but you're right that the meat of the story is more about the characters and emotions involved. Regardless of how outlandish or fanciful anything I write is, I can't seem to get into it unless it also has something personal or substantial that I'm trying to say or work out. As I started developing ideas that'd eventually become this book a while back, I was entering a new phase of my life, getting married, entering my forties, talking about kids and all of that stuff many of my friends had done years ago. The "late bloomer" aspect of Jace is relatable to me. It's not autobiographical by any means, but it is quite relatable. As much as the fantastical world and character designs, it's the honesty in the concept and the story that excite artist Nikos Koutsis and me. I think that helped get it to Image Comics.
DF: On a broader note, what can you tell us about the world you and Nikos are creating in Errand Boys?
D.J. Kirkbride: We didn't want to be bound by any specific year or practical trappings, so keeping it a general "really, REALLY far into the future" freed up the look and feel of the world. Our main characters live on a planet called Old Ebb, which might be Earth or a planet humans moved to at some point -- we don't get into the specifics, focusing more on the characters and allowing the world to give us fun flavors. Nikos' imagination and visual style improve upon my ideas throughout. He's created environments and characters that blow my mind and open up new story possibilities at every turn.
DF: Give us the elevator pitch for this book.
D.J. Kirkbride: I originally called it a kind of mix between David Eggers' amazing debut memoir A Heartbreaking Work of Staggering Genius and the non-Jedi aspects of Star Wars. Those, plus some experiences from my own life, were the original inspirations or jumping off points.
DF: Introduce readers to Jace Lopaz.
D.J. Kirkbride: Jace is a thirty-year-old human, or "hooman" as we're called in this future. He's in a bit of arrested development. He's had a hard knock life, at least he really feels that way, and he got an exciting job as an errand runner when he was eighteen. It's fast-paced and action-packed, and the money's fine if all you want is a roof over your head most of the time and beer in the fridge. Now he's feeling his age a little bit and kind of in a rut. That's when his thirteen-year-old half-brother Tawnk, who he hasn't seen since he was a little tyke, enters the picture in a big way.
DF: Can you tell us about some of the other important characters in the book, especially Tawnk?
D.J. Kirkbride: Tawnk and Jace have the same Dad, but their views of him are totally different due to their experiences with him at different times in HIS life. Tawnk's a smart kid who has lived a good, Jace would say pretty cushy, life. He's nice, he tries to do the right thing, and all he knows is that he needs to graduate all the schools and universities before he can be a good adult and start that grown up life he's been told is the goal of everyone. Then it's all taken away from him, and this big brother he used to think of as a cool, aloof guy too busy for him and his family takes him in before he even has time to process the crazy turn his life has taken.
In addition to our titular Errand Boys Jace and Tawnk, we get to meet Jace's friend and kinda-sorta ex Max, who is, frankly, too good and competent for him. They don't have a typical relationship, and I wish we had more time with her. Each of the single issues have backup stories by artists handpicked by Nikos, and Max is the star of the first one. Artist Manos Lagouvardos handles that one, and we get a nice glimpse into Max and get maybe a hint of why she ever hung out with Jace in the first place. We also spend some time with Jace's boss, Bear, who is the founder, CEO and cigar-chompin' boss of Bearrands Inc., the company that sends Jace on his errand runs. Each issue is also filled with a variety of characters and aliens and the occasional spaceship-eating monster.
DF: I know this is a 5-issue LS. Is Errand Boys something you would like to commit more time to should it prove a success? Or is this a story with a shelf life?
D.J. Kirkbride: Both, honestly. Due to the economics of comics (didn't mean to rhyme there, but I'm glad I did) and having my own bills to pay, I'm in the limited series game at this point. I'd love to do another ongoing like Amelia Cole, which was a thirty-issue run with co-writer Adam P. Knave and artist Nick Brokenshire, but I doubt we would've gotten to last that long if it weren't digital first via Monkeybrain Comics (then collected in trade by IDW), and if we weren't crazy enough to just keep going until we were done with our story. If this 5-issue Errand Boys series does well enough that the fine folks at Image want to publish more, and it's economically feasible for Nikos and me, I personally would love to check in on the Lopaz brothers and their crazy world again. If not, well, these five issues tell what we think is a satisfying story, and I'd count us as lucky to have the chance to do it.
DF: Speaking of Nikos, tell us about your collaboration with the artist.
D.J. Kirkbride: I met Nikos as an editor on the Popgun anthologies, and we have a mutual friend in comics by the name of Vassilis Gogtzilas (who drew The Bigger Bang and The Biggest Bang books I wrote for IDW). He contacted me out of the blue asking if I'd like to collaborate on something, and I had this Errand Boys pitch I'd been trying to find the right artist and publisher for, and, lucky for me, Nikos dug it! His imagination and work ethic are pretty awe-inspiring, and the book is way more visually dynamic and exciting thanks to him. We then got to bring in letterer Frank Cvetkovic, who ties the art and words together perfectly and helps us make a really nice looking comic. As we were in the middle of all of this, my friend and favorite writer/editor Adam P. Knave offered to help out along with his co-editor El Anderson, and they just rounded out the team perfectly. It's great to be able to concentrate on the creative aspects of the book while they keep us on track. Thanks to Nikos, we also have Erik Larsen watching over the whole thing, which has really come in handy.
DF: I love it when fate brings things together like that! … D.J., what other projects current or near-future can you tell our readers about?
D.J. Kirkbride: At the moment, I'm working on a couple of non-comics scripts, though comics are always closest to my heart. I really hope to get to co-write something with Adam again. We did a five-issue series with Nick Brokenshire called The Once and Future Queen at Dark Horse that is in trade and fell under too many radars. I feel in my heart of hearts that it's one that has legs and will be discovered along with Amelia Cole for years to come. Also, if I'm lucky enough to do more Errand Boys or anything else with Nikos, that'd be awesome. At his point, I'm flattered and amazed that there are comic books with my name on them, you know? It's a dream come true.
Dynamic Forces would like to thank D.J. Kirkbride for taking time out of his busy schedule to answer our questions. Errand Boys #1 from Image Comics hits stores Oct. 3rd!
For more news and up-to-date announcements, join us here at Dynamic Forces, www.dynamicforces.com/htmlfiles/, "LIKE" us on Facebook, www.facebook.com/dynamicforcesinc, and follow us on Twitter, www.twitter.com/dynamicforces.
---
NEW! 1. 11/30/2020 - SKYLAR PATRIDGE
5. 11/16/2020 - RYAN O'SULLIVAN