SAM HUMPHRIES & JEN BARTEL

SEND THIS TO A FRIEND!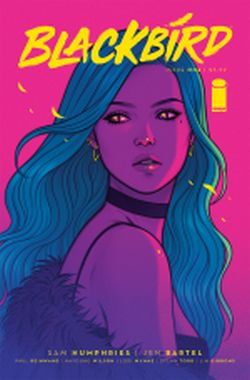 DF Interview: Sam Humphries & Jen Bartel give flight to modern fantasy in Blackbird
By Byron Brewer
Nina Rodriguez is positive that a secret magic world ruled by ruthless cabals is hiding just beneath the veneer of Los Angeles. The problem: everyone thinks she's crazy. The bigger problem: she's not crazy -- she's right! Can she unravel the mystery before the Great Beast catches up with her?
An all-new ongoing series, Image Comics' Blackbird is from writer Sam Humphries (Harley Quinn, Nightwing) and artist Jen Bartel. DF wanted to know the full 411 so we chatted with the scribe and the artist. Here's what they told us.
Dynamic Forces: Sam and Jen, congrats on this new ongoing series. What can you each tell us about how the book came to be?
Jen Bartel: Thank you! Sam and I started talking about doing a book together in early 2016, and what started off as casual conversations about what sorts of stories we loved and what we'd personally like to see in comic shops eventually evolved into what Blackbird is today. By 2017, we were full-on working on it—I spent some time in LA and took tons of on-location shots of North Hollywood, where Nina lives. We really wanted to ground this book about fantastical beasts and magic and larger than life characters by setting it in a real place.
Sam Humphries: I asked Jen what she wanted to draw, and the things she talked about -- mythical creatures, Los Angeles at night, beautiful people in amazing clothes -- sounded awesome. In fact, it sounded like a comic I'd read. I knew we had to make it.
DF: I know it is kind of early, but describe your collaboration on Blackbird for me? How are you gelling as a team?
Jen Bartel: It's funny, even though Blackbird #1 isn't out yet, we've been working on this project together since 2016, so we have a very solid foundation in place and have a great collaborative partnership. Even now, as I'm working on drawing the later issues in arc 1, I'll still call Sam up and we'll have a back and forth about what's happening on a specific page, how we can make it better, how I can take the character acting to the next level, etc. There's a ton of back and forth because we really are equally invested as co-creators.

DF: Sam, what can you tell me about the storyline for the series?
Sam Humphries: Blackbird is a comic about death and loss, and one girl who has to figure out how to rescue her sister. It's about family, and magic, and the hidden worlds that exist just beyond our finger tips. It's a coming of age story where the things that people said you were stupid to believe in turned out to be true, and how that's not always a good thing.
DF: Who is Nina Rodriguez?
Sam Humphries: Nina is a flawed character who is going through a lot. She had a magical experience as a kid that became the pivotal moment in her life. Her family has fallen apart, and she can't figure out who she is or where she fits into the world. Nina feels like she's just barely getting by, like the world is trying to crush her however it can, and I think a lot of people can relate to that. She feels defeated. The bad news is her sister gets kidnapped. But the good news is that she finally has proof that the magic she's believed in all her life is real. And she has no choice but to kick back at the world.
DF: What other characters might it be important for the readers to know going forward?
Sam Humphries: We've got an incredible cast of characters we can't wait for the readers to meet. The cocky paragon Clint, Nina's cat Sharpie, the Beacon, the Jackal -- but the most important characters are Nina's family. Her sister Marisa, her struggling father, and her mother who passed away. Blackbird is about spectacular magic and crazy monsters and kidnapping and all sorts of things, but it's also about family, grief and loss.
DF: Jen, tell readers a little bit about the artist's tools you are using to establish this neo-noir fantasy world in Blackbird.
Jen Bartel: As much as I love working traditionally, I'm drawing most of Blackbird digitally because it's more efficient and easier to adjust—we'll see if I eventually move to analog inks though, because I'd love to! For now, though, it's pretty much 100% Photoshop. I use a Wacom Cintiq to draw directly onto the screen.
DF: Did you design the characters and set pieces? If so, what were your favorites (or least faves, as in really tough)?
Jen Bartel: Yep, and Sam is really great about giving me lots of opportunities for costume changes and cool new designs—Nina's style is very "LA street fashion" but later on in the series we get to meet some of the Paragons that run the magic world, and they all look straight out of a Met Gala. It's nice to be able to design a wide range of characters and costumes—I don't want to spoil too much since a lot of those character intros don't happen until later issues, but I will just say I had the most fun with the Paragons.
DF: Talk about the color palette and the role it plays in establishing mood.
Jen Bartel: While I am drawing and coloring all the main covers and promo art, Nayoung Wilson helped color issue #1 and Triona Farrell became our colorist for #2 and beyond. Color plays such a big role in both my art and this book specifically, so it was really important for me to initially set the tone and figure out a lot of the visuals with issue #1. Once the visual language was established, Triona took over and she's absolutely killing it. I can't wait for people to see her incredible colors. It was important for me to capture the mood of LA—really atmospheric, softly lit streets, neon lights, and that perpetual haze that hangs over the city. Triona nails it every issue.
DF: Sam and Jen, each of you tell us of any projects in or out of comics you have coming up in the near future.
Jen Bartel: One of my first-ever projects in comics, Crystal Fighters, has been collected into a trade and will be available from Dark Horse this fall. It's currently available for pre-order on Amazon It's a fun story about a teenage girl who ends up in a virtual reality fight club for magical girls! Other than that, I'm always drawing tons of covers and fun illustration gigs.
Sam Humphries: I'm writing Harley Quinn for DC Comics, Goliath Girls for Comixology/Amazon, plus a couple of new projects -- but I'm sworn to secrecy for now.
Dynamic Forces would like to thank Sam Humphries & Jen Bartel for taking time out of their busy schedules to answer our questions. Blackbird #1 from Image Comics hits stores Oct. 3rd!
For more news and up-to-date announcements, join us here at Dynamic Forces, www.dynamicforces.com/htmlfiles/, "LIKE" us on Facebook, www.facebook.com/dynamicforcesinc, and follow us on Twitter, www.twitter.com/dynamicforces.
HARLEY QUINN #52 FIRST PRINTING FOIL COVER AND VARIANT SET SIGNED BY SAM HUMPHRIES!
GREEN LANTERNS #1 SIGNED BY SAM HUMPHRIES!
STAR-LORD & KITTY PRYDE #1 ACTION FIGURE VARIANT SIGNED BY SAM HUMPHRIES
GUARDIANS OF THE GALAXY & X-MEN: THE BLACK VORTEX ALPHA #1 SIGNED BY SAM HUMPHRIES
LEGENDARY STAR LORD #1 - FIRST PRINTING SIGNED BY SAM HUMPHRIES!
AVENGERS A.I. #1 - SIGNED BY SAM HUMPHRIES
UNCANNY X-FORCE #1 SIGNED IN BLOOD RED BY SAM HUMPHRIES!
ULTIMATE COMICS ULTIMATES #16 - SIGNED BY SAM HUMPHRIES!
THE ULTIMATES #13 - DF GOLD SIGNATURE SERIES SIGNED BY SAM HUMPHRIES!
---
NEW! 1. 11/30/2020 - SKYLAR PATRIDGE
5. 11/16/2020 - RYAN O'SULLIVAN