RODNEY BARNES

SEND THIS TO A FRIEND!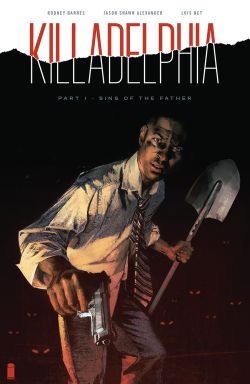 DF Interview: Rodney Barnes reveals bloodsuckers in the City of Brotherly Love in 'Killadelphia'
By Byron Brewer
When a small-town beat cop comes home to bury his murdered father—the revered Philadelphia detective James Sangster Sr.—he begins to unravel a mystery that leads him down a path of horrors that will shake his beliefs to their core. The city that was once the symbol of liberty and freedom has fallen prey to corruption, poverty, unemployment, brutality… and vampires. Welcome to Killadelphia!
From Image Comics comes an all-new, skin-crawling series by writer Rodney Barnes (Wu-tang: An American Saga, Marvel's Runaways, Starz's American Gods) and artist Jason Shawn Alexander (Spawn)—Killadelphia—which will launch in November.
With cross and garlic in hand (no fools, we!), DF sought out scribe Rodney Barnes to get the lowdown on this new series.
Dynamic Forces: Rodney, I love how everything you write – and even in horror, which is sometimes sadly lacking this element – is filled with nuanced emotion, the human equation. Even amid the fantastic, a reader gets the sense they are reading about real people suffering amid real strife. How does your wanting for human-ness enter into Killadelphia?
Rodney Barnes: You've framed an aspect of the theme of the book. Empathy is lacking in America. I think in some ways, it's discouraged by the media, the polarized state of politics, and a sort of survivalist mindset that's overtaken many. My plan is to look at folks who have been left behind in regards to the American dream. They're struggling and seeking hope. Then they're given immortality and power, but having never been socialized to those ideas, what will they do with it? When haunted by one's past and the requisite guilt and shame that often accompanies trauma, immortality may indeed be a curse. There's a lot of humanity in these vampires. Their horror is our horror.
DF: What can you tell us about the genesis of the book, and about the world in which it takes place?
Rodney Barnes: It's been with me in different forms since I saw Kolchak: The Night Stalker TV movie (written by Richard Matheson) as a kid. My father was a police officer in Maryland and once took pictures of a homicide. The body had bite marks on it. I asked my dad why, and he told me that often times, rats get to bodies before the medical examiner does. But in my kid mind, they weren't rat bites. They were made by vampires.
DF: Introduce us to police officer James Sangster Jr. and your other main protagonists here, if you would, and tell us a little about them please.
Rodney Barnes: James Sangster is a lonely guy. He's seen a lot of death on the streets of Philadelphia, and it's hardened him. A single dad, he struggles to connect with his son, in some parts due to the job. But this case will bring father and son together in ways they never would have imagined.
DF: How important to the story is murdered Philadelphia Detective James Sangster Sr.?
Rodney Barnes: The murder of James Sr. is crucial to the entire series. If I tell you how, I'm giving away a major plot point, lol.
DF: Can you give us a thumbnail sketch of the story about to unfold for readers of Killadelphia?
Rodney Barnes: The story has three main entry points; James Senior and his son, a former iconic figure from American history, and a voice of the street that's looking to change the idea of America in a very radical way.
DF: Tell readers about the vampires we will see in this series. Any other horrors such as this that you can hint at?
Rodney Barnes: The vampires of the series are themselves haunted by the humans they once were. These vampires dream their past by day and vent their anger by night. Their mistakes haunt them and they seek absolution in an idea centuries old. But one that perhaps was the source of many of their woes.
DF: Talk a little about the stunning art of Jason Shawn Alexander, and about your collaboration here.
Rodney Barnes: Jason's art is beautiful. The guy is a genius. He's every bit a director as he is an artist. I'm blessed to be on this adventure with him and even more grateful to call him my friend.
DF: Rodney, what other projects, in or out of comics, are you involved in now?
Rodney Barnes: I'm doing my second and third arcs of Quincredible for Lion Forge as we speak and Jason and I are working on another series (science fiction) that will hopefully drop sometime next year.
Dynamic Forces would like to thank Rodney Barnes for taking time out of his busy schedule to answer our questions. Killadelphia #1 from Image Comics hits stores Nov. 27th!
For more news and up-to-date announcements, join us here at Dynamic Forces, www.dynamicforces.com/htmlfiles/, "LIKE" us on Facebook, www.facebook.com/dynamicforcesinc, and follow us on Twitter, www.twitter.com/dynamicforces.
---
NEW! 1. 11/25/2020 - STEVE SKROCE
4. 11/16/2020 - RYAN O'SULLIVAN
5. 11/16/2020 - RYAN O'SULLIVAN