CURT PIRES

SEND THIS TO A FRIEND!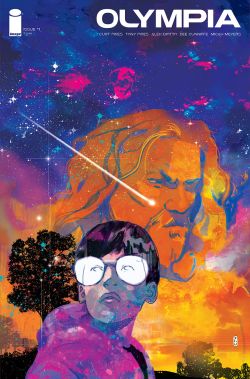 DF Interview: Curt Pires miniseries 'Olympia' an intriguing, very personal comic
By Byron Brewer
Elon is a latchkey kid who spends his days alone reading comic books—until his favorite superhero, Olympian, comes crashing off the page and into reality! But as he nurses his wounded and delirious hero back to health, he discovers Olympian isn't the only thing that came through… something evil followed him.
A comedic yet heartfelt love letter to the comics medium, Olympia is also a meditation on hope and loss, conceived by Curt Pires (Wyrd) and his father, Tony Pires, while Tony was undergoing treatment for cancer.
DF was anxious and honored to talk with Curt Pires about this very special comic book.
Dynamic Forces: Curt, if you would, please relate for our readers the passion and poignancy behind your work with your father Tony Pires on Olympia.
Curt Pires: Well, it's the first and I suppose only project we got to work on together, so it's obviously very important and special to me. He came up with the idea when he was first hospitalized a couple years ago, and we have been working on it ever since. Obviously I wish we could have worked faster so he would have got to hold the first issue in his hands. But he was able to read and love it on his computer before he passed, so that's a comfort.
DF: You've called Olympia a love letter to Spielberg and Kirby, who set the foundations for modern entertainment. How is that emotion reflected in this miniseries for you, one of its creators?
Curt Pires: Well, I think it's the first of my work to really draw from those influences. A lot of my work has been darker with a more cynical edge, which is also an energy I embrace, but it was nice for this to approach things from a more wholesome, almost healing angle. It feels like the most human thing I've ever done.
DF: Introduce us to Elon. What can you tell us about his life, as we first meet him in #1?
Curt Pires: He's a latchkey kid who's dad has recently passed away. He spends most of his time reading comics and sort of doing his own thing while his mom works.
DF: Who is Olympian?
Curt Pires: Think Thor meets Hercules meets Ikaris from Eternals.
DF: What is the main storyline of Olympia?
Curt Pires: A boy's favorite comic character comes crashing down to earth, and he has to nurse him back to health so they can stop an extra-dimensional invasion.
DF: Can you give us any clue about the "something evil" which followed Olympian into Elon's world?
Curt Pires: No spoilers! Read the book! It's all in the first issue.
DF: Talk about the art of Alex Diotto.
Curt Pires: Alex's work is brilliant. I really felt like he leveled up on this book. You can tell right from page one – he broke through something. I think Dee's work has never been better either. Just lucky to work with these cats.
DF: Curt, what do you think your father Tony would think of the finished work?
Curt Pires: I know he loved the first issue. And I know he loved where we were gonna take it. He added a scene to the last issue a few months before he passed that changed the ending for the better. It's incredible how he just thought of things differently from me, it sort of opened the story up, getting someone else's perspective.
DF: Any other projects, in or out of comics, in which you are involved that you can tell readers about?
Curt Pires: Lots of stuff in the pipeline. Next to be released should be another project with Alex that's also sort of superhero adjacent – it's us updating the concept of the teen superhero book. I can't really say too much more, but that will be out shortly.
Dynamic Forces would like to thank Curt Pires for taking time out of his busy schedule to answer our questions. Olympia #1 from Image Comics hits stores Nov. 20th!
---
NEW! 1. 11/25/2020 - STEVE SKROCE
4. 11/16/2020 - RYAN O'SULLIVAN
5. 11/16/2020 - RYAN O'SULLIVAN