PATRICK KELLER & DAN MCDAID

SEND THIS TO A FRIEND!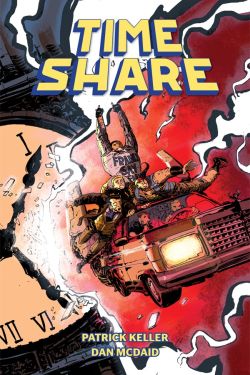 DF Interview:

Patrick Keller & Dan McDaid put unlikely band of time travelers through their paces in new Time Share OGN
By Byron Brewer
After a time-bending adventure, Ollie Finch was set to go home in his uncle's rocket car time machine when everything went sideways. He's at the center of a maelstrom of paradoxes that threatens to destroy the multiverse.
Can Ollie and his friends stop Phil, the world-conquering artificial intelligence … in time?
This is the launch of a new OGN, Time Share, in the coming year from writer Patrick Keller and artist Dan McDaid for Oni Press. DF wanted to know more about Ollie's band of time-lost losers, so we sat down with the creative team and gave THEM some time … to answer our questions, that is.
Dynamic Forces: Patrick, the solicit makes Time Share sound like a great, rip-roarin' buddy adventure, something fun that is actually hard to find in comics these days. Tell us how you and artist Dan McDaid came to create this original graphic novel.
Patrick Keller: My youth was basically saturated with time travel stories. The local public TV station used to show Tom Baker-era Doctor Who late at night, which I loved. And of course there's the Back to the Future trilogy, Douglas Adams' books, and Kang/Immortus from Marvel Comics. It's such a rich vein that it's hard to believe there was a time before people had conceived these types of stories.
Originally, the concept of Time Share was just four stranded time travelers and their brain-damaged killer robot sharing a house. (A "Time Share," get it?) But I wanted something that could have that goofy energy while still having a meatier story at its heart. And when I was a teenager, I never got anything right, so while Marty McFly managing to drive that DeLorean back to his time perfectly is satisfying to watch, it seemed way more likely that a real teenager would've hit a row of parked cars and barfed. And then what…?
Once I had that idea, my friends at Oni introduced me to Dan, and we were off and running!
DF: I love a large cast in a comic like this. Introduce us, Patrick, to our boy hero Ollie Finch and his gang please.
Patrick Keller: When we meet him, Ollie is a kid trying to do the right thing with the wrong tools. He "borrowed" his uncle's time machine in a misguided attempt to fix his broken family, and winds up making things way worse when he doesn't quite make it back. Those actions have apocalyptic consequences (literally), resulting in some other friends: Teddy, the killer cyborg on a mission, and Bax, the soldier sent back to stop it, though neither of them is very good at what they do. Along the way, they also meet Preston, the off-kilter 19th century inventor, and Time Master Curtis, a sort of hall monitor for time travelers. And finally there's Roxy, the girlfriend Ollie left behind, who's not exactly pleased to see her ex again.
Along the way, they cross paths with a lot of other odd characters – Thomas Edison, Bax's mom, a Hammerpants-wearing cult leader, Ollie's foxy aunt Vera, and a suicidal AI named Phil, to name just a few.
DF: I notice one character who is not really mentioned is Ollie's uncle, owner of his "rocket car time machine." Does the uncle appear in the OGN? Is he an inventor like Doc Brown in Back to the Future?
Patrick Keller: He does, and he is! He's on the very first page, in fact, but he doesn't stick around. Still, while he doesn't play a big part in the book, he's hugely important to the story. In fact, I'd argue that he's more important to the Time Share story than Doc is in Back to the Future, if you can believe that.
Jacques is a more flawed person, I think, a product of a decade (the 1970s) when people played relationships a little too fast and loose sometimes. Also, I don't think it comes out in the book, but in my head, after Jacques got a little burned out on The Drugs and fell out of teaching, he wound up designing stage effects for Parliament-Funkadelic.
Oh, and here's little secret: I named him Jacques, because it sounds a lot like "Doc."
DF: Dan, it's always a pleasure to see your name attached to some comics work on this side of "The Pond," but it seems like Judge Dredd or Doctor Who should be around somewhere. (laughs) You do a lot of adventures having to do (like Time Share) with time travel. Is that a sci-fi aspect you enjoy depicting?
Dan McDaid: I guess I do, yeah. I like the opportunity it gives you to come up with little easter eggs and in-jokes, and paradoxes. That sort of thing is a lot of fun for me. Weirdly, Doctor Who doesn't really involve a lot of time travel. It's more just a sci-fi adventure, where the time travel element is just a plot device to get us from one venue to the next. Time Share is the most overtly "time travel-y" thing I've worked on, by far.
DF: Patrick has told us some about the cast in Ollie's adventures. Did you do all the designs for the OGN? Did you collaborate with Patrick, or were you given artistic carte blanche?
Dan McDaid: A little of both. When I started working on Time Share I was far more cocky and arrogant than I am these days, so if I got a design note there was a good chance I would ignore it and go my own way. I remember that the spec for the Bax character was a kind of dissolute Bernard Black type, but I thought he would work better as a sort of ultra-macho Gears of War type character with a paunch. I tend to be much more collaborative these days—sorry, Patrick!
DF: Just from seeing the action sequences of the OGN, I can tell you are enjoying drawing this book. The panels are very fluid. How did you find drawing this sci-fi comedy different from your other better known characters/books?
Dan McDaid: I'm not sure there's really all that much of a difference... I think the good thing about a comedy -- as opposed to a more dramatic book -- is that there's a wider gamut of emotions. Characters in dramatic stuff tend to be more... stoic, or determined, or actually agonized. Those are your three main emotions in dramatic comics. In comedy comics, you can have surprise, delight, horror, confusion, panic, along with those other three emotions I mentioned. There seems to be a broader range.
DF: Guys, who is your favorite character in Time Share, and why?
Patrick Keller: I know a lot of creators whine about picking favorites being like picking favorite children, but I'll totally do that —my favorite is Teddy, the killer cyborg. Not to spoil too much, but he winds up using his emergency backup personality, which basically makes him a nuclear-powered toddler. He has temper tantrums over cake and punches llamas, and he wears a vintage CHOOSE LIFE T-shirt for most of the book. It's hard not to love him.
Dan McDaid: I really love them all like my own children... but Bax is probably the one I enjoy drawing the most. I love his design, plus how angry and childish he is. There's a scene in chapter two where he gets the drop on Teddy the Cyborg, he's about to crash a light aircraft into him from a great height, and as he's parachuting to safety he's grinning and smoking cos he's finally caught his white whale. That's a really lovely moment. Bax rules.
DF: Are there any current or near-future projects you would like to tell readers about?
Patrick Keller: Well, I just finished my 600,000-word novel, Jerusalem, which I'm publishing under the pseudonym, A. Moore. Now that that's out of the way, I'm working on two books—another sci-fi epic about romance, relationships, and revenge on Mars, and a parody of parodies. But both are in the early stages while I work on my other projects, who are ages three and seven.
Dan McDaid: I think more Dredd from me! Maybe more Doctor Who next year in the U.K. Plus another ultra-secret project that's going to be mmmmmassive. And if we ever get another shot with Bax, Ollie and the gang I would totally be up for that. So buy our book, everyone, and make us $RICH$!
Dynamic Forces would like to thank Patrick Keller and Dan McDaid for taking time out of their busy schedules to answer our questions. The Time Share OGN from Oni Press hits stores in January 2017!
For more news and up-to-date announcements, join us here at Dynamic Forces, www.dynamicforces.com/htmlfiles/, "LIKE" us on Facebook, www.facebook.com/dynamicforcesinc, and follow us on Twitter, www.twitter.com/dynamicforces
CAPTAIN VICTORY AND THE GALACTIC RANGERS TRADE PAPERBACK Art by Dan McDaid, more
KINGS QUEST #1 (OF 6) RARE MARC LAMING "VIRGIN ART" EDITION Art by Dan McDaid
---
NEW! 1. 11/25/2020 - STEVE SKROCE
4. 11/16/2020 - RYAN O'SULLIVAN
5. 11/16/2020 - RYAN O'SULLIVAN