STEVE ORLANDO & PHILLIP KENNEDY JOHNSON

SEND THIS TO A FRIEND!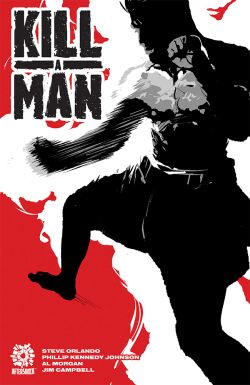 DF Interview: Steve Orlando & Phillip Kennedy Johnson grapple with MMA and LGBTQ identity in 'Kill A Man' OGN
By Byron Brewer
As a child, James Bellyi watched his father die in the ring as payback for slurs thrown at the other fighter. Today, he's a Mixed Martial Arts star at the top of his game, and one of the most popular fighters in the world...until he's outed as gay in his title shot press con-ference.
Abandoned overnight by his training camp, his endorsements, his fans and his sport, to regain his title shot Bellyi is forced to turn to the last person he ever wants to see again: Xavier Mayne, a gay, once-great fighter in his own right...and the man James once watched kill his father.
From AfterShock Comics comes the Kill A Man graphic novel by writers Steve Orlando (Martian Manhunter, Dead Kings) and Phillip K. Johnson (Aquaman, Adventure Time, The Last Time) with art from Alec Morgan (Midnighter, Daredevil, Battlestar Galactica). Follow DF as we delve into this OGN by discussing it with its authors.
Dynamic Forces: Steve and Phillip, tell readers about the genesis of your coming original graphic novel, Kill A Man, and how it came to be a shared tale from you both.
Steve Orlando: Kill A Man has been on my mind since 2015, when I saw Creed, and was so taken with its narrative of personal and professional tenacity, emotional and physical triumph. For Adonis Creed, fighting was the thing he had in his stomach that no one else understood but he just had to do. For me, it was comics and writing. But either way, I was inspired by it. And once I landed in the comics industry professionally, the question became how can I make that narrative my own, embolden it and push it forward? How can I use my own experience to craft something bolder and even more powerful? Kill A Man was the answer – to craft that heroic story of personal triumph for the queer community, and even further complicate it by forcing the characters to reckon with their violence. In forcing James Bellyi to work with Xavier Mayne, the man that killed Bellyi's father in the ring over his bigoted slurs, we have one of the tensest combat sports narratives ever – imagine Creed if, instead of Rocky, Adonis had to train with Ivan Drago...and that's the smallest hint of where Kill A Man begins.
Phillip Kennedy Johnson: Kill A Man grew out of my friendship with Steve, our shared love of Mixed Martial Arts and our own personal stories of struggle that we wanted to translate into a character-driven fight book. Steve and I have had very different journeys in life and gone through very different trials, but the story of protagonist James Bellyi is one that both of us can connect with on the deepest, most personal levels. Co-writing a story like this one has been an insanely rewarding experience, because we both have such clear ideas about where the story will go. But invariably, whenever we work out the story together, we land on a version that we both know immediately is the truest, best version of the story, better than either of us would have written alone. That's the most you can hope for from any creative collaboration.
DF: This is an intensely important book to you, from what I gather. Tell us why.
Steve Orlando: Underdog narratives have always hit home with me, even if what I was fighting for was a place in comics instead of the ring. And why? There are fewer spots at the Big Two than in something like Major League Baseball, breaking into comics is always an underdog shot. And just like the leads in the stories, everyone in my life had told me to quit, but I never did. That's the first reason. The second is I wanted a chance to tell the story of a gay fighter, because the struggle for acceptance and survival for the LGBTQ community is ongoing. And we deserve that story that says we too can struggle, internally and externally, and it'll be hard...but you know what? We can go the distance. We can win, on our own terms.
Phillip Kennedy Johnson: A lot of the stories I've told most recently have been high concept genre books, and Kill A Man represents a hard departure from that. It's the kind of story I've wanted to tell since getting into the comics industry: probably the most purely character-driven story I've ever told, and for that reason, one of the most compelling.
MMA fighters are some of the most dedicated athletes on the planet. They train in so many different disciplines simultaneously, they put themselves through more pain than any other athlete, and in the end, all but the biggest superstars get paid peanuts for their efforts, even as their industry continues to grow and grow and grow. Fighters do it because they're driven to do it. I know what that's like for sure, and our protagonist James Bellyi fights for reasons that are even more personal than most. This is a story that's not being told in the comic space right now, and I'm beyond excited to help bring Kill A Man to life.
DF: Who is James Bellyi? Introduce your protagonist here, if you would.
Steve Orlando: Bellyi is the young upstart challenging for the championship belt, he's got the media and momentum at his back, the son of an iconic fighter himself...until he's catfished at his press conference and outed as a gay man. In a business already hyper competitive and toxic, James loses everything in an instant, and it's even worse since his iconic father was killed in the ring after cussing out a queer opponent. James loses everything on the precipice of his dream...but he's a fighter, and when he thinks he's at his lowest, that's when the real combat begins. He's got to reckon with himself first, deal with his shame and being pulled out the closet, find his pride, own his sh*t...and take his title shot back by force.
Phillip Kennedy Johnson: James Bellyi is a guy who has always been trying to step out of his dad's shadow. DJ Bellyi was a pioneer of mixed martial arts, a huge personality in and out of the cage, and in James' memory he's this larger-than-life figure. In reality, James Bellyi is twice the fighter DJ Bellyi was, and twice the star, but James is unable to see that. No matter how big James gets, the memory of his father always looks bigger to him, and he feels his father's bigotry and malice towards gay people cutting him, shaming him, always. His hunt for the middleweight title is his quest to prove he can live up to his dad's expectations, to silence his dad's voice in his mind. When James gets outed as gay in front of the whole world, that shame gets a thousand times louder…it's deafening, it consumes him. That's when his real struggle begins.
DF: Such a complex chemistry between James and Xavier Mayne. Without spoilers, what can tell us about this character?
Steve Orlando: When James Bellyi was young, his father DJ was a contender. James watched DJ in the ring as he battled power fighter Xavier Mayne. Young James watches as his father threw hateful words at Xavier, the same types of messages DJ had instilled in James. And he watched as Mayne killed DJ in the ring in return. James' father taught him to be ashamed of what he would become – a gay man himself. And when James loses everything, it's Xavier Mayne, the man that beat James' father to death, that's James' only hope at overcoming his own personal demons, and training to take back his title shot. James grew up thinking Mayne had taken his father away, but once James' truth is in the open, Mayne's the only person who can teach James what he really needs to know.
Phillip Kennedy Johnson: Adding to what Steve said, there's one more facet to why James goes to Xavier Mayne for training: Mayne was famous for his knockout power, a skill that's notoriously difficult to learn if you don't have it. James, as great as he is, doesn't have it, at least not in his punches. Mayne was famously able to beat James' father to death in the ring, and for reasons that are made clear in the book, that's an ability James wants: he wants to kill someone. But ironically, that's something Mayne has always regretted, and it adds yet another layer of complexity to that relationship.
DF: Without using AfterShock solicits, give readers an enticing pitch for Kill A Man.
Steve Orlando: Twenty years ago, James Bellyi watches his bigoted father be beaten to death in the MMA ring. He didn't understand anything but the loss. But decades later, as James himself is on the eve of eclipsing his late father's fame, he's outed before his title shot. Completely abandoned, the only hope for James to take back his life is the one man he never wanted to see again: Xavier Mayne, the man that killed his father. With no other choice, James is forced to look at himself, his late father, and his future from a whole new perspective. To take the title, he'll have to conquer himself, his past, and find a strength he never thought possible...so he can step in the ring as a new man, a new type of fighter...and show the world something they've never seen before.
DF: What can you say about your collaboration with artist Alec Morgan?
Steve Orlando: Like Phillip, Alec trains MMA. So when we started talking about Kill A Man, he was my first choice. Authenticity is so important to us with this book, both from a queer perspective and a combat sports perspective. And from our time on Midnighter, I knew Alec could deliver innovative, kinetic visuals. He overdelivered, developing a wild, impressionistic style unlike anything he'd offered before...and this book wouldn't be the same without him. It's real, it's true, it's new...and I can't wait for everyone to see it.
Phillip Kennedy Johnson: Alec's experience in MMA and history with Steve made him the clear choice for this book, and from the beginning, he's had a crystal-clear vision of what he wanted the art to look like: it's a very gritty, stylized approach that suits the story perfectly. Probably more than any other collaboration I've been a part of, Alec is constantly honing old pages as the story goes on; just like Steve and I are, he's obviously on this project for the love of the game, which is always a pleasure to work with.
Dynamic Forces would like to thank Steve Orlando & Phillip Kennedy Johnson for taking time out of their busy schedules to answer our questions. The Kill A Man OGN from AfterShock Comics hits stores Oct. 7th!
For more news and up-to-date announcements, join us here at Dynamic Forces, www.dynamicforces.com/htmlfiles/, "LIKE" us on Facebook, www.facebook.com/dynamicforcesinc, and follow us on Twitter, www.twitter.com/dynamicforces.
COMMANDERS IN CRISIS #1 CGC GRADED - HOT PICK!
THE SHADOW/BATMAN HARDCOVER - SIGNED BY STEVE ORLANDO
DARKHOLD ALPHA #1 SIGNED BY STEVE ORLANDO
MARTIAN MANHUNTER #1 SIGNED BY STEVE ORLANDO
WONDER WOMAN #51 STANLEY ARTGERM LAU COVER ELITE GOLD SIGNATURE SERIES EDITION SIGNED BY STEVE ORLANDO
THE SHADOW/BATMAN #1 DAVID FINCH CONVENTION FOIL EDITION - SIGNED BY STEVE ORLANDO
JLA/DOOM PATROL SPECIAL #1 SIGNED BY STEVE ORLANDO
SHADOW/BATMAN #1 DYNAMIC FORCES EXCLUSIVE ALEX ROSS VIRGIN COVER
TALES FROM THE DARK MULTIVERSE: BATMAN: HUSH #1 CGC GRADED DUAL PACK!
TALES FROM THE DARK MULTIVERSE: BATMAN: HUSH #1 CGC GRADED!
---
NEW! 1. 11/22/2021 - KURT BUSIEK
3. 11/15/2021 - DAVID M. BOOHER