CHUCK BROWN

SEND THIS TO A FRIEND!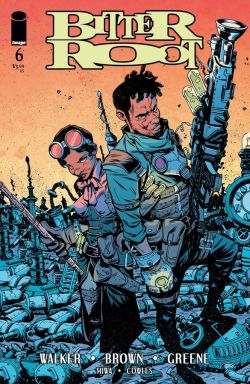 DF Interview: Chuck Brown examines tragedy, triumph during the Harlem Renaissance in Bitter Root
By Byron Brewer
Bitter Root is set in the 1920s with the Harlem Renaissance in full swing. The new series will follow the Sangerye Family – New York's (and the world's) only hope for salvation from supernatural forces threatening doom and destruction. Once the greatest family of monster hunters in the world, the Sangeryes must move beyond the tragedies of the past, or be forced to sit back and watch an unimaginable evil ravage the human race.
From co-writers Chuck Brown and David Walker and artist Sanford Greene comes Bitter Root, a series so highly anticipated DF just had to know more. So we sat down with Chuck Brown.
Dynamic Forces: Chuck, I interviewed your Bitter Root co-writer and my friend David Walker a while back and he said that "Bitter Root started with Chuck." Tell us about that beginning: the high concept, how you brought that to Image Comics, etc.
Chuck Brown: Well, I've always been fascinated with the Harlem Renaissance. I've wanted to use it as a setting for a very long time. The idea for the supernatural element of Bitter Root came to me in a barbershop. The barbers were discussing how barbershops use to pull set teeth, set bones, and perform minor surgery. I thought to myself this would be a great cover for hunting and curing demons and other monsters. No one would be suspicious of all the blood and medical equipment. Then we rolled all these ideas into a tag line. And with Greene and Walker attached it was an instant green light from Image.
DF: Tell us about the intriguing storyline here.
Chuck Brown: The core of our story is about hate and what it can do to people. Some of the story is inspired by acts of hate past and present. The characters in our story try and keep their own lives from falling apart while healing and fighting cursed souls. Their secret world is filled with steampunk, monsters and supernatural elixirs.
DF: This is a very personal and important book to its creators, it seems. What particular parts of Bitter Root touch your soul as creator/co-writer?
Chuck Brown: The Harlem Renaissance has always represented a very powerful time for African-Americans. They accomplished so much even though they were faced against impossible odds. They were exploited, excluded, tortured and murdered and still rose above it to become scholars, writers, musicians and more.
DF: I love that Bitter Root is set in 1920s and in the midst of the Harlem Renaissance! What type of research did you do on the period, if any? Did you perchance get an opportunity to actually speak with someone who lived during the period? This atmosphere has the potential to actually become a character in and of itself.
Chuck Brown: I unfortunately did not get an opportunity to speak to anyone from that time period. But I've read a few books on the subject and done research online. Also, my day job is IT for a university's history department. So while I'm rebooting historians' PCs, I bombard them with questions.
DF: What can you tell us about the Sangerye Family?
Chuck Brown: I don't want to give away too much. You may see the family posing together in promotional images, but they are a house divided. They have a tragic past and old wounds that refuse to heal. Their family is the last line of defense against evil. So if they can't settle their differences, all of humanity is screwed.
DF: I know this is "spoilery," but can you whet reader appetites at all with any hints about the "supernatural forces threatening doom and destruction"?
Chuck Brown: I'll just say a lot of the classic monsters exist in our world. You'll see werewolves, vampires and demons. But we have put a spin on those creatures and then created something entirely new.
DF: Tell us about working with artist Sanford Greene on this series.
Chuck Brown: Sanford and I have worked together for a long time. When we put together a book, we laugh, joke, yell, curse (I do most of the cursing). But in the end, we create something dope we both really dig. And with David Walker in the mix, you're gonna get three times the dopeness and cursing.
DF: Chuck, this all sounds so cool. What other projects of yours might you be able to tell readers about?
Chuck Brown: I have a comedy out now on WebToons. It's called Eff University. It's about my college life and I toss in aliens, time travel and more cursing. I'm also working on a comic that mixes politics, pro wrestling and gene splicing. It's called On the Stump. It's still in the early stages of development. And I have another comic with Sanford Greene called 1000. It's also on WebToons.
Dynamic Forces would like to thank Chuck Brown for taking time out of his busy schedule to answer our questions. Bitter Root #1 from Image Comics hits stores Nov. 14th!
For more news and up-to-date announcements, join us here at Dynamic Forces, www.dynamicforces.com/htmlfiles/, "LIKE" us on Facebook, www.facebook.com/dynamicforcesinc, and follow us on Twitter, www.twitter.com/dynamicforces.
LUKE CAGE #1 SIGNED BY DAVID WALKER
SHAFT: IMITATION OF LIFE TRADE PAPERBACK
SHAFT'S REVENGE PAPERBACK NOVEL
---
NEW! 1. 11/25/2020 - STEVE SKROCE
4. 11/16/2020 - RYAN O'SULLIVAN
5. 11/16/2020 - RYAN O'SULLIVAN