ANDREW MACLEAN

SEND THIS TO A FRIEND!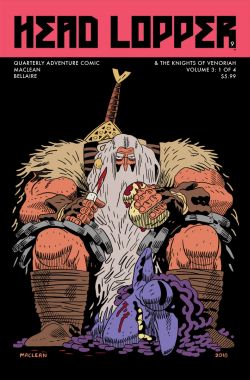 DF Interview: Andrew MacLean takes us back to the beginning in new volume of Head Lopper
By Byron Brewer
Agatha's got legs. Venoriah readies for war. Arlen falls off a bird. A thief steals a knife. From Image Comics and artist/writer Andrew MacLean, Head Lopper is back!
And that can only mean your trusty DF crew has cornered and coerced an interview about the continuing series from the creator, the aforementioned Andrew MacLean. (We did so with caution, natch! Don't want to anger a person who does a book called Head Lopper, after all.)
Dynamic Forces: Andrew, why was now the right time for your great and unique series Head Lopper to return?
Andrew MacLean: The book comes out quarterly, so I just skipped a release to have the time to create the extra content in the Volume 2 trade and get started on Head Lopper #9, the beginning of Volume 3. There's no real significance to the release date, it's just when the book would be ready.
DF: I noticed the title returns numbered in the sequence of its existing presentation, not with a huge NUMBER ONE (1) emblazoned on the cover as is normal in today's comics marketing. Why the pleasant and much-appreciated continuity, and will the book (as in the past) be quarterly rather than monthly?
Andrew MacLean: Thus far, all the releases have been chronological in terms of story, so for me, slapping a number 1 on there just wouldn't be true, or accurate, or honest. As far as the story is concerned, it's the ninth piece. I feel it should get the #9 designation.
We are going to continue to release it quarterly. Each script is 35-45 pages of story. That's a fun length to write and draw, and it takes me the full three months to make it.
DF: Before we go on, for the uninitiated (you know who you are), can you tell us about this world you create as both artist and writer in Head Lopper please?
Andrew MacLean: Head Lopper follows the legendary warrior Norgal, widely known as Head Lopper, as he travels about with a humorously irritating severed witch head, Agatha. They travel about as a sword for hire relieving beasts and men of their heads. But the magic within Agatha seems to inspire the attention of many dark forces. The true nature of Agatha and her power has yet to be revealed. Muahahaha!
DF: Can you introduce us to your protagonists; tell us a bit about them?
Andrew MacLean: Norgal is the physically strong, emotionally stoic type, as we sort of expect him to be. But the words and actions of those around him often point out how absurd and ineffective that can be in all matters that don't require a sword.
Agatha loves creeping and crawling things. Bugs, snakes, beetles. But nothing pleases her more than an irritated, flailing Norgal. She takes as many shots as she dares, wearing him down with insults, droning stories, and utter nonsense.
DF: What do new readers need to know from the previous issues going into this new start for the book with issue #9? Is this a good place for new readers to jump into the series?
Andrew MacLean: I try to make every beginning a good place to hop on, while balancing the hopes and expectations of the returning readers. That said, in this case, it's helpful to know that this is the third adventure (that we've witnessed) of our heroes. In both prior arcs, a dark force of one kind or another became infatuated with Agatha and her power. And along the way our heroes have made, and lost, many friends.
DF: What can you tell us about the storyline that begins with the returning book and issue #9? Wassup?
Andrew MacLean: I want this third volume to be a large bookmark in the series. For the first time we learn about Norgal and Agatha's beginning. We get to watch how that meeting went from three different points of view and what we learn not only affects the outcome of this adventure, but everything that is to come.
DF: I always like to ask this of one-man-band creators? Writing AND art? Why, and advantages/disadvantages?
Andrew MacLean: It's fun. Whatever story you want to tell, whatever it is, you can do it. You don't even need to get someone else on board. You can just make the thing.
Advantages – you get to do whatever you want. If you want to draw something specific, you can write it in.
Disadvantages – you have to do it all. It takes longer.
DF: Andrew, any other projects you'd care to tell readers about?
Andrew MacLean: I'm always doing my best to get things cooking but at the moment Head Lopper is the only sure thing.
Dynamic Forces would like to thank Andrew MacLean for taking time out of his busy schedule to answer our questions. Head Lopper #9 from Image Comics hits stores Sept. 12th!
For more news and up-to-date announcements, join us here at Dynamic Forces, www.dynamicforces.com/htmlfiles/, "LIKE" us on Facebook, www.facebook.com/dynamicforcesinc, and follow us on Twitter, www.twitter.com/dynamicforces.
---
NEW! 1. 11/30/2020 - SKYLAR PATRIDGE
5. 11/16/2020 - RYAN O'SULLIVAN