JOE HENDERSON

SEND THIS TO A FRIEND!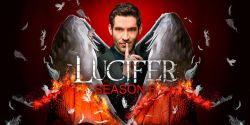 DF Interview: Series EP, co-showrunner Joe Henderson talks about the sixth and final (really!) season of 'Lucifer'
By Byron Brewer
It's time to toast to Lucifer one last time. The show is coming to an end – for real, this time – after six seasons plus an unadvertised bout with the arch-demon Covid-19. The sixth and final season will premiere on September 10th, giving fans 10 last episodes featuring Lucifer Morningstar.
Joe Henderson, executive producer and co-showrunner for the Netflix series, has experienced the infernal adventures of the DC Comics-inspired show up close and personal, both on camera and off. I caught up with my friend, Joe, and discussed with him this final go-round for Lucifer & Co.
Byron Brewer: Joe, fans have been waiting so long for Lucifer Season 6 that the pandemic came, kinda went, and may now be coming back. But we covered the dynamics of Lucifer vs. Covid last interview on Season 5B. Even though it's no news to you since production of Season 6, the final season, wrapped last spring, let's forge ahead on Season 6. If there was only one thing you could tell fans about this final season, what would it be?
Joe Henderson: Season 6 is about honoring all the seasons that came beforehand, and all these characters we love so darn much. I feel like a broken record saying every season is for the fans… but this one truly is. And it was so important to us that we bring this story to a close the right way.
Byron: Let's get right to the meat: Are there any regular cast members who departed when 5B wrapped? Who we will definitely not see this final go-round?
Joe Henderson: All our regulars are still there. Wait, didn't Dan die? Huh. Wonder how we pulled that off…
Byron: Fans of these great shows like Lucifer always enjoy returns of actors/characters, especially longtime returns. There has been a headline or two, but this is your spotlight. Who do we have that might have departed but are returning to the fold… and of course their roles?
Joe Henderson: Jimmy Barnes, the villain from the very first episode, makes a return in season 6. In a season about endings, we really looked to the beginning to bring things to a close. It was a wonderful chance to explore how much Lucifer has changed over all of this time. And, because of that, how he can see Jimmy in a whole new light.
Byron: Newbies? Actors and characters?
Joe Henderson: We have a great collection of new actors who joined the Lucifam. Scott Porter, who we met briefly as Carol in season 5, is back in season 6. Last we saw him, Dan had tried to set him up with Ella, before Dan's tragic demise. That feels like a storyline to pick up…
Entirely new to season 6 are Merrin Dungey and Brianna Hildebrand. I've been a fan of Merrin's work for a looong time (I mean, come on, she was Francie on Alias!). Working with her was such a joy. Similarly, I loved Brianna in Deadpool, and was so thrilled when she joined us! We pride ourselves in being a show with a warm cast and a positive set, and these three only added to that.
Byron: Joe, give us the foundation for Season 6. What is the crux story thread throughout, the one when, if solved, will make we Lucifer-ophiles throw our dark halos into the air?
Joe Henderson: Lucifer is the dog that caught the car and has NO idea what to do with it. He's God now! Or at least, he can be, if he wants it. So why is he dragging his feet? And what happens when, without a God, it seems like the world is starting to unravel?
Byron: Your show is so good for satisfying on subplots. Are there any threads from past seasons, even into Fox years, that will be coming to the forefront for resolution in S6?
Joe Henderson: Not story threads per se, but there should be a sense, looking back, that the issues that started in season 1, grew over seasons 2-5, and wrapped up in season 6, as if we planned them that way all along. Which we totally did. Totally.
Byron: I don't mean to make you a mouthpiece or messenger, Joe, of course… but what have been star Tom Ellis' sentiments about the passing of the show and role, if you know of any? Fanboy Q: Any chance of seeing Tom on one of the Arrowverse or HBO Max DC series coming?
Joe Henderson: I don't want to speak for Tom, but I do know he felt an incredible responsibility on making sure we stuck to the landing, and honored the story we've been telling all these years. He's been such a leader on set all these years, putting his heart and soul into every single day of work.
As for other shows… that's up to him/WB/people beyond my pay grade!
Byron: Joe, as co-showrunner as well as EP for this wonderful exotic comic book series, give us your summation about Season 6, all it entails, and your feelings about the adventures, on camera and away from camera, of a marvelous cast and crew through six seasons.
Joe Henderson: Season 6 is a bittersweet goodbye to a family we love and will miss, but also a love letter to all that has come before. We tried to get every kind of episode we've done in there one last time, try some new things too, scratch that Deckerstar itch in all new ways, and highlight our amazing cast and characters before we say goodbye.
And when it's all done, it will stand as a testament to six years of work from an incredible group of people. I'm proud of the show, but I'm proudest of the people I got to make it with.
Dynamic Forces would like to thank Joe Henderson for taking time out of his busy schedule to answer our questions. The sixth and final season of Lucifer debuts Friday, September 10th on Netflix!
For more news and up-to-date announcements, join us here at Dynamic Forces, www.dynamicforces.com/htmlfiles/, "LIKE" us on Facebook, www.facebook.com/dynamicforcesinc, and follow us on Twitter, www.twitter.com/dynamicforces.
---
NEW! 1. 10/21/2021 - JOE BENITEZ
3. 10/14/2021 - MATTHEW ROSENBERG
5. 10/07/2021 - CULLEN BUNN & HEATH AMODIO