PETER MILLIGAN

SEND THIS TO A FRIEND!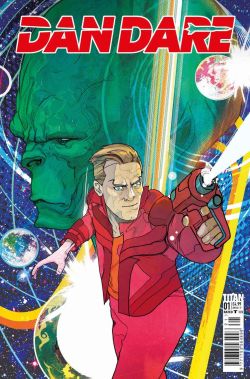 DF Interview: Peter Milligan brings adventuring spaceman Dan Dare back to comics
By Byron Brewer

For the first time in human history the Sol System is at peace. Poverty and famine have been eradicated and humanity stands on the cusp of utopia. The Mekon -- mankind's deadliest enemy -- has been vanquished and languishes in a maximum security prison deep inside the moon and Dan Dare, pilot of the future, is bored out of his mind and praying for something to break the monotony of peace.
However, when an unknown alien vessel of biblical proportions arrives in the solar system and obliterates a moon of Saturn in a show of strength, Dare finds himself drawn back into a new adventure that threatens not just Earth but of all life in the entire universe!
The classic British hero returns for brand-new adventures, written by Peter Milligan with art by Alberto Fouche. DF wanted to get you the exciting 411, so we beamed aboard scribe Peter Milligan for an interview.
Dynamic Forces: Peter, congratulations on this new book from Titan Comics! So tell us, how did this revival of British sci-fi hero Dan Dare come about?
Peter Milligan: Really quite simple. I'd been working with Titan on Hammer's The Mummy recently and so have a relationship with them, particularly editor David Manley-Leach. David contacted me and asked if I was interested in writing Dan Dare. We had lunch, discussed things, and it went from there.
DF: For those unfamiliar to the character, can you introduce our readers to Dan Dare please?
PM: Dan Dare is a character first published in 1950 in the British comic, The Eagle. His creator – Frank Hampson – managed to imbue the character with his love for flying (though Frank never managed to be the pilot he wished to be). Though set in what was for then the future, Dan Dare was a very recognizable airman type of his time and class. Dare and his crew flew to various parts of the galaxy having incredible adventures and tackling Dan Dare's nemesis, the evil Mekon.
DF: Who is Col. Daniel McGregor Dare in your eyes? And what part of him will perhaps be reflective of one Peter Milligan?
PM: Because Dare was such a creature of his time – portraying a kind plucky British hero type that now seems very out of date – the temptation is always to radically change him. Indeed, there have been a number of pretty radical iterations of Dan Dare. For me, I wanted to keep some core of Dan Dare's inner goodness. This is no period piece, my Daniel Dare is a modern character, but I wanted to write a character that both honors the essence of Frank Hampton's creation while creating one that can tell stories relevant to today's audience. My Dare has that out of fashion thing: a sense of decency— but is there room for such a laudable trait n the modern world? To close, I think my Dan Dare is less reflection of me than of some observations I've made over time about men of action, how they operate, what they feed on. Unlike Frank Hampson I never wanted to be a pilot. I'd rather sit in club class being served fine food and wine by friendly cabin crew in wonderful uniforms.
DF: For your iteration, was your muse more the original 1950s strips, the stint in 2000AD, or some other version?
PM: I went to the source material, the original stories of Frank Hampson. Though this is not to say that I'm creating some anachronistic heroic type.
DF: What can you tell us about the opening adventure?
PM: The story is a huge one, moving from Earth, the moon, to far off planets. In it Dare must struggle with the inner decency I referred to earlier as he tries to deal with a weird arrival from deep space. Meanwhile another weird – and beautiful – arrival threatens to change Dare's life forever.
DF: And the big-bad?
PM: That is the what the story will reveal. Is it the strange arrival from deep space, the apparently-reformed Mekon who spends his time growing marrows, or something closer to home? One of them threatens to destroy everything Dare loves.
DF: Have you noticed there is something of a lineage of Vertigo creators taking on this pulp space pilot: Garth Ennis, Grant Morrison and now Peter Milligan? Is it coincidence or a rite of passage into some secret industry cabal? (laughs)
PM: Not quite a coincidence: we're all British, so have some kind of connection with Dan Dare. But this is very much not a rite of passage.
DF: What can you say about artist Alberto Fouche? What does he bring to this Titan table?
PM: I've been really impressed by Alberto's work on this, from the very first sketches he did. For all the space opera and Mekon madness, Dare is – for me – about the characters, and Alberto seems to get them. His sense of the future world in which the story operates has a beautiful feel to it. I think people are going to love his work on this and that Alberto has great things in him. Appropriately for a Dan Dare artist, he's one for the future.
DF: Peter, any other projects current or near-future you'd like to tell readers about?
PM: A number of different projects in different stages of development so let me mention just two. I'm continuing to write and love writing the Britannia stories with Valiant and I'm very happy that people are responding to that well. For a very different type of comic, I'm writing a new series for IDW. Teaming up with Shelly Bond who's starting a new line at IDW called Black Crown. The comic is called Kid Lobotomy, it's gothic with an ironic laugh. The story is of a young man who gets to run America's strangest hotel.
Dynamic Forces would like to thank Peter Milligan for taking time out of his busy schedule to answer our questions. Dan Dare #1 from Titan Comics hits stores Oct. 11th!
For more news and up-to-date announcements, join us here at Dynamic Forces, www.dynamicforces.com/htmlfiles/, "LIKE" us on Facebook, www.facebook.com/dynamicforcesinc, and follow us on Twitter, www.twitter.com/dynamicforces.
ALL NEW MIRACLEMAN ANNUAL #1 JEFF SMITH VARIANT CGC GRADED!
ALL NEW MIRACLEMAN ANNUAL #1 JOE QUESADA VARIANT CGC GRADED!
TERMINAL HERO: THE DEATH AND LIFE OF RORY FLETCHER TRADE PAPERBACK
---
NEW! 1. 11/25/2020 - STEVE SKROCE
4. 11/16/2020 - RYAN O'SULLIVAN
5. 11/16/2020 - RYAN O'SULLIVAN